Violence, Unrest Continue In Egypt Despite Promises From Military Ruler
Clashes have broken out again between security forces and antimilitary protesters on the streets of Cairo near Tahrir Square.
Street battles have been heaviest around the heavily fortified Interior Ministry, as police fired tear gas and rubber bullets to keep the protesters from storming the building.
The fifth consecutive day of political violence and unrest in Egypt came despite a promise by the country's interim leader, Field Marshal Hussein Tantawi, to transfer power to an elected president by mid-2012.
That's much earlier than the plan previously suggested by the military for a presidential election in late 2012 or early 2013.
Meanwhile, in the Egyptian port city of Alexandria on November 23, at least one civilian was killed and 28 injured when security forces clashed with protesters.
Tantawi, the minister of defense under long-time ruler Hosni Mubarak, took power as chairman of the Supreme Council of the Armed Forces when Mubarak was ousted in February.
Tantawi, essentially the de facto head of state, has also kept his portfolio as defense minister and is now the commander in chief of the Egyptian Armed Forces.
Presidential Elections Brought Forward
On November 22, Tantawi promised in a televised speech that presidential elections will be "completed before the end of June 2012," within seven months of next week's parliamentary elections.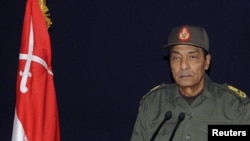 "The armed forces, represented by the Supreme Council, do not aspire to govern and place the country's interest above all else," he said. "[The military] is ready to immediately hand over responsibilities and return to its main responsibilities of protecting the nation, if the people wish, and that could be carried out through a national referendum, if the situation calls for one."
But Tantawi's promise -- along with his denial that security forces have used undue force in clashes with protesters -- did not appease more than 100,000 protesters who gathered on Tahrir Square on the night of November 22.
Many of the protesters there said they did not believe Tantawi's promises and indicated that they want to hear nothing less than an announcement of an immediate end to military rule.
Since Mubarak's ouster, protesters have grown increasingly angry at Tantawi's military council. They accuse its members of being an extension of Mubarak's regime and of resorting to Mubarak-era tactics to stifle dissent.
Mohamed el-Abd is among those continuing the protest at Tahrir Square.
"The people here are good people, respectable people," he said. "They are doctors and engineers. They all have higher degrees and are cultured people. There are no thugs here at all.
"I have left the place where I am from, Beheira, in order to come here and see for myself whether these protesters are in the right or wrong.
"[The security forces] are setting houses on fire and saying that it's us doing it. From dusk till dawn, they have been throwing Molotov cocktails at us and firing live ammunition. I swear to God, someone standing next to me lost his eye, but said he will come back. They have been attacking us."
Omar Robert Hamilton, a 27-year-old Egyptian-British filmmaker and activist, was also at the protest. He told RFE/RL that people remained resolute despite the continuing clashes.
"People will stay until they get the thing they were promised in February, which is a full, functioning, civilian government, and no one is going anywhere until that happens," Hamilton said.
"You know, they stayed for 18 days in February, and actually that was a bit rougher, to get rid of a dictator. So if it takes more than that, the people will be here. The numbers are going up every day, I think."
Transitional Period
The latest mass protests that began at the weekend led to the resignation of the cabinet on November 21, just a week before the crucial legislative polls on November 28, will be the first election since Mubarak was toppled.
That cabinet, headed by Essam Sharaf, had been appointed by Tantawi's Supreme Council of the Armed Forces.
Tantawi announced on November 22 that he had accepted the cabinet's resignation, but that it would "continue working until a new government, which will hold all powers, is formed."
"This will allow [the new government] to manage the transitional period in coordination with the Supreme Council of the Armed Forces," he added.
Constitutional provisions proposed by Sharaf's military-backed cabinet would shield the army from civilian oversight and give it broad national security powers -- ensuring that the military council would have sole discretion over their affairs and budget.
Medics and human rights activists in Cairo say at least 35 people have been killed since November 19 as a result of the crackdown on demonstrators who oppose military rule. Government officials put the death toll in the same period at 28.
The United Nations' human rights chief has now strongly condemned the Egyptian authorities for what she described as the "clearly excessive" use of force against protesters.
"Some of the images coming out of Tahrir [square], including the brutal beating of already subdued protestors, are deeply shocking, as are the reports of unarmed protestors being shot in the head," UN High Commissioner for Human Rights Navi Pillay said.
She also called for a "prompt, impartial, and independent investigation" into the violence.
Western governments, including the United States and Germany, have also expressed concern at the violence in recent days and urged the Egyptian people to make their voices heard in parliamentary elections set for November 28.
The semi-official "Al-Ahram" newspaper reported on November 23 that a nine-month-old baby died of suffocation the previous day in the Egyptian Nile Delta town of Tanta as a result of tear gas fired by police to prevent protesters from storming the Security Directorate building there.
A headline in Egypt's pro-government "Al-Akhbar" newspaper on November 23 announced a "Second Revolution," and an editorial in the journal warned that "the most dangerous thing that could happen is any deterioration in relations between the army and the people."
with news agency reports