With Political Turmoil And Violence, Worries Grow Over Iraq's Future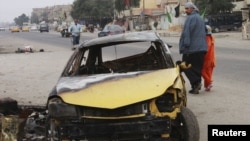 The violence that ripped across Baghdad on December 22, killing at least 69 people and wounding more than 200, has raised fears of fresh sectarian conflict in a country already embroiled in political turmoil and without a U.S. military presence for the first time in eight years.
The violence came just days after the last U.S. forces departed and as the government's fragile alliance of Sunnis and Shi'a is collapsing. Shi'ite Prime Minister Nuri al-Maliki has tested the limits of his power and in the process, alienated and angered Sunnis in the government and across the country.
No group has claimed responsibility for the wave of coordinated explosions, but analysts say the attack bears the hallmarks of Al-Qaeda in Iraq, which has long tried to push the country back into sectarian war.
Robin Simcox, an Iraq analyst with the London-based Henry Jackson Society, says the violence shows that the group remains strong, despite being routed by U.S. forces in 2007-08. He calls the attack a "symbolic message of the power the group still has," and that the timing is not surprising.

Washington agrees. U.S. State Department spokesman Mark Toner said on December 22 that the bombings were "linked clearly to this vulnerable period after U.S. forces have withdrawn, and the government is finding its feet and moving forward."
But beyond triggering what was clearly a long-planned show of force by Al-Qaeda, the U.S. withdrawal appears to have pulled back the curtain on the deep discord among the country's three main political factions.
Simcox says Washington's role in Iraq was that of "an honest broker," able to "keep the lid on the Sunni, Shi'a, and Kurd differences that were always bubbling underneath" the surface.
"Now, without the American presence there, I feel as if the sectarian conflicts are going to come to the fore again, and this time, there won't be any American presence to try and keep a check on them," Simcox says. "So unfortunately, this is possibly a sign of what we're going to see in the next 12 months in Iraq, which is an increase in sectarian violence."
Maliki Makes His Move
Prime Minister Maliki has moved swiftly this week to assert Shi'ite dominance. He has accused Sunni Vice President Tariq al-Hashimi of running death squads and issued a warrant for his arrest; pushed for a vote of no confidence against Sunni Deputy Prime Minister Salih al-Mutlaq; and threatened to cancel the government's power-sharing agreement.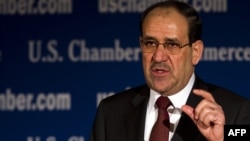 Analysts at the global intelligence firm Stratfor say Maliki is "exploiting the power vacuum left by the U.S. withdrawal and centralizing Shi'ite control in Baghdad...[with] a political offensive against high-level Sunni officials."
His authoritarian moves are being watched with alarm both outside and inside Iraq and being seen as part of a wider campaign to push aside Sunni political figures and strengthen Shi'ite control across the country, just as U.S. influence is waning and Iran's is potentially expanding.
Simcox says those fears are well founded, based on developments in other regions of Iraq after U.S. forces pulled out. "Repression of the Sunnis within those areas -- it's been quite a pattern that's developed over the last few months," he says. "And I think this shows again that there is very much a Shi'ite-dominated attempt to repress Sunnis and remove them from any kind of political influence near Baghdad."
On December 22, the White House condemned the attacks and said Vice President Joseph Biden had called Iraqi President Jalal Talabani to offer "full support for his efforts, and those of other Iraqi leaders, to foster dialogue that will allow all Iraqi blocs to work through their differences together."
But without a military presence, Washington's influence over Baghdad is in doubt. At a White House meeting earlier this month with Maliki, Obama said that after more than eight years of war, the United States was leaving behind a "democratic country." Yet its ability to ensure that that remains the case is much reduced.
'People Are Afraid'
Even before this week's wave of attacks, the political crisis had raised Iraqis' fears of more instability, especially among Sunnis, who are feeling increasingly marginalized.
People are frightened, a Sunni taxi driver in Tikrit who declined to give his name, told RFE/RL's Radio Free Iraq. "God forbid we are heading toward sectarianism," he said. "It's a fight between the politicians themselves, all centered on positions and nothing more. The people are paying the price. The situation is bad and the people are scared."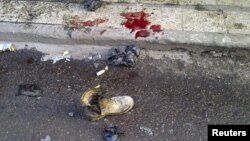 Ahmad Hussein, who lives south of Baghdad, said he spoke for many Sunnis who feel angry about the warrant for Hashimi's arrest, "and believe that it is wrong and that the timing is incorrect. The government takes it as a pretext to cover up its failure over the past seven years."
Hashim Hussein, a Sunni who lives in Baghdad's Al-Dora neighborhood, said he questioned the timing of the arrest warrant, coming at a moment of fragility in the country. "Why do they show these charges at this time? I do not know," he said.
Taken together, this week's attacks and the political drama may have brought the government to a crisis point.
Still, Kurdish Coalition legislator Mahmud Othman said a descent into chaos was not inevitable. "Of course, the situation is tense, and the tension is increasing; I mean, problems occur between political blocs, specifically the larger two coalitions," the sectarian Al-Iraqiyah bloc to which Hashimi and Mutlaq belong, and Maliki's State of Law bloc.
"There are problems, especially in security, so if they were able to resolve those problems by working with other blocs in a conference or through many mediation initiatives available at this time, the tension will be pacified," Othman added. "But if not, the situation will be open to many worse possibilities, which may cause political or sectarian problems."
Written and reported by Heather Maher, with reporting by RFE/RL's Radio Free Iraq