NOT REALLY SO FUNNY:
The Paris-based World Association of Newspapers asked French cartoonist Michel Cambon to produce a series of cartoons on the theme of jailed journalists to mark World Press Freedom Day (May 3). Below, RFE/RL reproduces several of Cambon's cartoons.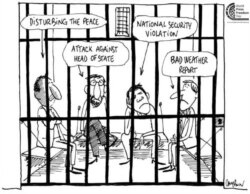 (WAN/Cambon)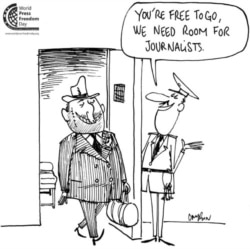 (WAN/Cambon)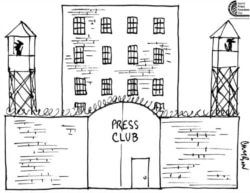 (WAN/Cambon)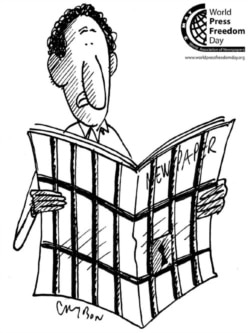 (WAN/Cambon)

RFE/RL's Press Freedom Day stories:
Iraq: Covering The Most Dangerous Beat On Earth
Afghanistan: Women In Journalism Battle Restrictions, Threats
Iran: State Maintains Tight Control Over Information
CIS: Press Freedom In Former Soviet Union Under Assault
Central Asia: Bureaucratic Obstacles Hinder Journalists
Central Asia: Governments Wary Of Independent Media
Central Asia: Journalists Still Face Harassment, Threats

ARCHIVE
To view an archive of RFE/RL's coverage of media-related stories, click here.
SUBSCRIBE
For regular news and analysis on media issues throughout RFE/RL's broadcast area by e-mail,
subscribe to "RFE/RL Media Matters."