'ABSOLUTELY UNACCEPTABLE FOR MOSCOW': On May 27, gay activists attempted to hold a peaceful demonstration in Moscow. Earlier , the AP quoted Moscow Mayor Yury Luzhkov as saying that gay-pride parades "may be acceptable for some kind of progressive, in some sense, countries in the West, but it is absolutely unacceptable for Moscow, for Russia."
"As long as I am mayor, we will not permit these parades to be conducted," Luzhkov said.
RFE/RL Moscow correspondent Claire Bigg attended the demonstration and filed these sounds and images.
LISTEN
Listen to the sounds of the demonstration (about 90 seconds):
Real Audio
Windows Media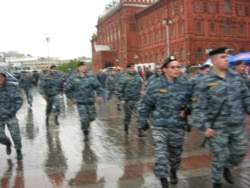 Riot police rushing to the scene of the wreath-laying near the Kremlin wall (RFE/RL)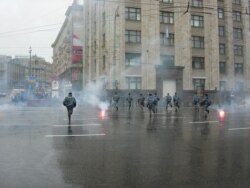 Antigay counterprotesters fired flares into the street in order to prevent the gays from marching (RFE/RL)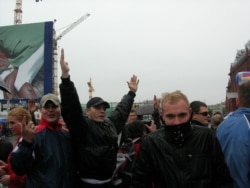 Nationalist youths shouted homophobic slogans such as "death to pederasts!" (RFE/RL)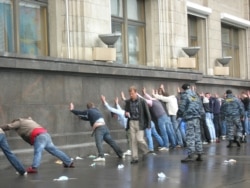 Riot police arresting some of the antigay counterdemonstrators (RFE/RL)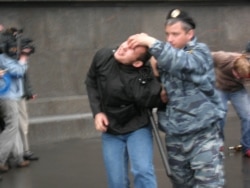 A police officer detaining an antigay counterdemonstrator (RFE/RL)

SUBSCRIBE
For a regular review of civil-society developments throughout RFE/RL's broadcast region, subscribe to "RFE/RL (Un)Civil Societies."