A Bright Spot In A Dark Place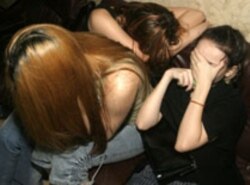 Uzbek women detained in a sweep by police in Jakarta in 2004 (epa)
LOOKING FOR HEROES:
The U.S. State Department report on human trafficking includes a section titled "Heroes Acting To End Modern-Day Slavery." Among the 10 heroes singled out for mention was Uzbek citizen
NODIRA KARIMOVA
, head of the Tashkent office of the International Organization for Migration and founder of the NGO Istiqbolli Avlod. Here is how the State Department described Karimova's contribution to the struggle against trafficking:
HOTLINES, SHELTERS, ADVOCACY: Nodira Karimova's NGO Istiqbolli Avlod has assisted over 300 victims and is operating a shelter for returned trafficking victims. Before the shelter opened, Ms. Karimova and her associates took returned victims into their own homes or even rented apartments for them as they began the process of readjustment. In addition, she has worked to expand the number of trafficking hotlines to 10, receiving over 13,000 calls in the last year. Karimova developed a strong working relationship with the Uzbek consul in the United Arab Emirates that has facilitated the repatriation of many Uzbek women. Ms. Karimova also helped organize training for the Uzbek consular officials stationed overseas in January 2005, which spread awareness and made clear to the consular officials that trafficking is a serious problem that demands serious action. She was instrumental in the decision to open additional shelters, one for sexually exploited victims and another for labor trafficking victims, which will open in 2006.
MEET THE NEWSMAKER: To read an interview with Karimova, click here.
RELATED ARTICLES
Kazakhstan: A New Destination For Trafficked Women
Sex Traffickers Prey On Eastern Europeans
Slavery Survives, Despite Universal Abolition
Activists Discuss Human Rights In Central Asia

SUBSCRIBE
For a regular review of civil-society developments throughout RFE/RL's broadcast region, subscribe to "RFE/RL (Un)Civil Societies."