Saving Afghanistan's Heritage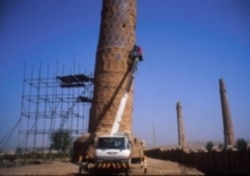 A UNESCO team working to stabilize Herat minarets in 2003 (UNESCO)

THE MINARETS OF HERAT: In Afghanistan's leafy western city of Herat, a two-lane road slices between the city's five remaining 15th-century minarets. Every truck, car, bus, motorcycle, and horse-drawn carriage that passes by sends vibrations coursing through the delicate structures.
In particular, the Fifth Minaret -- all 55 meters of it -- seems ready to collapse into a dusty heap of bricks and colored tiles at any moment. A large crack near its base makes drivers speed up just a little as they pass by....(more)



Click on the image to view an audio slideshow of this story by RFE/RL correspondent Grant Podelco.



RELATED ARTICLES
Afghanistan Protects Storied Bactrian Treasure
Archeologist Hunts For Third Bamiyan Buddha
Musicians Struggling To Revive Classical Heritage After Taliban
ARCHIVE
To view RFE/RL's complete coverage of Afghanistan,
click here
.

SUBSCRIBE
For weekly news and analysis on Afghanistan by e-mail, subscribe to "RFE/RL Afghanistan Report."