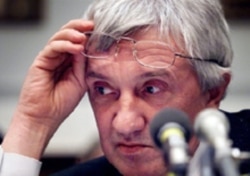 (AFO)
A 'VERY RARE' ALLERGY? It has been more than three years since the death of Yury Shchekochikhin, the noted investigative journalist and deputy chairman of the State Duma security committee. Officially, Shchekochikhin died of the acute symptoms of what medical officials deemed a "very rare" allergy. But his family and former colleagues allege he died of unnatural causes tied to his personal investigation into the "Three Whales" corruption case.
Before his death in a Moscow hospital on July 3, 2003, Shchekochikhin said he had been repeatedly threatened in connection with the case, and that his contacts in the Federal Security Service, or FSB, had warned him his life was in danger. They provided him with bodyguards -- a measure that, in the end, could not prevent his death in the city's Central Clinical Hospital, of massive fluid buildup in his brain and respiratory system.
The source of Shchekochikhin's troubles was an article he published in early 2002 in "Novaya gazeta," the twice-weekly newspaper where he served as deputy editor. In the article, he accused specific members of the Prosecutor-General's Office with attempting to block an investigation into allegations that two major furniture outlets -- Three Whales and Grand -- had bilked the state out of $20 million in import duties by falsifying the weight and purchase price of its goods.
A month before his death, Shchekochikhin met with officials from the U.S. Federal Bureau of Investigation to discuss the possibility that Three Whales was tied to another massive corruption scandal -- the Bank of New York money-laundering case. U.S. investigators accused Russia of laundering billions of dollars through BONY in 1998-99.
Three Whales, Shchekochikhin alleged, had been among the businesses illegally channelling its millions through the bank's accounts. He had received a U.S. visa with the aim of testifying in the case, as well as in the corruption case implicating then-Atomic Energy Minister Yegveny Adamov. But he never got a chance to use it.
Further, Shchekochikhin uncovered what he said were links between the Russian Supreme Court and the Prosecutor-General's Office in prosecuting the Interior Ministry investigator looking into the Three Whales case, Pavel Zaitsev. Shortly afterward, Shchekochikhin was dead. A legal probe into his death has never been conducted, despite numerous requests. All information regarding his death has been deemed a "medical secret," and without an established cause of death, an investigation into possible foul play cannot be opened.