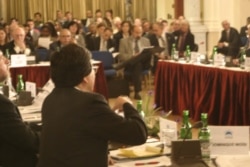 A session of Forum 2000 in Prague on October 10, 2005 (RFE/RL)
IDEAS OF OUR TIMES. RFE/RL has a close relationship with Forum 2000, an important global conference of ideas and initiatives. In October 2005, RFE/RL sat down with several Forum 2000 participants to find out more about their perspectives on the challenges and opportunities facing the modern world.
Andre Glucksmann | The obligation to intervene
Prince El Hassan bin Talal | Universal consciousness brings us together
Bronislaw Geremek | The democratic community rejects dictators
Former WTO head Michael Moore | Free trade lifts all boats
Anwar Ibrahim | The United States must engage with the world
Dominique Moisi | The future of the EU
James Woolsey | The long war of the 21st century
Ghassan Salame | Regime replacement harder than regime change
James Zogby | American identity is not a function of ethnicity


An archive of RFE/RL's interviews with newsmakers and other leading figures from across our broadcast region.