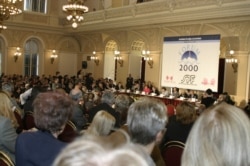 A session of Forum 2000 in Prague on October 9, 2006 (RFE/RL)
'DILEMMAS OF GLOBAL COEXISTENCE.' RFE/RL has a close relationship with Forum 2000, an important global conference of ideas and initiatives. On October 9-10, 2006, RFE/RL sat down with several Forum 2000 participants to find out more about their perspectives on the challenges and opportunities facing the modern world.
Nino Burdjanadze | Georgia needs support in row with Moscow
Alyaksandr Milinkevich | Belarusians must combat 'total fear'
Mary Robinson | EU strengthens new members' identity, influence
Bronislaw Geremek | Ukraine will 'find its path'
Vaira Vike-Freiberga | 'Nervousness in the air'
Elie Wiesel | 'Shouting' to make a difference
Kanan Makiya | 'Overthrowing Hussein was right'
Jacques Rupnik | 'We cannot afford a pause' in EU enlargement
Forum 2000 head Oldrich Cerny | "Is the era of multiculturalism over?"


An archive of RFE/RL's interviews with newsmakers and other leading figures from across our broadcast region.