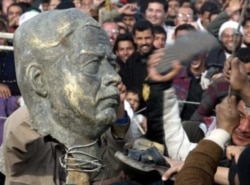 Iraqis strike a statue of deposed leader Saddam Hussein with their shoes following Friday Prayers in Baghdad on Decemer 26, 2003 (epa)


LISTEN
Listen to Persis Karim read and discuss her poem "Axis Of Evil" (about four minutes):

Real Audio
Windows Media
AXIS OF EVIL
By Persis Karim
I
Soheila puts the samovar back on the crowded shelf,
sips the last of her dark, red tea.
Her hands sweep across the sofreh
on the floor -- gathering empty plates
littered with pistachio shells and sprigs of mint.
Tonight they have declared war on Baghdad.
She worries about her young son,
her mother suffering from rheumatism.
Upstairs her husband listens to the radio,
sometimes the BBC, sometimes Voice of America.
But lately it's the government station.
When he hears the sound of the plaintive ney
he turns the volume up,
down when the mullahs address the nation.
II
In a quiet city in the Midwest
a woman opens her umbrella
at the first sight of a last spring rain.
Lately, she's been thinking about her safety.
What will it take to drive back
the forces of evil in our midst?
She's thought more about the places
and people on earth that live
like she does. Checking their watches,
feeding their kids, dutifully
paying their taxes.
III
All night Muhammad hears the wail of sirens.
In the morning, he watches angry men
hoist long ropes and topple
statues of the Great One.
Let them erase this history --
so long as he can go to school again,
so long as the rain of bullets
ceases.
IV
Soheila awakens to a glorious sunrise
How can she have turned in her bed
so much and still feel so rested?
Tehran is a lonely city, she thinks,
gazing out her second-story window
at the sad dirtiness enveloping her city.
She thinks too of her deceased father's
voice. His reminders to look always
for goodness.

(reprinted with permission)