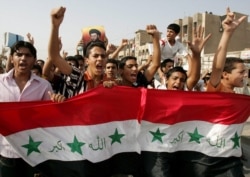 Al-Sadr supporters demonstrating against the U.S. presence in Iraq in October 2006 (epa)

A RADICAL CLERIC. Shi'ite cleric Muqtada al-Sadr is a key figure in Iraq. He heads the Imam Al-Mahdi Army militia and a political bloc that is prominent in parliament and the government. His ties to Iran have also provoked concerns in some quarters.
RELATED ARTICLES
Cracking Down On Al-Sadr No Easy Task
Political Parties Consider Uniting Against Al-Sadr
Is Al-Sadr Stirring The Pot Or Promoting Peace?
Radical Shi'ite Cleric Calls For Shi'ite-Sunni Unity
Al-Sadr Reasserts Himself -- This Time Against Coreligionists