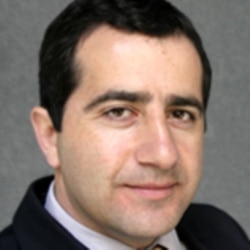 FOR AZERBAIJAN, AN 'EXTRAORDINARY OPPORTUNITY'
By Kenan Aliyev, acting director, RFE/RL's Azerbaijani Service
A WIN-WIN SITUATION. When Vladimir Putin proposed that the United States and Russia share use of the Qabala (Gabala) radar in Azerbaijan, it was partly a matter of luck. It's luck that Qabala is still functioning, luck that it's in Azerbaijan, and luck that Putin chose it as a place where Washington and Moscow could theoretically put their differences aside and cooperate.
On the other hand, it was also a matter of the Azerbaijani government being smart. It's not clear that Baku was first to conceive of a joint U.S.-Russian collaboration at Qabala. But it knew it had the base at its disposal, and it knows now how to use Putin's announcement to its advantage. Washington may ultimately turn down the invitation. But either way, for Azerbaijan, it's a win-win situation.
If the Americans say yes, Azerbaijan will be facilitating a critical global truce. If they don't, Azerbaijan will still be able to present itself as a country where Moscow and Washington could envision a comfortable partnership.
Azerbaijan has already made clear it will demand a role in any negotiations on a joint Qabala project. Being a part of this discussion, being at the table with major players, automatically strengthens Baku's hand, both regionally and internationally. Azerbaijan has already pursued a role for itself as a guarantor of energy security in the Caucasus -- particularly for Georgia -- and as a key oil and gas exporter to Europe and Turkey. Now it will have a new, strategic role to play as well. For a nation of just 8 million people, it's an extraordinary opportunity.
The current regime in Azerbaijan will use this time in the limelight to advance its interests, first and foremost the question of Azerbaijani territorial integrity in its dispute with Armenia over Nagorno-Karabakh. The situation will also give the current regime in Baku an enhanced sense of security in terms of preserving its own power. If talks proceed on Qabala, democracy may drop even lower on the list of priorities for Azerbaijan than it is now. In that sense, the proposal is a lose-lose situation for Azerbaijan.
Still, for most Azerbaijanis, this is seen as a great moment. Suddenly they're at the center of international politics, they've entered the realm of major powers. Simply put, it was great to hear their country's name at the G8.