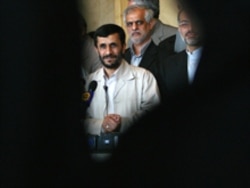 President Ahmadinejad in parliament (ISNA photo)


Mohammad Maleki, the first head of Tehran University following the Islamic revolution, says he doesn't believe the students' criticism of the government constitutes a revolution.
"What is going on right now is that because [the government] cannot tolerate the students' criticism, they try to prevent it by shutting down universities and by threatening professors and students," Maleki says. "What they are currently doing is in my opinion, and in the opinion of many professors, aimed at creating an atmosphere of fear and terror among professors and students to stop them from openly criticizing the government."
Ali Niku Nesbati, a member of the Office to Foster Unity, Iran's largest pro-reform student group, says that during Ahmadinejad's presidency, the disciplinary committee has issued warnings to 523 students for political activism. He adds that over the past year alone, more than 1,700 students have been "marked with stars" and subsequently encountered difficulties when applying for graduate degrees. (Ahmadinejad's government has reportedly adopted a "star rating" system for student activists and gives regime critics between one and three stars, depending on the perceived threat they pose.)
Nesbati says what is noteworthy is that "as the government is faced with more problems and is unable to resolve them, we are encountering more repression."

"As we have witnessed over the past few months, more pressures have been exerted on women, workers, and teachers," Nesbati says. "The same obviously applies to students."
(Nesbati was imprisoned on July 9, 2007. He made the above statements before his imprisonment.)
Culture
Abbas Marufi, an Iranian writer and publisher based in Berlin, says never in Iran's history has the book market faced tougher circumstances than today.
"The government has laid the foundations for the destruction of good and professional publishing in Iran," he says, adding that the government has created a situation that is exploited by "pseudo-publishers" -- as he describes them -- who are in the business solely to profit by publishing books for which they can get subsidies.
Marufi says that over the past two years, the Ministry of Culture and Islamic Guidance has even started to revoke publishing rights issued by previous governments.
Ebrahim Nabavi, a journalist and satirist, says the book-publishing sector today faces circumstances similar to those 10 years ago. According to Nabavi, it has become very difficult to get accreditation for new publications or to renew old licences.
But Sadegh Samii, director of publishing house Ketabsara, says many government critics are simply ignorant of the rules and regulations of publishing in Iran.
"We Iranians are in the habit of blaming others for our own failures," says Sadegh Samii, director of the publication "Ketabsara." "So if at any point in time, I'm unable to select a good book and find a qualified translator, I put the blame on the Ministry of Culture and Islamic Guidance. But this is unjustified."
Samii says over the past 27 or 28 years, the ministry's regulations have not changed at all. But he admits that the regulations have been applied more or less strictly during different periods.
Economics
Siamak Taheri, a newspaper journalist based in Iran, says Ahmadinejad was elected two years ago on the promise that he would bring social equality to the country. At the time, many Iranians were dissatisfied with their country's economic situation and had lost faith in the reformists' ability to improve it, so they pinned their hopes on Ahmadinejad.
"But the economic situation has worsened under Ahmadinejad and unemployment and corruption have increased." Taheri blames the situation on the makeup of the government.
Political
Shirin Ebadi, Iranian human rights lawyer and Nobel Peace Prize winner, says she has not seen the government "take any positive action in the fight against high prices and in the struggle for prosperity, which is an important human right." Ebadi says this has prompted workers and teachers to hold strikes, which unfortunately have led to arrests and interrogations.
Women
Nahid Kheirabi, a journalist and women activist based in Iran, says one of the "reactionary viewpoints of the 9th republic has been the renewed discourse on the legitimacy of temporary marriage," which according to Kheirabi constitutes "an insult and a threat to humanity, to both men and women." But Kheirabi says society's negative reaction to the concept of temporay marriage has forced Ahmadinejad's people to retreat on this issue.