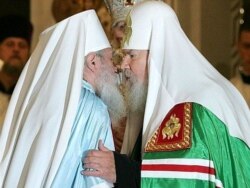 AN ORTHODOX REUNION: Following the 1917 revolution, Russian Orthodox Church Patriarch Sergei declared the church's loyalty to the communist regime. The move led to a split within the church that would last nearly 90 years.

Orthodox believers opposed the regime's religious policies fled -- eventually founding in New York the Russian Orthodox Church Abroad.

The Church Abroad considered itself the voice of Russian Orthodoxy outside the Soviet Union, and an inseparable, spiritually united branch of the Moscow-based church.

In May 2007, during a lavish celebration at Moscow's Christ The Savior Cathedral, the two once again made their historical bond official.

But longstanding differences and new growing pains must yet be overcome before their spiritual reunification can be considered complete.



RELATED ARTICLES
Skepticism Surrounds Reunited Orthodox Church
Russian Orthodox Churches Unite
Orthodox Church Abroad Head Wants Closer Moscow Ties
The Orthodox Church And The Kremlin's New Mission
A thematic webpage devoted to issues of religious tolerance in RFE/RL's broadcast region and around the globe.