Politkovskaya Investigation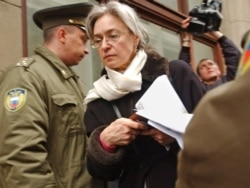 Journalist Anna Politkovskaya was murdered in October 2006
In a Kremlin meeting with President Vladimir Putin on August 27, Prosecutor-General Yury Chaika announced that 10 people -- including a Chechen crime boss, a Federal Security Service officer, a police major, and three former police officers -- had been arrested in connection with the Polikovskaya assassination.

Chaika said that the assassination was ordered by people living outside of Russia who sought to discredit President Putin -- an apparent reference to exiled tycoon Boris Berezovsky, who is living in London. He also said those arrested were involved in other high-profile killings, including last year's assassination of deputy Central Bank chief Andrei Kozlov and that of U.S. journalist Paul Klebnikov in 2004.

Journalists at "Novaya gazeta," where Politkovskaya worked, meanwhile, had been conducting their own investigation into her slaying. The journalists said Chaika's conclusions about who carried out the assassination was consistent with their findings. But they disagreed with his allegation that foreign-based individuals ordered the killing -- and accused Chaika of politicizing the investigation.

Days after Chaika's announcement, Russian media reported that two of the suspects had been released, that another suspect in custody was not connected to the case, and a fourth could not have been involved with Politkovskaya's October 7, 2006 assassination because he was in prison at the time.

The reports came after a tabloid newspaper published the suspects' names, sparking claims that the investigation was tarnished.

Subsequent press reports fueled rumors that Pyotr Garibyan, the chief investigator in the case who had won the trust of Politkovskaya's colleagues and family, had been removed from the case. The Prosecutor-General's Office denied the reports, saying new investigators had been added to the existing team due to the large volume of work.

"Novaya gazeta" editor Dmitry Muratov has alleged that security officials were interfering in the investigator's work and trying to disrupt the case.