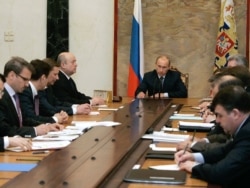 While Dmitry Medvedev's presidential campaign was made up of people whose primary loyalty is to outgoing President Vladimir Putin, there will certainly be turnover in key positions in the coming months, especially if Medvedev tries to build his own political power base.

This could include Medvedev's past associates in the Kremlin, fellow students at the law school at St. Petersburg State University, and colleagues from his tenure at Gazprom. Also likely to join Medvedev are holdovers from the Putin presidency, especially younger leaders such as Defense Minister Anatoly Serdyukov, Health and Social Development Minister Tatyana Golikova, and the head of the state nuclear energy monopoly, Sergei Kiriyenko.

See "The Future Medvedev Team"