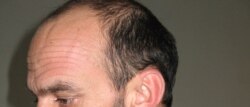 Favorite book?
"Martin Eden" by Jack London

Which living person do you most admire?
Georgian President Mikheil Saakashvili
When will you know you've succeeded?
When everyone's opinions are tolerated.

What is your worst vice or extravagance?
I want to know a lot.
What was the best day of your life?
August 7, 2003 -- the day "Ruzi Nav" was born.
What would people be surprised to know about you?
When I fulfill my duties in journalism, I would like to become a shepherd.
What is your greatest fear?
My own daring
What is your greatest regret?
A person who opposes my opinion and tries to impose his opinion on me.
What is your greatest achievement or accomplishment?
I don't owe anything to anyone.