BACK TO TOP
Afghanistan's New Northern Flash Points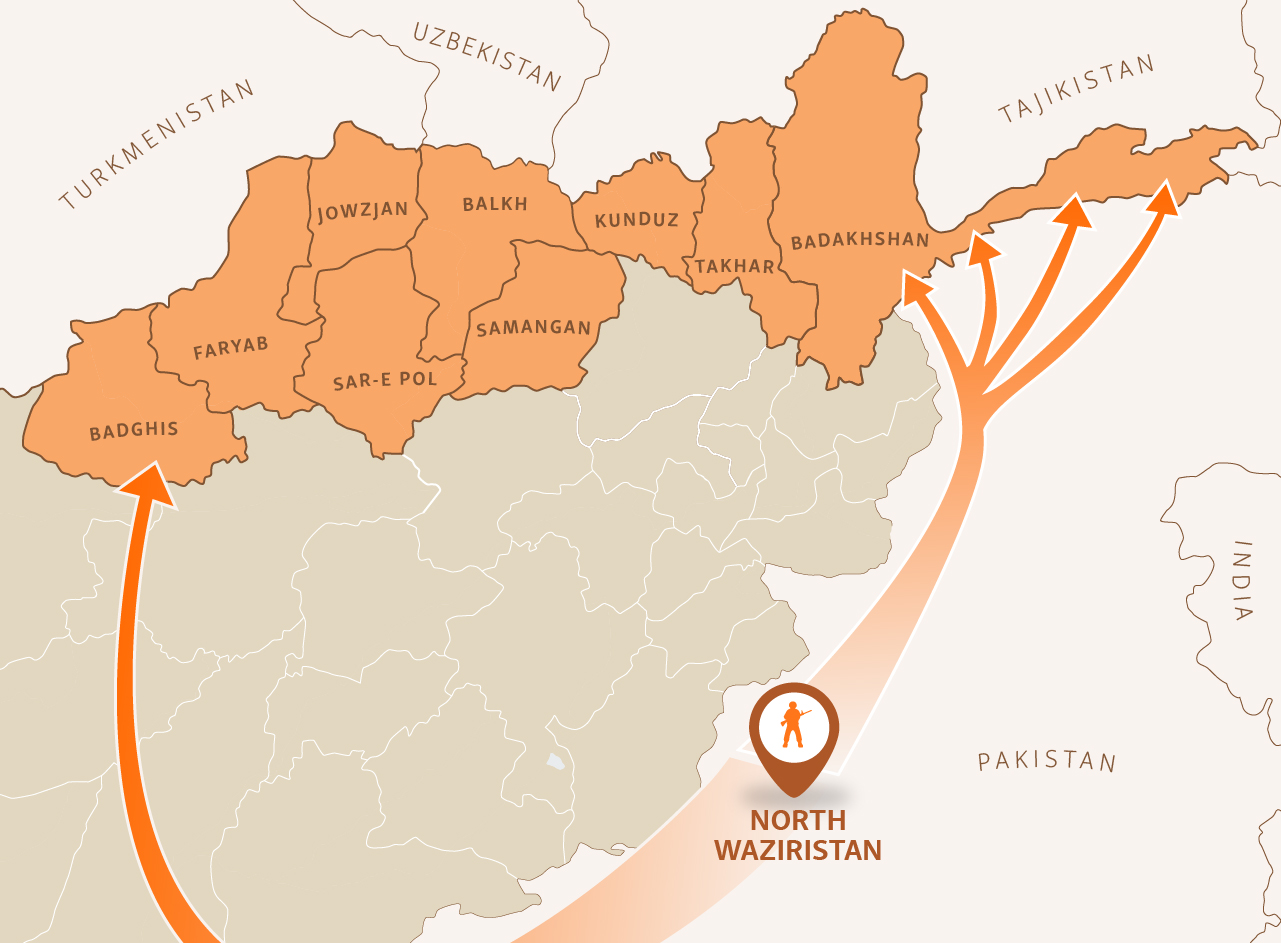 In the years after the collapse of the Taliban regime, following the resolution of a conflict between rival factions of Afghanistan's former Northern Alliance, "relatively calm" was commonly used to describe the situation in the country's north. The label no longer fits, however, as widespread fighting and an influx of foreign militants have drastically altered the scene.
A number of factors have contributed to the new reality in the north, but one of the biggest is the security vacuum caused by the withdrawal of NATO troops in 2014 and the handover of responsibility to Afghanistan's fledgling security forces and military. The region has become a desirable destination for undesirables as a result.
The arrival of the annual Taliban spring offensive in April 2015 revealed the north as a major battleground between government troops and Taliban forces, fighting that in years past had centered primarily on the Pashtun centers of southern and eastern Afghanistan.
And there were also reports of new arrivals: Central Asian militants, loyal to the Islamic State group, who were flushed out of their safe havens in Pakistan's tribal regions by a Pakistani military offensive.
Pakistan's restive border region (including Khyber Pakhtunkhwa Province and North Waziristan and other Federally Administered Tribal Areas) has for years harbored militants from the Pakistani Taliban, Central Asia, Arab countries, and Chechnya. Reports from locals in northern Afghanistan that "foreign faces" were being seen in increasing numbers led officials to look to northwestern Pakistan as a source.
This raised the prospect that representatives of a number of militant groups known to have taken refuge in Pakistan could be among the arrivals.
They include various factions from the Tehrik-i Taliban Pakistan (the umbrella group known as the Pakistani Taliban); Al-Qaeda-linked groups such as the Islamic Movement of Uzbekistan (IMU, a primarily Uzbek group known by Afghans as Jundullah); and Jamaat Ansarullah (a Tajik splinter group of the IMU).
Announcements by leaders of the IMU that they had sworn allegiance to the Islamic State (IS) leadership raised fears of a dangerous new brand of extremism in Afghanistan.
There have been numerous cases of fighters swapping the Taliban's flag for IS's black flag, claims by Afghan officials that the IS was indeed operating on Afghan soil, evident recruiting efforts, and signs of a brewing rivalry between the Taliban and IS.
But to this point it is unclear what level of penetration, if any, the Arab leadership of IS has on the ground in Afghanistan.
A June 2015 Pentagon report concluded that Islamic State's "presence and influence in Afghanistan remains in the initial exploratory phase."
The report also said that while the IMU had publicly expressed support for Islamic State "as the leader of the global jihad," it was worth noting that the Afghan Taliban has "declared that it will not allow [IS] in Afghanistan."
Meanwhile, more sightings of foreign militants in northern Afghanistan have also led to suggestions that Central Asian fighters could be positioning themselves in northern Afghanistan to cross back into bordering Tajikistan, Turkmenistan, and Uzbekistan.
Militant Routes
The infiltration of militants from Pakistan can be described as a two-pronged movement that positions on either side of northern Afghanistan's coveted central provinces, and puts them in the unenviable position of having to fight on two fronts.
Retired Afghan National Army General Javed Kohistanti told RFE/RL in the spring of 2015 that there were about 300 crossing points along the 1,700-kilometer Afghan-Pakistan border that militants could use to enter Afghanistan.
Pakistani Taliban and Central Asian militants who have declared loyalty to the Islamic State group have clashed with rival extremists from Afghanistan's Taliban when attempting to cross through southeastern Afghanistan, requiring them to choose between two established routes.
The more direct eastern route offers a number of entry points into northeastern Afghanistan, and appears to be the preferred avenue for militants fleeing North Waziristan.
But most of the militants present in Afghanistan's northwest likely entered by way of the western route. They enter the country from the south, then loosely follow Afghanistan's main ring road through Farah Province before leaving the highway to avoid checkpoints in Herat city. From there they cross through Herat Province's eastern panhandle and into the north.
The flow of militants directly from Central Asia appears relatively limited due to tight border controls by Turkmenistan, Uzbekistan, and Tajikistan.
Badakhshan Province
Under Taliban rule, the remote and mountainous Badakhshan Province was among the few parts of Afghanistan that the regime could not bring under its control.
Today those same traits make the province an ideal conduit for militants seeking to flee Pakistan's western tribal regions and enter northern Afghanistan.
They often enter through the Wakhan Corridor, a narrow panhandle that is sandwiched between Tajikistan and Pakistan, shares a border with China, and has served as a land bridge for centuries.
Since Pakistan launched a military offensive in North Waziristan in 2014, fighters and their families are known to be increasingly using Badakhshan's hidden mountain passes to escape.
Some reach Badakhshan by first crossing through the Afghan province of Kunar, but most travel north from North Waziristan to Chitral. From there they cross the border into Badakhshan through the Dorah and Boroghil passes, or the Irshad pass that links Pakistan's northernmost administrative territory, Gilgit-Baltistan, to the Wakhan Corridor.
At least four of Badakhshan's 28 districts have a strong militant presence and also are being used as a staging area for Islamist fighters traveling on to the nearby provinces of Takhar and Kunduz.
* training camps and settlements are believed to be located in the central districts of Jurm and Warduj
* 18 Afghan soldiers were killed and some beheaded in Jurm district in April 2015 when their outpost was overrun by about 200 militants said to be from Tajikistan, Uzbekistan, and Chechnya
* the Wakhan Corridor, 11 kilometers at its narrowest point, was created by political agreements that brought an end to the Great Game of the late 19th century and set up a buffer zone between the Russian Empire and British India
* European explorer and merchant Marco Polo is believed to have used what is today the Wakhan Corridor to reach China nearly 750 years ago
Takhar Province
Takhar Province was one of the first areas in northern Afghanistan to see evidence of an IMU presence when fighters from Pakistan arrived in 2008 to disrupt NATO's northern supply routes.
Militants from the Tajik IMU splinter group Jamaat Ansarullah also settled in Takhar, putting the group in position to make good on threats to carry out attacks in Tajikistan, which it borders to the north.
In 2010, residents in Takhar told RFE/RL that "Al-Qaeda fighters" had established a small foothold in the province. In September of that year, NATO lent support to the claims when it announced that an air strike in the province had killed an Al-Qaeda-linked IMU leader.
Afghan lawmakers have claimed that IMU fighters were infiltrating anti-Tailban militias in the province, and three parts of Takhar have been singled out as areas where sympathetic ethnic Uzbek residents have offered shelter to IMU fighters -- the districts of Dashte-e Qala, Khoja Ghar, and Baharak.
Those districts are also thought to be part of the transit route from Pakistan's North Waziristan for militants traveling further west to neighboring Kunduz Province.
* in 2012, Taliban militants were blamed for carrying out at least two suspected gas attacks against girls' schools in Takhar -- including one in the provincial capital, Toloqan
Kunduz Province
Both the Taliban and IMU fighters loyal to Islamic State made Kunduz Province the focus of their spring offensive in 2015, using it as a staging ground for broader campaigns in the north.
Notably, the battle for Kunduz revealed ties between Taliban in northern Afghanistan and Central Asian and Caucasus militants who declared loyalty to Islamic State militants.
Early in the campaign, as many as 2,000 Taliban militants concentrated in the province seized swaths of territory across five of the province's seven districts -- advancing to within 10 kilometers of the provincial capital's strategic airport in late April and seizing high ground in the Gul Tepe district on the northwest edge of Kunduz city.
Government forces spent the summer of 2015 trying to recapture lost territory, with the help of U.S. air strikes and fresh recruits flown in from Kabul.
But the effort failed to force the Taliban from the high ground on the northwest side of Kunduz, and Taliban fighters advanced into other parts of the city in late September, overrunning government buildings and freeing hundreds of prisoners.
The fall of Kunduz marked the first time since late 2001 that Taliban fighters controlled an Afghan provincial capital.
As of late September, 2015, government forces maintained control of Kunduz's airport on high ground on the city's south side -- using it to fly in reinforcements and stage counterattacks while NATO warplanes intensified air strikes on Taliban targets.
* Provincial Governor Mohammad Omar Safi told RFE/RL after fierce fighting in May that at least 18 slain militants had been positively identified as "foreign fighters" from Tajikistan, Uzbekistan, Kyrgyzstan, Turkey, and Chechnya
* In the summer of 2015, provincial police chief Abdul Saboor Nasrati told RFE/RL that "we cannot ignore the presence of Islamic State fighters" in Kunduz Province
* Kunduz was the Taliban's last stronghold before the U.S.-led invasion drove them from power in 2001
Balkh Province
With the historic city of Mazar-e Sharif as its capital, Balkh has long been considered the key province in northern Afghanistan.
Mazar-e Sharif contains important religious shrines such as the Blue Mosque as well as Muslim and Hellenistic archeological sites, and the province as a whole was part of a region known more than 2,400 years ago as Bactria.
Modern-day Balkh abuts parts of all three Central Asian states that form Afghanistan's northern border -- Turkmenistan, Uzbekistan, and Tajikistan. And in terms of attacks by the Taliban, Central Asian militants, or IS-linked foreign fighters, Balkh is northern Afghanistan's most secure province.
This is largely due to a monopoly on power, even in the province's most remote regions, held by ethnic-Tajik governor and former warlord Atta Mohammed Noor.
However, that stability is largely dependent on Noor's relations with another former warlord, First Vice President Abdul Rashid Dostum. In June the traditional rivals agreed to work together to restore security to northern Afghanistan.
* after the forces of Alexander the Great conquered Bactria in the 4th century B.C., the region became the Greco-Bactrian Kingdom -- the easternmost part of the Hellenistic world in the 3rd and 2nd centuries B.C.
Samangan Province
Samangan Province lies strategically on the north side of Afghanistan's Hindu Kush mountain range.
The main highway linking Kabul to the northern city of Mazar-e Sharif, capital of Balkh Province, passes through Samangan and its provincial capital Aibak.
Samangan has been relatively peaceful in recent years, with only limited militant activity compared with other northern provinces.
There have been few reports of foreign fighters in Samangan. Militant attacks in 2015 have been claimed by Afghan Taliban -- mostly roadside bombings rather than group attacks.
Some of the worst bombings and kidnappings have been in the isolated Dar-e Sof Payan district -- a valley about 130 kilometers west of Aibak and the main highway.
* in June 2014, a roadside bomb in Aibak killed 10 election observers affiliated with presidential candidate Abdullah Abdullah.
* Swedish and Finnish troops in the NATO-led mission handed over responsibility for security operations in Samangan to Afghan forces in 2011.
Jowzjan
Jowzjan is the home province of Afghan First Vice President Abdul Rashid Dostum, the powerful ethnic Uzbek factional leader who, during Taliban rule, was a key commander of the anti-Taliban Northern Alliance.
Despite the presence of Dostum's former militia fighters, militant activity has increased in Jowzjan since NATO-led forces handed over security to Afghan troops in 2012.
In late 2014, Taliban fighters overran Jowzjan's northernmost Khamyab district, forcing government troops and volunteers from Dostum's faction to withdraw.
Across the border, Turkmenistan responded by bolstering its security.
Groups of Taliban fighters in Jowzjan also killed government troops while carrying out guerilla attacks outside of the provincial capital, Sherberghan, in 2014.
By 2015, Afghan government forces appeared to be in control only of the administrative centers in nine of Jowzjan's 11 districts.
In Jowzjan's outlying villages, security often is up to local police or civilian volunteers. Most are thought to once have been members of Dostum's militia.
IMU militants appear to have begun infiltrating Jowjzan in large numbers during the spring of 2015 from neighboring Faryab Province to the west.
Villagers in the province tell RFE/RL that they've seen Central Asian militants working as IMU recruiters and trainers since spring 2015.
In May 2015, officials in Jowzjan's central district of Aqcha estimated that there were at least 300 "foreigners" among militants battling government forces.
Residents there tell RFE/RL the foreign fighters speak Uzbek and Tajik with accents that suggest they are from Central Asia, not Afghanistan -- an indication that they are from the IMU and its Tajik wing, Jamaat Ansarullah.
Sar-e Pol Province
Most militants in Sar-e Pol Province are believed to be locals, but there has been a large influx of Taliban and foreign militants since 2014.
Many militants arrive from Badghis and Faryab provinces, and are active today in about half of Sar-e Pol's seven districts.
They control large swaths of territory and some fight for the Taliban as well as the IMU.
Villagers in districts like Sozma Qala and Kohistanat complain there are not enough government troops to protect their communities, and that the number of militants increased in the spring of 2015.
Some residents have been banded together in civilian fighting forces in order to maintain security, but they say Kabul has been slow on its promise to provide them with weapons.
The type of militant attacks since the autumn of 2014 -- ambushes and assaults involving large groups of fighters -- support the reports of a growing militant presence.
* in April 2015, militants kidnapped seven people in Sar-e Pol and reportedly received ransoms for their release
* on May 5, the increasingly emboldened militants carried out an attack near the provincial capital, Sar-e Pol -- killing three members of the villagers' civilian militia and injuring several others
Faryab Province
Security in the northwestern province of Faryab has been deteriorating since the start of 2014 with an influx of Taliban and foreign fighters -- including militants once based in Pakistan's western tribal regions.
Some fighters, including IMU militants, are thought to have been forced out of neighboring Badghis Province by Afghan military offensives. In Faryab, too, government forces have launched offensives to recapture districts under militant control.
Residents of Faryab also have complained about the emergence of illegal armed groups that have established a strong presence in at least eight of Faryab's 15 districts -- adding further instability to the province and threatening local security forces.
Thousands of residents have been displaced as a result of the fighting and general insecurity.
* the provincial capital of Faryab, the town of Maimana, has been hit by suicide bombers who have targeted mosques and bazaars, convoys of security forces, and medical centers
* locals say government control is limited to district centers -- one member of Afghanistan's parliament claimed in April 2015 that militants controlled over 80 percent of Faryab Province
* in June, a government delegation traveled to Faryab to unify residents against the Taliban and "Al-Qaeda who wear black masks and call themselves Islamic State" militants
Badghis Province
Badghis Province has been a hotbed of fighting by Taliban and IMU militants since 2014, and Afghan security forces have launched several offensives since then in an attempt to drive militants out of the province.
Those operations usually are launched in response to the seizure of towns or villages by the militants.
Taliban and IMU militants from North Waziristan enter Badghis after crossing the easternmost part of Herat Province.
Their arrival has come amid a rise in militant activity and an IS announcement in early 2015 that it was working to expand its presence in Badghis and other parts of northern Afghanistan. This, in turn, has led neighboring Turkmenistan to bolster its border security.
Turkmen border guards and militants in Badghis have clashed on occasion since 2014, and fighting has led some civilians to try to cross the Murghab River into Turkmenistan.
* in May 2015, after IMU militants overran the town of Jawand, a government offensive pushed the militants back toward their strongholds in Badghis along the Turkmen border
* Badghis Provincial Police Chief Mohammad Qayum Angar says six militants were killed in May 2015 trying to transport suicide bomber vests from Herat Province to Bala Marghab
Written and reported by Qadir Habib, Ron Synovitz, Frud Bezhan, and Michael Scollon