Two weeks after 14-year-old Zoya Cherkassky-Nnadi and her family left Kyiv for a new life in Israel, the U.S.S.R collapsed. Recently, the artist drew on memories of her Soviet childhood in a series of paintings that have captivated the Russian-speaking Internet.
Working with oil on linen, Cherkassky-Nnadi used a deliberately naive style in her paintings of 1980s Soviet life. She told RFE/RL by phone: "I started this series when I was pregnant with my first child so I was recalling my own childhood memories."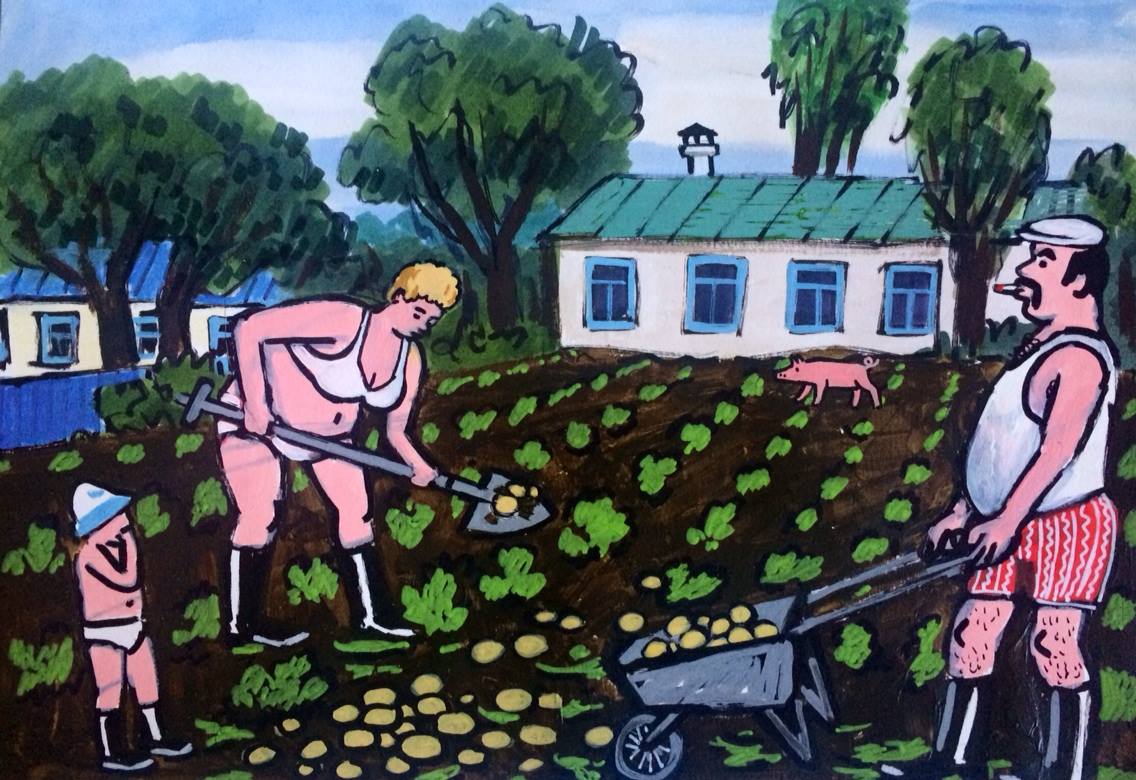 A dacha scene in rural Ukraine. "The last two months [of the pregnancy], I was just staying in bed and drawing these memories. I think that's why the work is so warm," she told RFE/RL from her home in Tel-Aviv.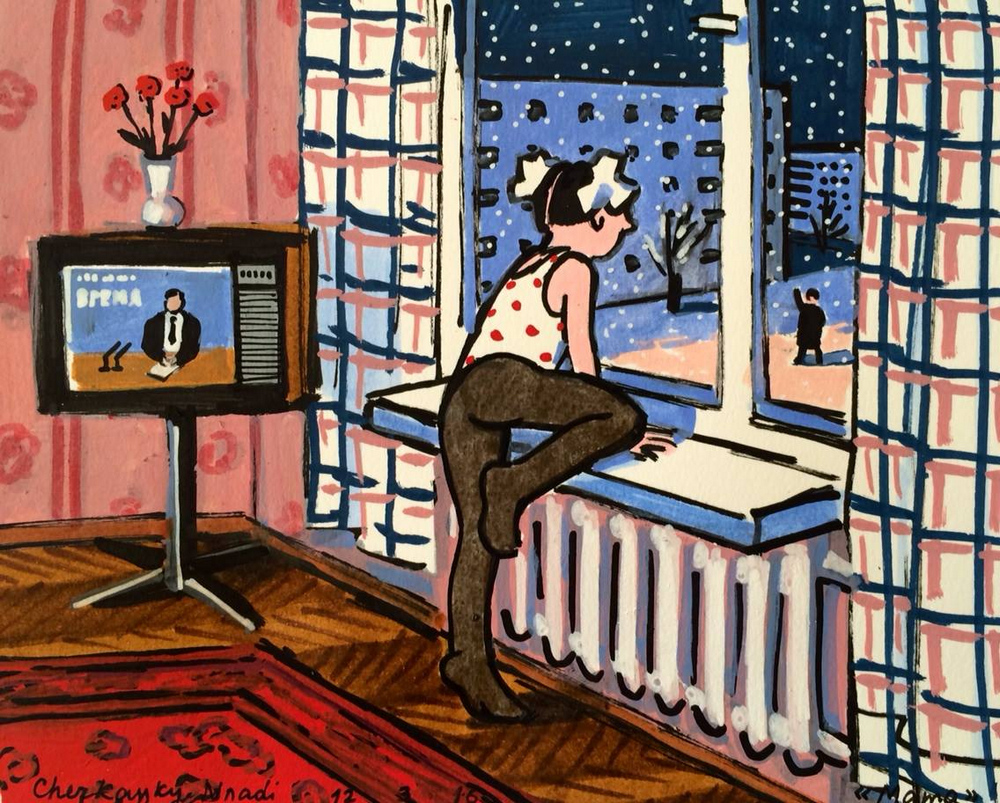 In this painting titled "Mama," the artist captured her nightly ritual of waiting for her mother to return home from work. "I lived on the seventh floor and there was a bus station near our apartment. Every night I would watch out of the window for my mum to come out of the bus."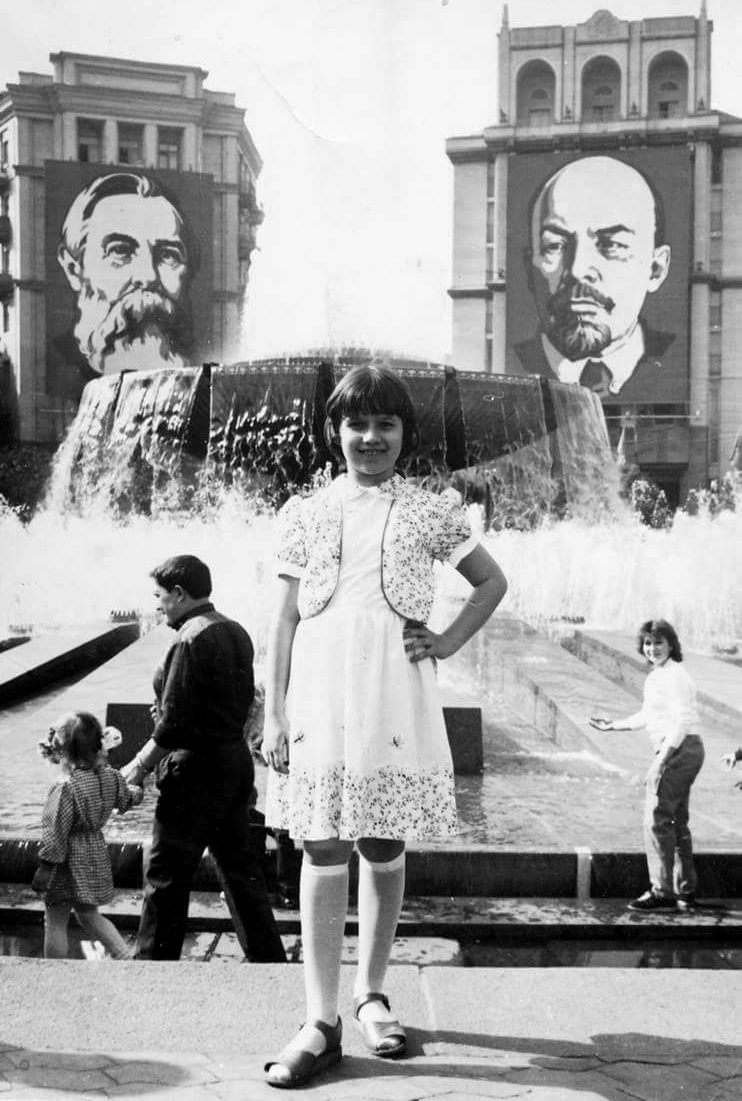 Cherkassky-Nnadi, who adopted her Nigerian husband's name as a suffix, pictured in Kyiv in 1985. Since leaving Soviet Ukraine, the artist has worked in Berlin and Israel.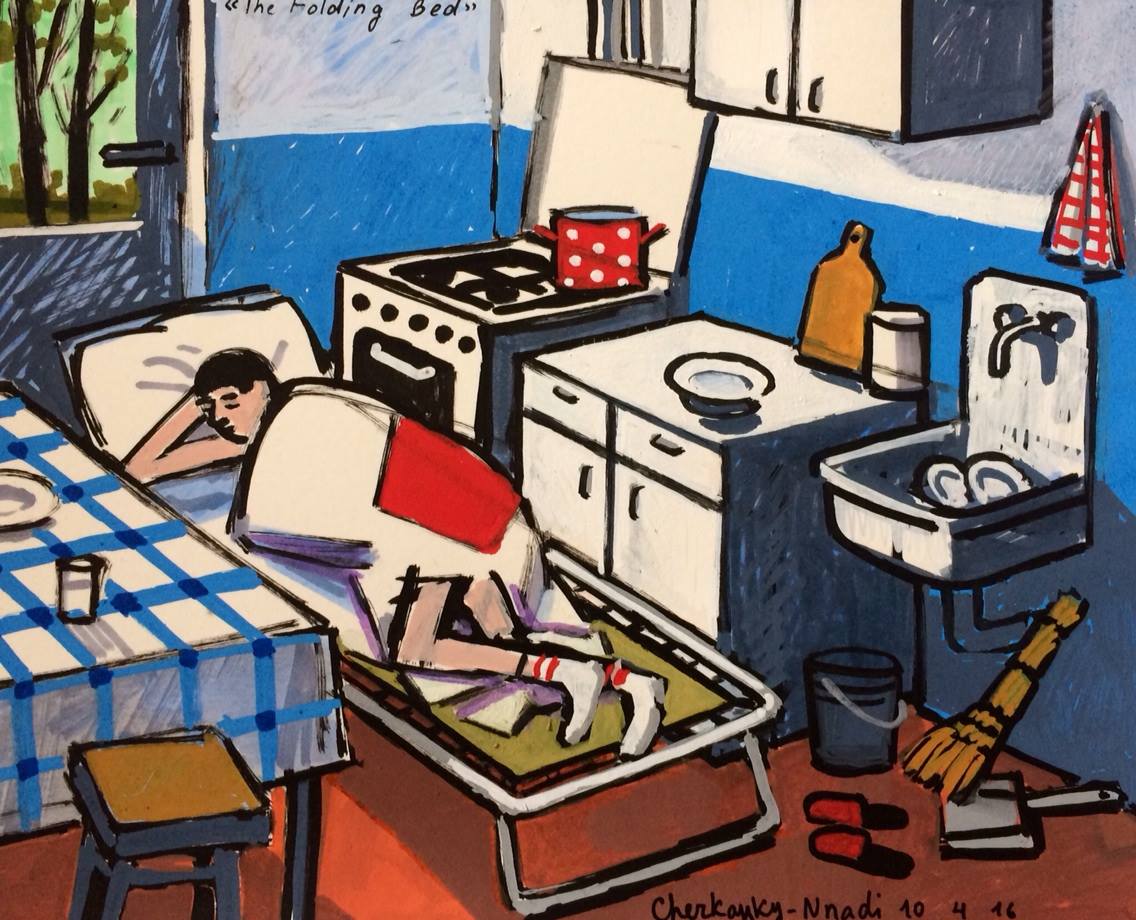 Cherkassky-Nnadi says people have been divided over her portrayal of Soviet life. "Some of them still believe that the U.S.S.R was the entity of evil, and they think I'm not showing enough the horrors of this system, other people idealize this period and say I show too much poverty and depression."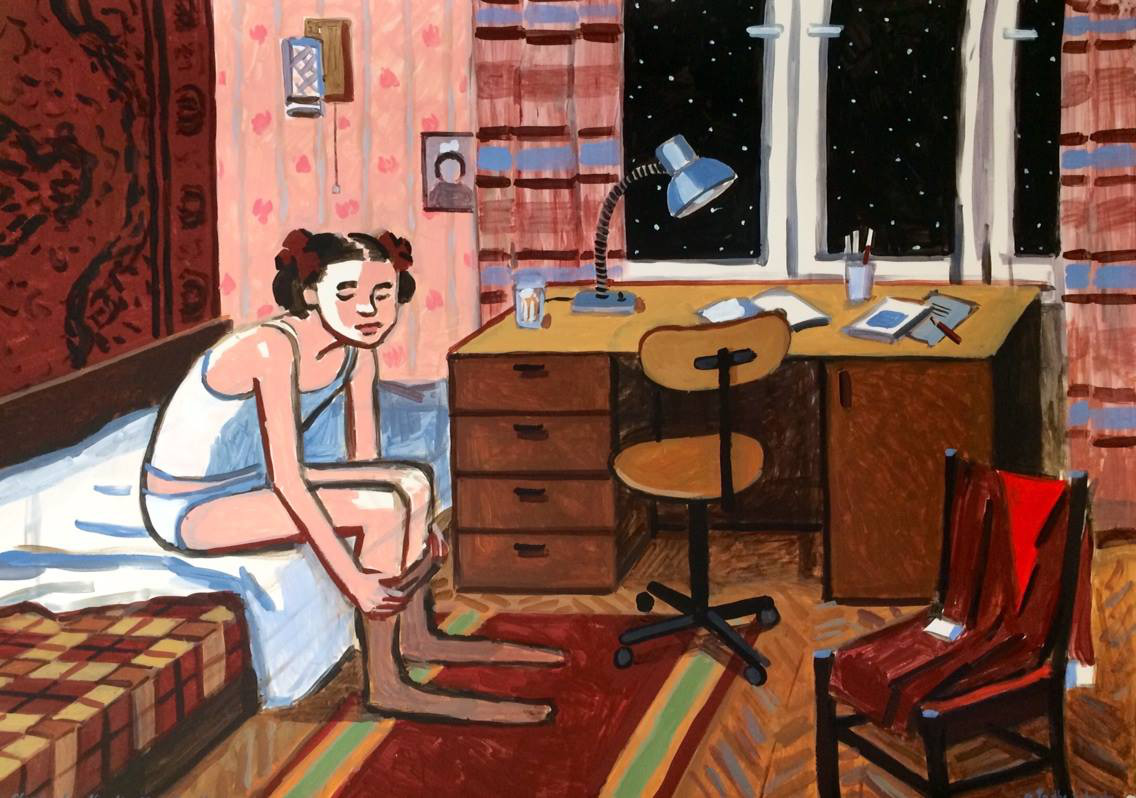 A girl pulling on her nylons before getting ready for school.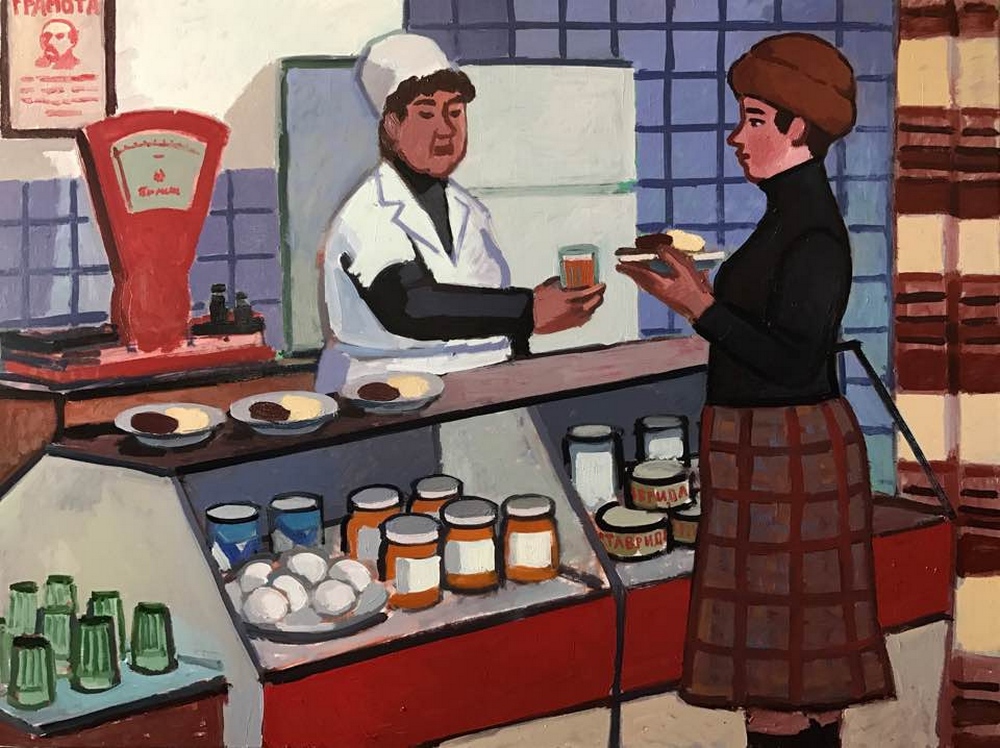 A cafeteria serving mashed potato and minced beef cutlets -- described by The New York Times in 1963 as "the cheapest, most-popular if not most-revered piece of meat a few kopecks can buy."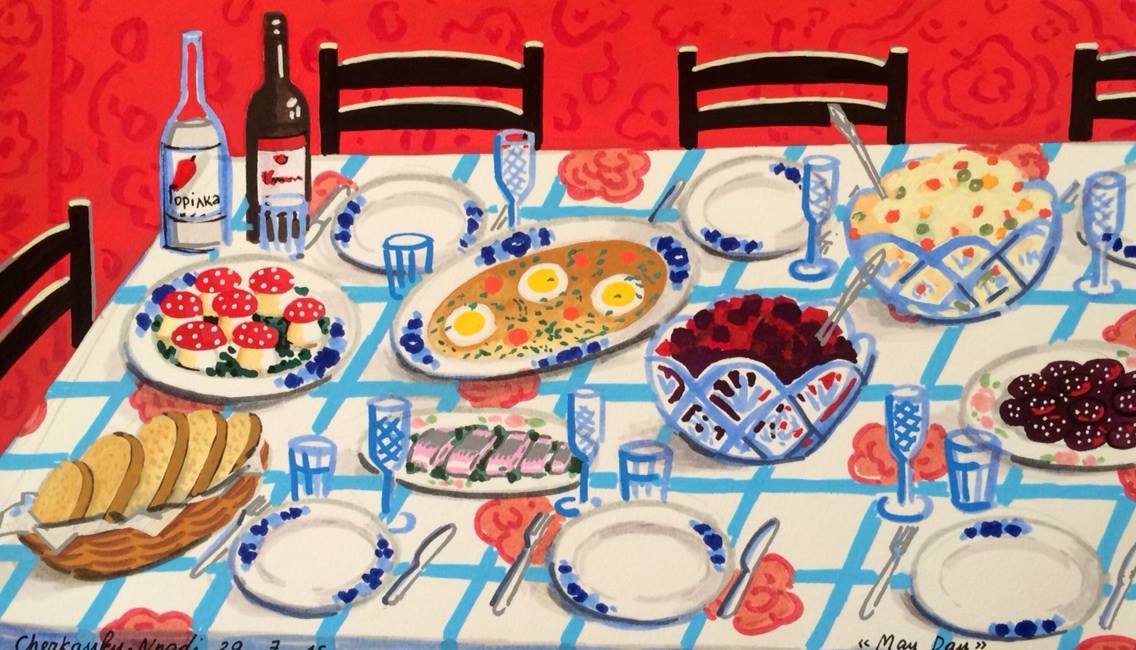 A feast laid out for May Day festivities. The spread includes a bottle of spicy Ukrainian spirits, and "death caps" -- deviled eggs topped with mayonnaise-spotted tomatoes made to resemble poisonous mushrooms.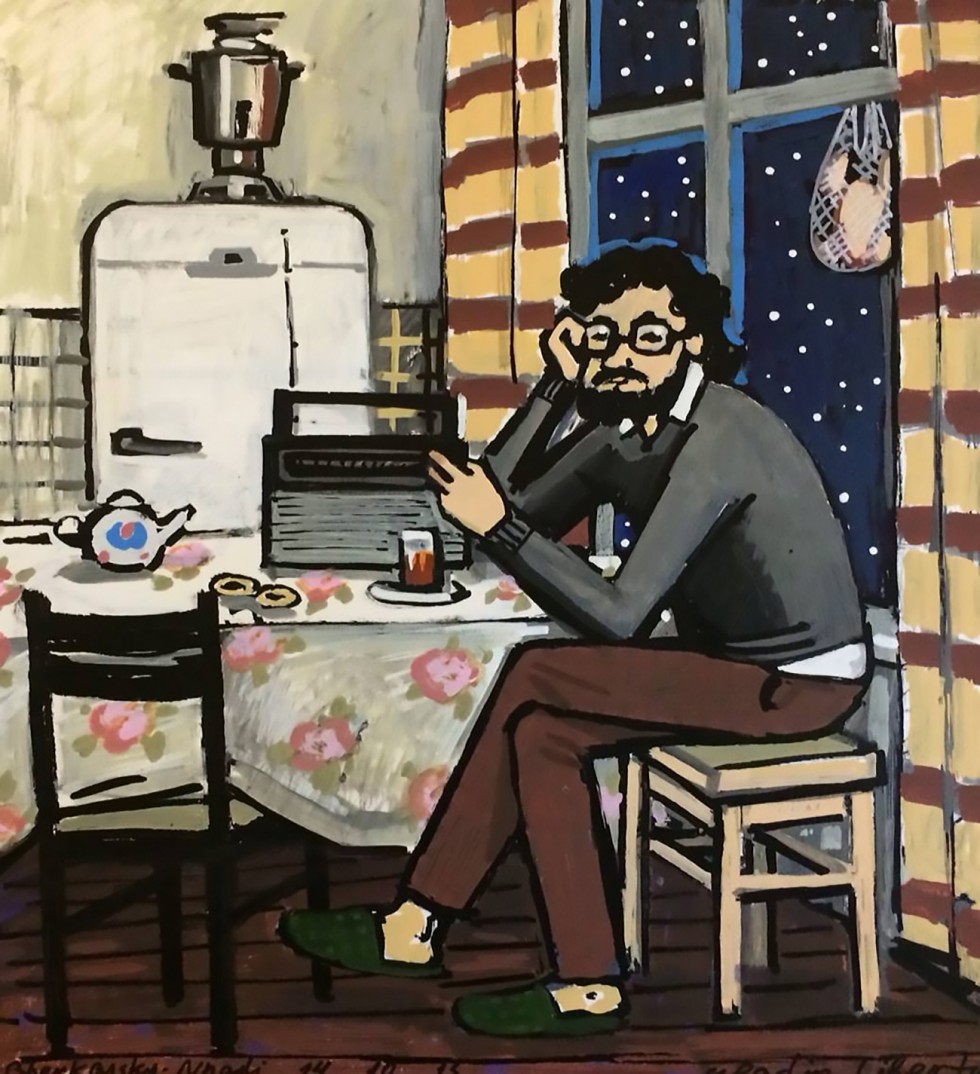 A young dissident tuning into Radio Liberty, which is also the name of the painting. "We believed in something that didn't exist, because no-one had been to the West," Cherkassky-Nnadi said. "People thought that things were the same in the West, but somehow better. But now I have lived the majority of my life in the capitalist world and I have a lot of criticism towards this system."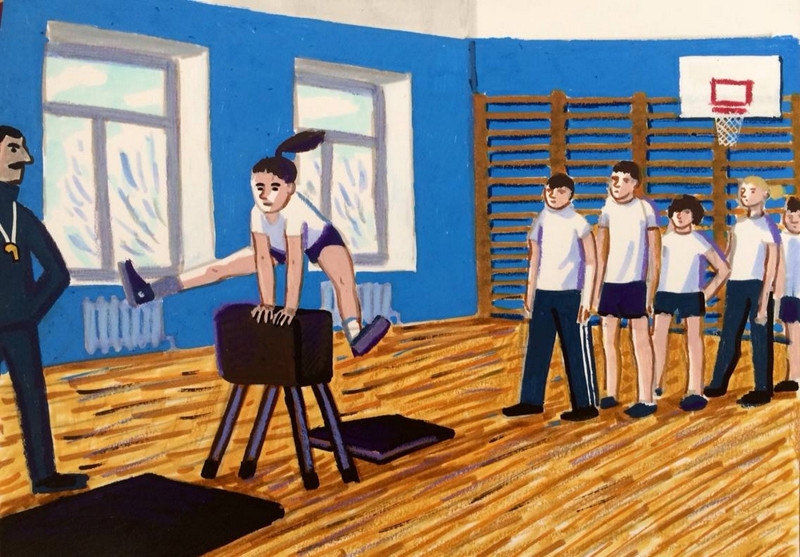 Cherkassky-Nnadi is blunt when asked about her political leanings, saying that "ideologically, I'm a communist."
A summer scene with tomatoes and dill being prepared for pickling. As the granddaughter of a food-store manager, young Cherkassky-Nnadi enjoyed meals that many of her peers could only dream of.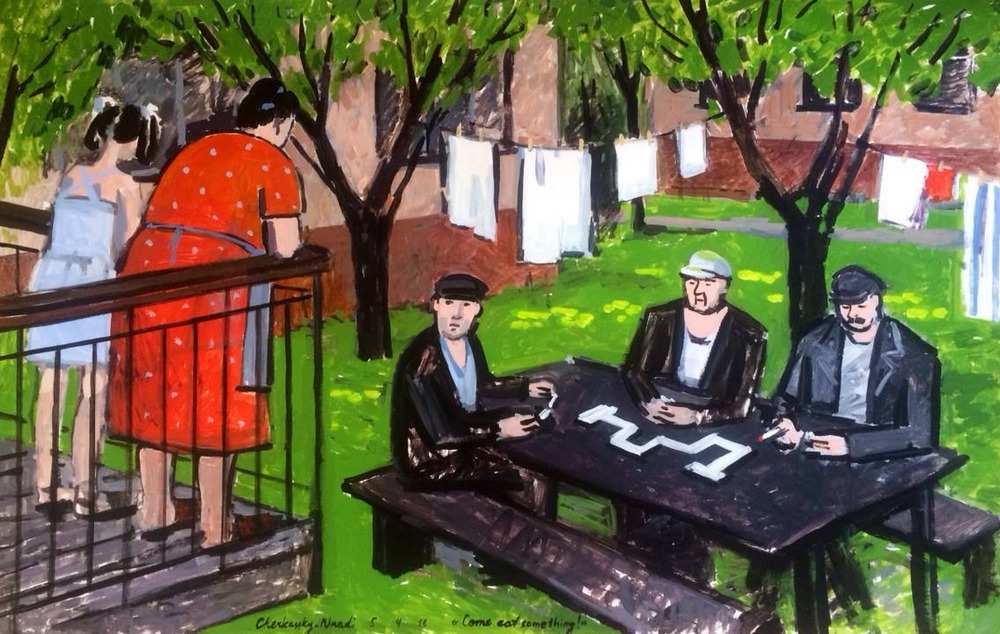 A painting titled "come eat something." Cherkassky-Nnadi explained the perks of her grandfather's job. "Firstly, he could get [nice food] for my family and also, for example, if we needed a good doctor, [my grandfather] could get some good things for him and [the doctor] could do some good things for us."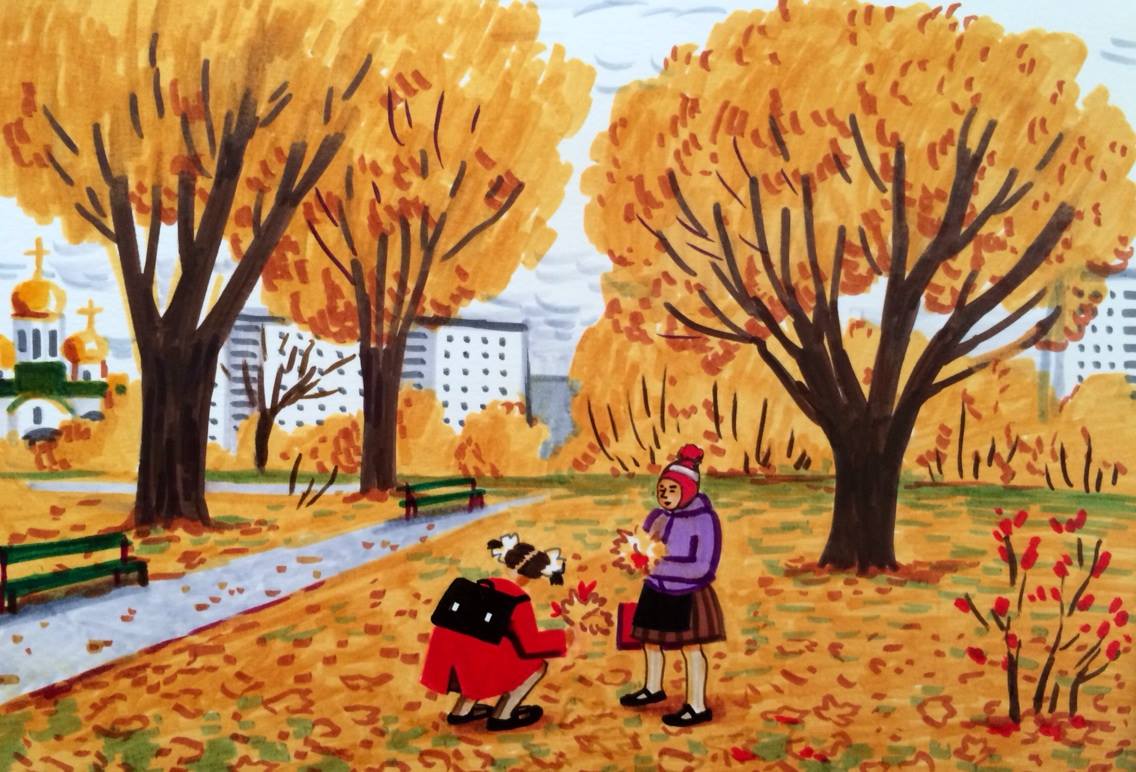 Cherkassky-Nnadi said the simplistic style of the series is a result of the paintings being "made from memories," but added that the "memories are totally selective."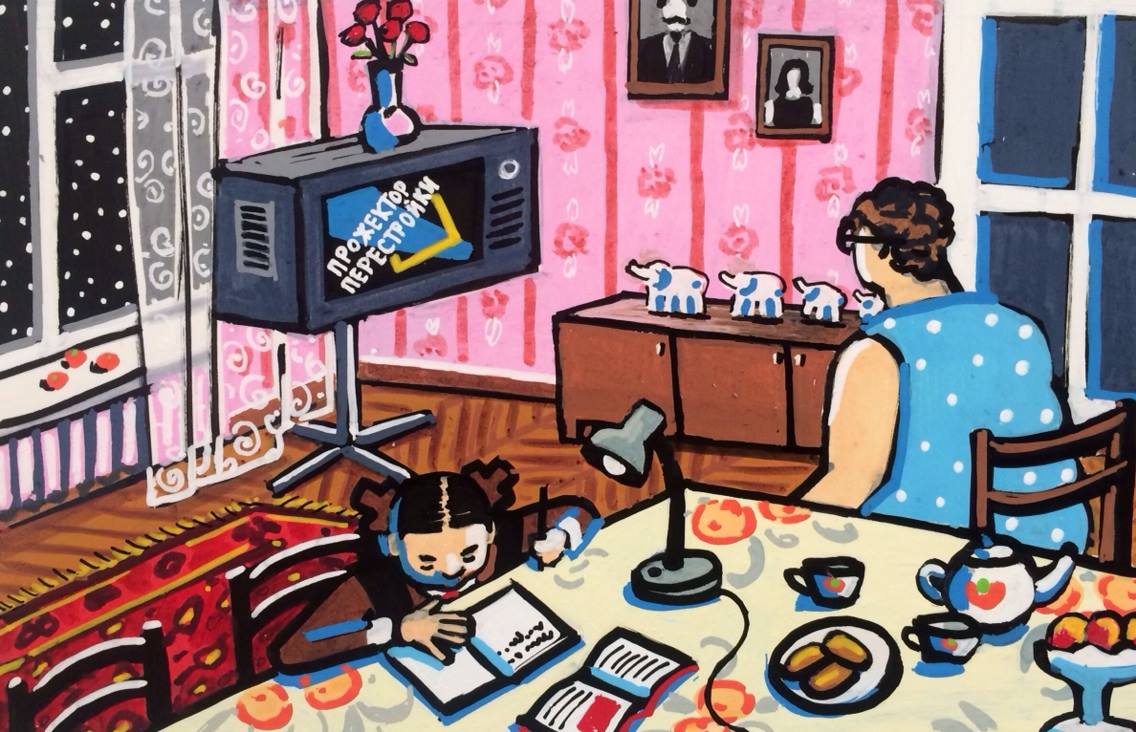 A schoolgirl wrapped up with her homework as her mother watches "Projector of Perestroika," a news show which gripped the U.S.S.R. in the late 1980s with its critical reports on official corruption and the decaying Soviet system.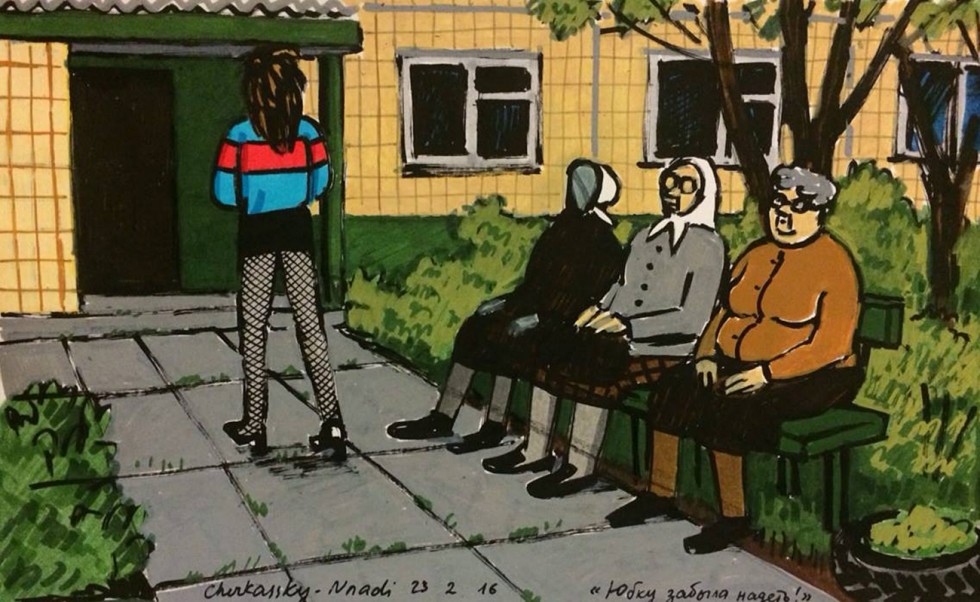 A scene outside an apartment block titled, "She forgot her skirt."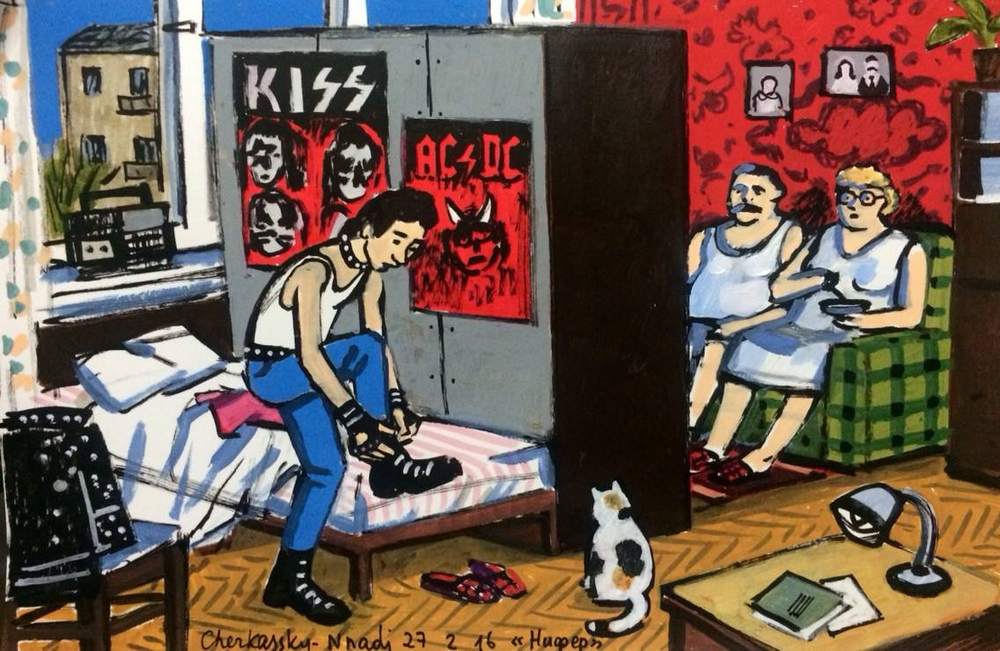 A young rocker getting ready to leave a house where a wardrobe serves as a partition between rooms.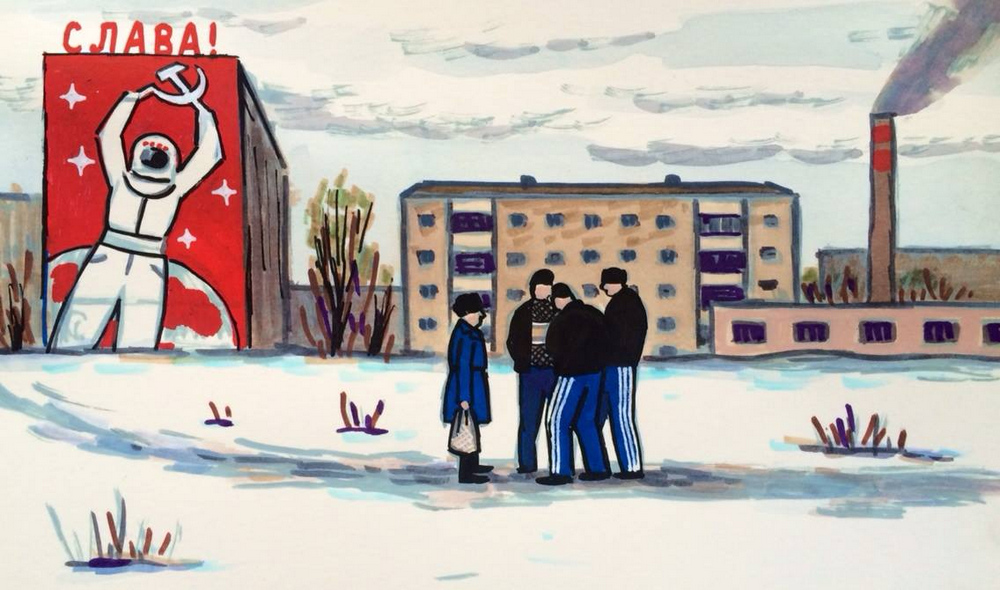 In a discussion on LiveJournal, a Russian-speaking commentator reacted to the paintings: "Why do all these people nostalgic for the U.S.S.R. move to Berlin and Israel, and not to North Korea?"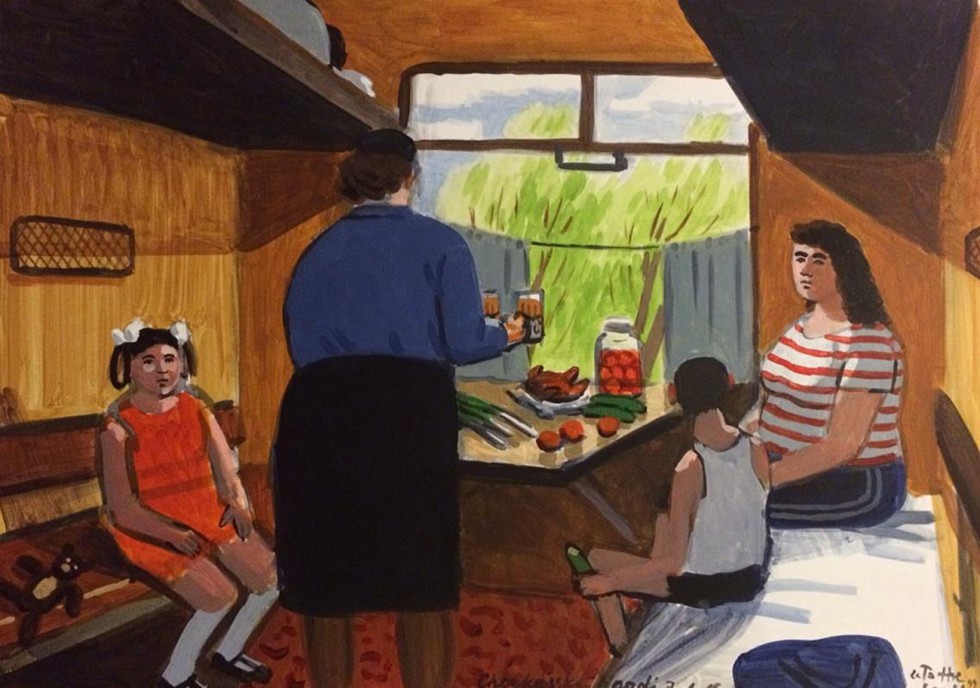 Tea being served in a train compartment. The artist said she enjoys the debate being sparked by her work. "Not everyone is obliged to be interested in art, and I'm glad when my art touches people to such an extent that they write angry comments all day on Facebook. I see this as an achievement."