CHISINAU -- Thirty-seven children live in the run-down state orphanage in the village of Cupcui, some 80 kilometers south of Moldova's capital, Chisinau. Surprisingly, only one of them is actually an orphan.
Many children in Moldovan state institutions have been placed there by their parents, motivated by grinding poverty, alcoholism, or other family problems and encouraged by a paternalistic state. According to official figures, more than 90 percent of the children in Moldova's state institutions nationwide have at least one living parent.
Life at home in the village of Tochile-Raducani is hard for 12-year-old Vasilica, but he prefers it to the orphanage.
"I get up at 6 a.m., eat a bowl of borscht, and go to school. I love football, which I fell in love with back at the orphanage in Cupcui. But when I was there, I really missed my mother and longed to come home," Vasilica says.
"Now I see that things are harder here, but I still don't want to go back to the orphanage. At home I help my mother -- carry water from the well, chop firewood, keep the stove heated. We don't eat well -- borscht in the morning and again for lunch. It's hard, but it's better at home."
Vasilica's mother, Valentina, recalls how government officials persuaded her five years ago to hand her son over to the orphanage. They told her the state could give him all the things she was unable to provide -- a stable upbringing, education, reliable food and shelter.
Even now, she seems uncertain about where life would be best for Vasilica.
"We are poor people. We have no land, and nothing to live on," she says. "Last year a commission from Chisinau came and told us that we should take Vasilica home, because it would be better for him at home."
Lacking Support
The goal of the UNICEF/EU program is to place half of Moldova's 12,000 state wards with families by 2012, to help more children experience the nurturing of personal family care over the isolation and neglect that can occur in state orphanages.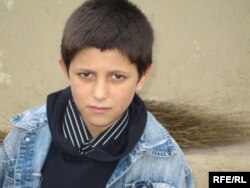 Vasilica is happy to be out of the orphanage.
With 2.5 million euros ($3.5 million) in EU financing for the first year of the program in 2007, it got off to a quick start. Social workers gave financial aid to families, helped them renovate their homes to provide better conditions for the children, and even purchased cows so the families could have fresh milk.
It is based on a similar, EU-funded program in Romania that saw more than 27,000 children removed from state institutions between 1999 and 2006 and placed with their parents or in foster homes.
But since its initial funding ended, the Moldova program has largely ground to a halt. The state provides minimal financial aid to families who take their children back -- about three euros a month, plus an annual payment for school supplies and discounted utilities rates. Families that agree to take in foster children are eligible to receive 50 euros a month.
But most families agree this assistance is far too little, barely enabling them to provide bread to the children. By contrast, a recent nongovernmental study financed by the EU determined that Moldova spends about 630 euros ($890) a year for each child living in state institutions.
Weaned From The State
The program to remove children from state care is administered by a nongovernmental organization called Children, Society, and Families. Project coordinator Lorena Ghiza says Moldova's deeply ingrained culture of relying on the state is as much an obstacle to the program as the country's economic hardship.
"We have a lot of work to do, because we need certain shifts in mentality," Ghiza says. She says that many families are "used to the idea that the state must take care of their children -- educate them, feed them, and clothe them. Some of them resist us, saying things like 'There is only one year left [until the child becomes a legal adult], so what's the point of removing the child from his familiar environment and interrupting his studies?'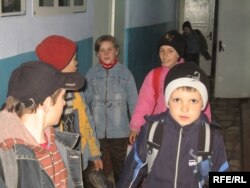 Most of the children have parents to go home to.
"We are trying to explain that they brought this child into the world, and that comes with certain responsibilities. Every child has the right to a family. It isn't the state that should be raising these children."
The initiative is also meeting resistance from some orphanage employees. Maria Buza, the director of the Cupcui orphanage, acknowledges that the new program has the best interests of the children in mind, but she still has reservations.
"I have worked here since this orphanage first opened, and I'm sad that I will have to see it closed down," Buza says. "The workers here are worried that they will be left without jobs. After all, this is their livelihood."
But one thing is clear: given a choice, the children want to be with their families.
"My mother brought me here because I was hanging out on the streets. We didn't have any decent life at home," says Ionut, 16, one of the children still living at the Cupcui orphanage.
"But all the same I think that home is better, because it is warmer there. I want to live together with my mama and my brother."
Other children at the orphanage agree:
First child: "My mother brought me here. I was on the streets."
Second child: "It's better at home. I would like to go to my own family."
Third: "I want to go home."
Fourth: "At home, I have my mother. I have my brothers."
RFE/RL Moldovan Service correspondent Margareta Apostol and RFE/RL correspondent Robert Coalson contributed to this report