Side Lines: Lidia Gorceag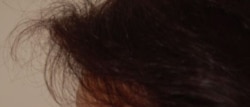 Favorite books or authors?
Social and love poetry by George Cosbuc and Mihai Eminescu; prose by Mihail Sadoveanu and Anton Chekhov.

How do you relax? What are your hobbies? I relax in the middle of nature, near my family, near by 5-year-old nephew. I like making kites with him, flying them, taking sunbaths, listening to the sounds of nature.

When will you know you've succeeded? The capacity for appreciating your own success is related to intution and spiritual satisfaction.

What is your worst vice or extravagance? My spontaneity. I cannot be predictable.

What was the best day of your life?
The day my son was born.
What is your greatest regret?
That I do not speak more languages, so that I could gain direct access to various works of literature in the original languages.
Whom do you most despise?
Those who are authoritarian, who force through their opinion, taking it as the absolute truth and thus slowing down development and creativity.
What is your idea of perfect happinesss?
The capacity for seeing the glass half full; of receiving unknown people unconditionally; of loving unconditionally; the capacity for getting immense satisfaction when I offer, rather than receive.


What has been your greatest achievement or accomplishment?
My family.

What is your biggest challenge or obstacle? The challenge of my life is still waiting for me in the future.