BACK TO TOP
Iran's Reach Widens
by Glenn Kates
As Iran comes closer to a potential groundbreaking nuclear deal with the West, it has also used its proxies to skillfully negotiate what could be an even bigger prize -- growing influence throughout the Middle East. But the blowback is resulting in deadly sectarian tensions and a simmering conflict with Tehran's rivals in Riyadh.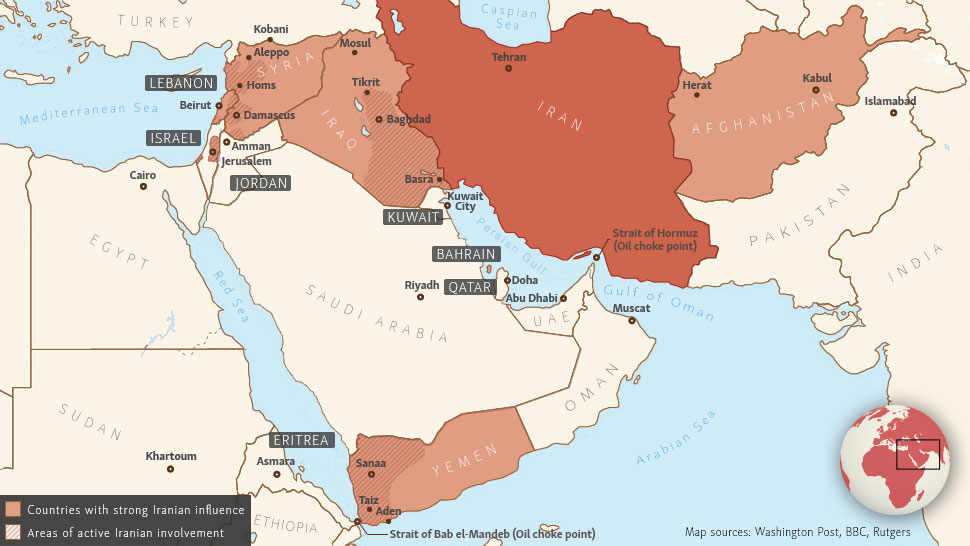 Syria: Bailing Out Assad Amid A Humanitarian Catastrophe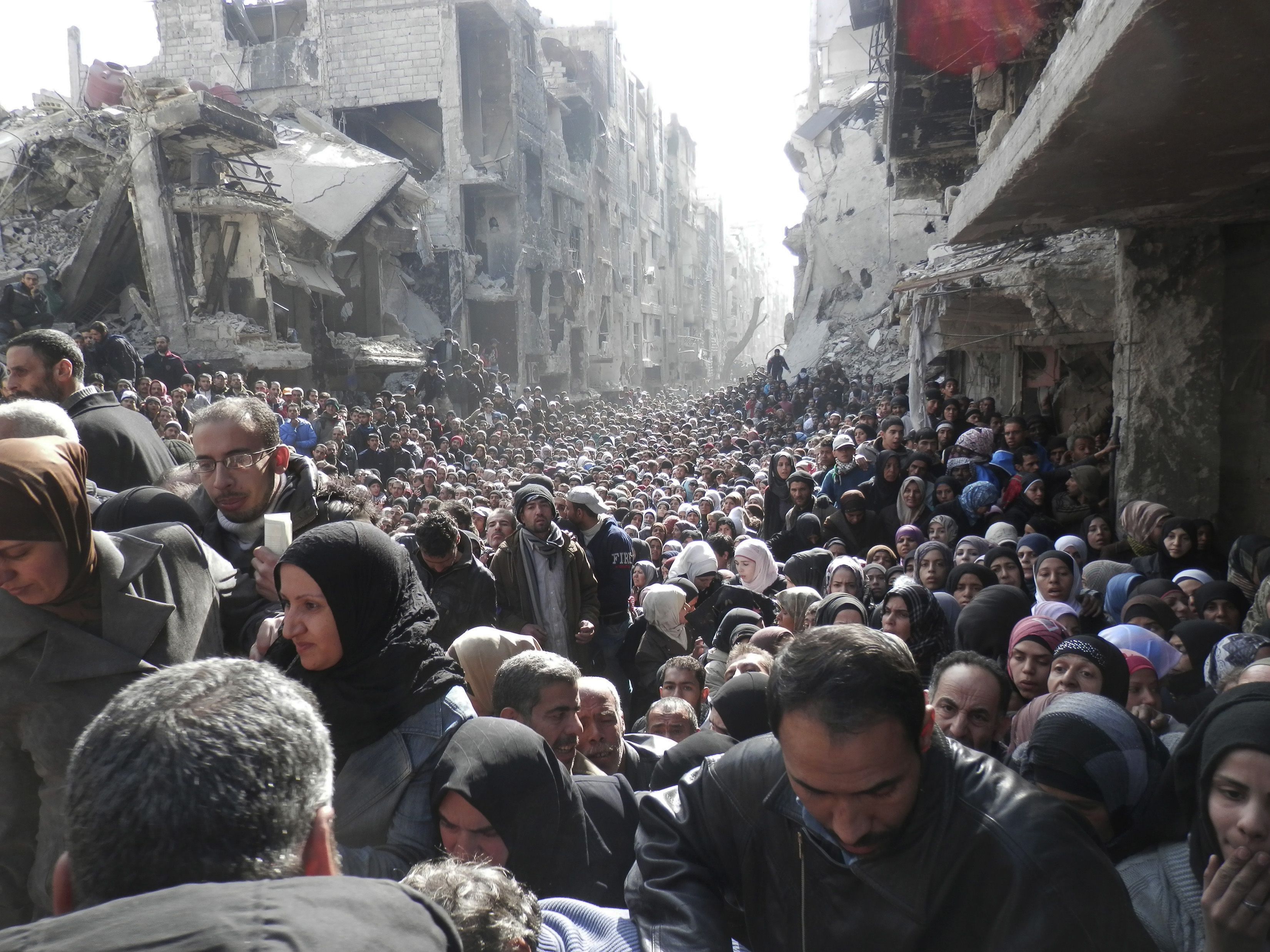 Residents wait to receive food aid distributed by the UN Relief and Works Agency (UNRWA) at the besieged al-Yarmouk camp, south of Damascus, on January 31, 2014. (Reuters/UNRWA)
In the summer of 2011, Syrian leader Bashar al-Assad's rule was badly weakened by an uprising that had begun six months earlier. Experts predicted the regime was in its last throes.
But Iran saw the potential fall of Assad's regime (dominated by members of the Alawite minority offshoot of Shi'a Islam) to a largely Sunni-backed uprising as a near existential threat. Iran called on its militias, led by Lebanon's powerful Hizballah group, to help beat back the uprising.
Four years later, Syria is mired in a horrific civil war that has cost some 220,000 lives. Assad's Iran-backed forces are responsible for a vast number of civilian casualties. But out of the carnage, militant Sunni groups like the Islamic State and the Al-Qaeda-backed Nusra Front have emerged and now control large swaths of territory.
According to a report by Phillip Smyth, an expert on Shi'ite militias, the war in Syria has somewhat paradoxically helped Iran "promote its goal of becoming the predominant regional and global representative of Shi'ism."
Iraq: An Iranian General Comes Out Of The Shadows -- And Appears In Iraq
Islamic Revolutionary Guards commander Qassem Soleimani (right) at the front line during offensive operations against Islamic State militants in the town of Tal Ksaiba in Salahuddin Province, Iraq, on March 8, 2015. ​(Reuters)
Following the U.S. troop withdrawal in 2011, then Prime Minister Nuri al-Maliki, a Shi'a, sidelined Sunni politicians as Iran's influence grew. Tribal leaders in the country's Sunni west -- many of whom had joined American fighters in putting down an Al-Qaeda insurgency in 2008 -- grew furious.
When fighters from the Islamic State of Iraq and the Levant (now known as Islamic State) advanced into the country from their strongholds in Syria, the Iraqi Army melted away, and many Sunnis welcomed them.
Now, with the U.S.-trained Iraqi Army largely seen as ineffective, the government is relying on Shi'ite militias to do much of the fighting. Reclusive Iranian General Qassem Suleimani, the commander of Iran's elite Quds Force, is now openly advising military leaders and militias in Iraq.
There is growing evidence that, as Shi'ite militias go on the offensive and recapture Sunni-dominated towns, they are exacting revenge for Islamic State war crimes that included mass executions of Shi'ite fighters, and are committing horrific human rights abuses of their own.
Yemen: A Shi'ite Uprising, With Weapons From Iran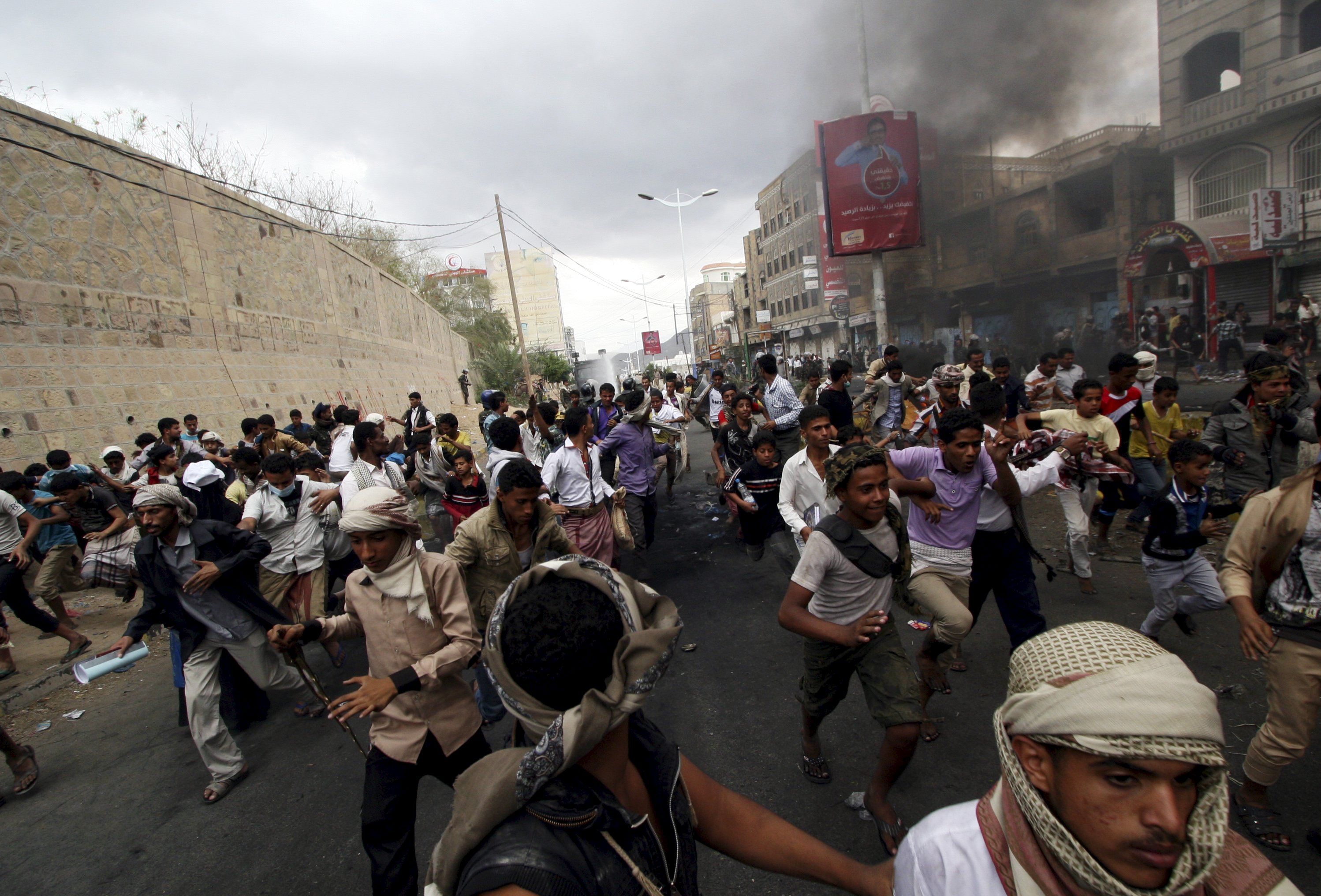 Anti-Huthi protesters run as pro-Huthi police troopers open fire in the air to disperse them in the southwestern city of Taiz, on March 23, 2015. (Reuters)
Until 2011, the government of Ali Abdullah Saleh had managed to brutally repress a secessionist movement in the south, a rebellion by Huthi rebels from the Zaidi sect of Shi'a Islam in the north, and a growing Al-Qaeda insurgency largely situated near the Gulf of Aden. But in early 2012, unable to hold on amid the Arab Spring uprisings, Saleh handed power to his vice president.
Just three years later, his successor, Abd Rabbu Mansur Hadi, fled the country by boat as Huthis swept through western Yemen and claimed power.
Tehran has enthusiastically supported the Huthi movement, saying it is an organic revolt, but it long denied providing any material support -- a claim belied by the seizure of a ship smuggling thousands of Iranian weapons to insurgents in 2013. Since the takeover of Sanaa, Iran has shed any pretenses of impartiality. A delegation of de facto ministers visited Iran in early March and the national airlines of the two countries have added 14 daily flights between their capitals.
Alarmed by what they see as an Iranian "coup" and the latest confirmation of the Shi'ite state's growing power, Saudi Arabia has built a coalition of at least 10 regional Sunni states stretching from Morocco to Pakistan and has launched air strikes to stave off the Huthi advance. Turkish Prime Minister Recep Tayyip Erdogan said Tehran's attempts to "dominate the region" were "really not tolerable and Iran has to see this." Egypt said it would not rule out sending ground troops.
Meanwhile, many in the country's Sunni-dominant south have angrily rejected Huthi rule and tribes are increasingly allying with Al-Qaeda in the Arabian Peninsula.
The official Huthi slogan is derived from that of the 1979 Iranian Revolution: "God is great. Death to America. Death to Israel. God curse the Jews. Victory for Islam."
Lebanon: A New Proxy Fight Over Lebanon's Military
Lebanese Hizballah supporters march during a religious procession to mark the Shi'ite holiday of Ashura in Beirut's suburbs on November 4, 2014. (Reuters)
In a country split between Lebanese Christians, Shi'ite Muslims, and Sunni Muslims, the Shi'ite, Tehran-backed Hizballah militia has long held outsized power.
Some in Lebanon credit Hizballah with preventing Sunni fighters from penetrating Lebanon through Syria.
The West has focused its efforts on equipping the 65,000-strong Lebanese military to provide a counterbalance to Hizballah. But Tehran sees the threat from Nusra Front and Islamic State militants, who are fighting on the Lebanese border with Syria, as an argument for itself to also become a key Lebanese military backer. In a recent tit-for-tat, Iran responded to a $3 billion Saudi aid offer with its own bid to provide Lebanon with fresh military equipment.
The West Bank, And Gaza: Rapprochement With Hamas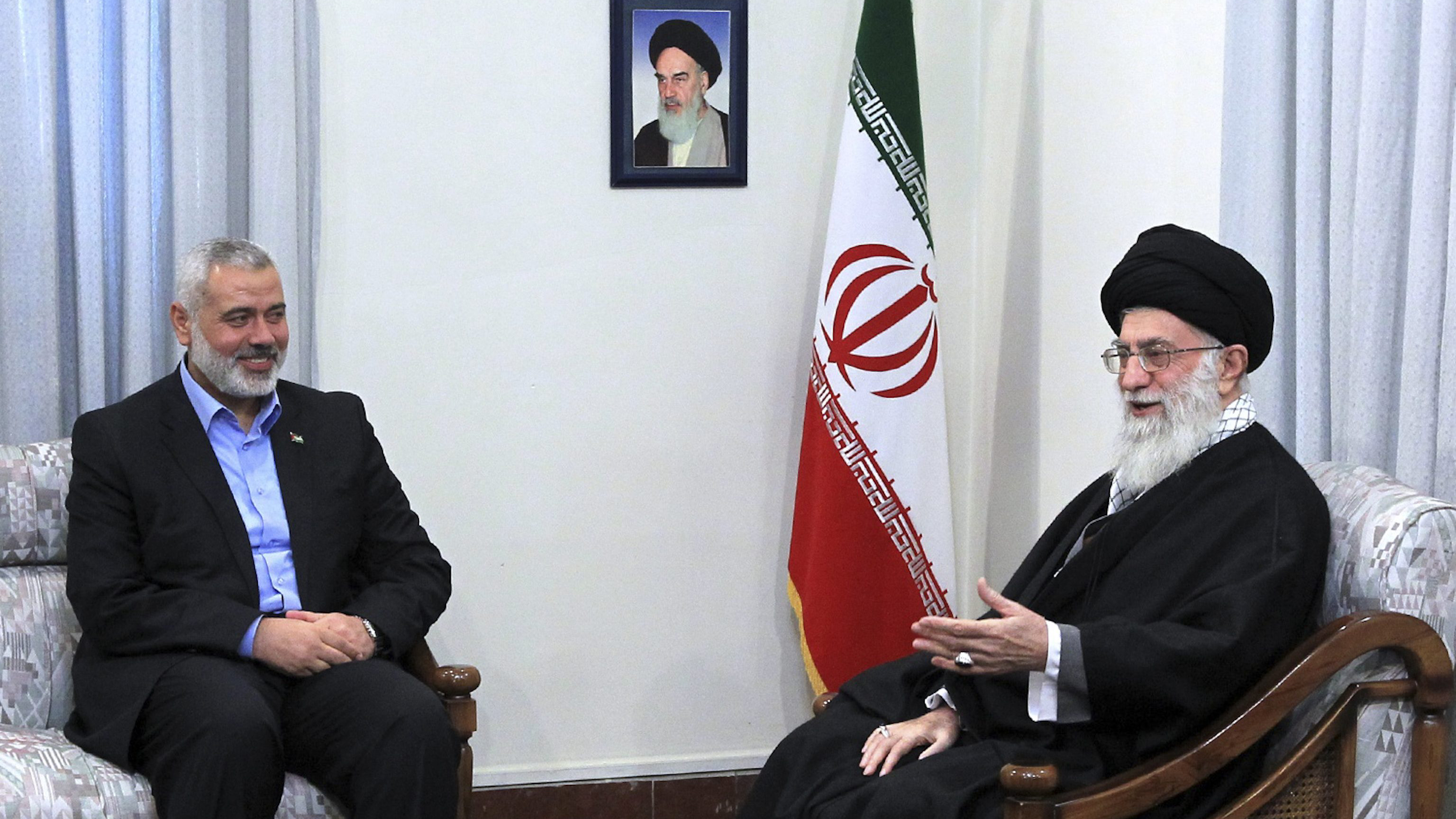 Iran's Supreme Leader Ayatollah Ali Khamenei (right) speaks with Hamas leader Ismail Haniyeh in Tehran on February 12, 2012. (Reuters)
Just three years ago, Iran and the militant Hamas group that governs the Gaza Strip saw their relationship nearly in tatters. Hamas had supported Sunni rebels against Syria's Iran-backed regime of Bashar al-Assad.
But with the government that replaced the Muslim Brotherhood in Egypt (on Gaza's southern border) diametrically opposed to Hamas and the Syrian conflict now in its fourth year, Hamas needs allies. Tehran itself fears losing influence as more militant Sunni groups, including Islamic State, attempt to make inroads among Palestinians. Aided by mediation from Hizballah, Iran and Hamas appear ready to put aside their differences over Syria.
Israel, meanwhile, sees a nuclear-armed Iran as an existential threat and Prime Minister Benjamin Netanyahu has vigorously objected to the current nuclear negotiations between Tehran and the West.
There are also apparently high-level members of the Iranian military operating along Israel's border with Syria. A January Israeli air strike on the Syrian side of the Golan Heights killed Mohammad Ali Allah-Dadi, a general in the elite Islamic Revolutionary Guards Corps (IRGC).
Bahrain: An Organic Protest Movement And A Hizballah Threat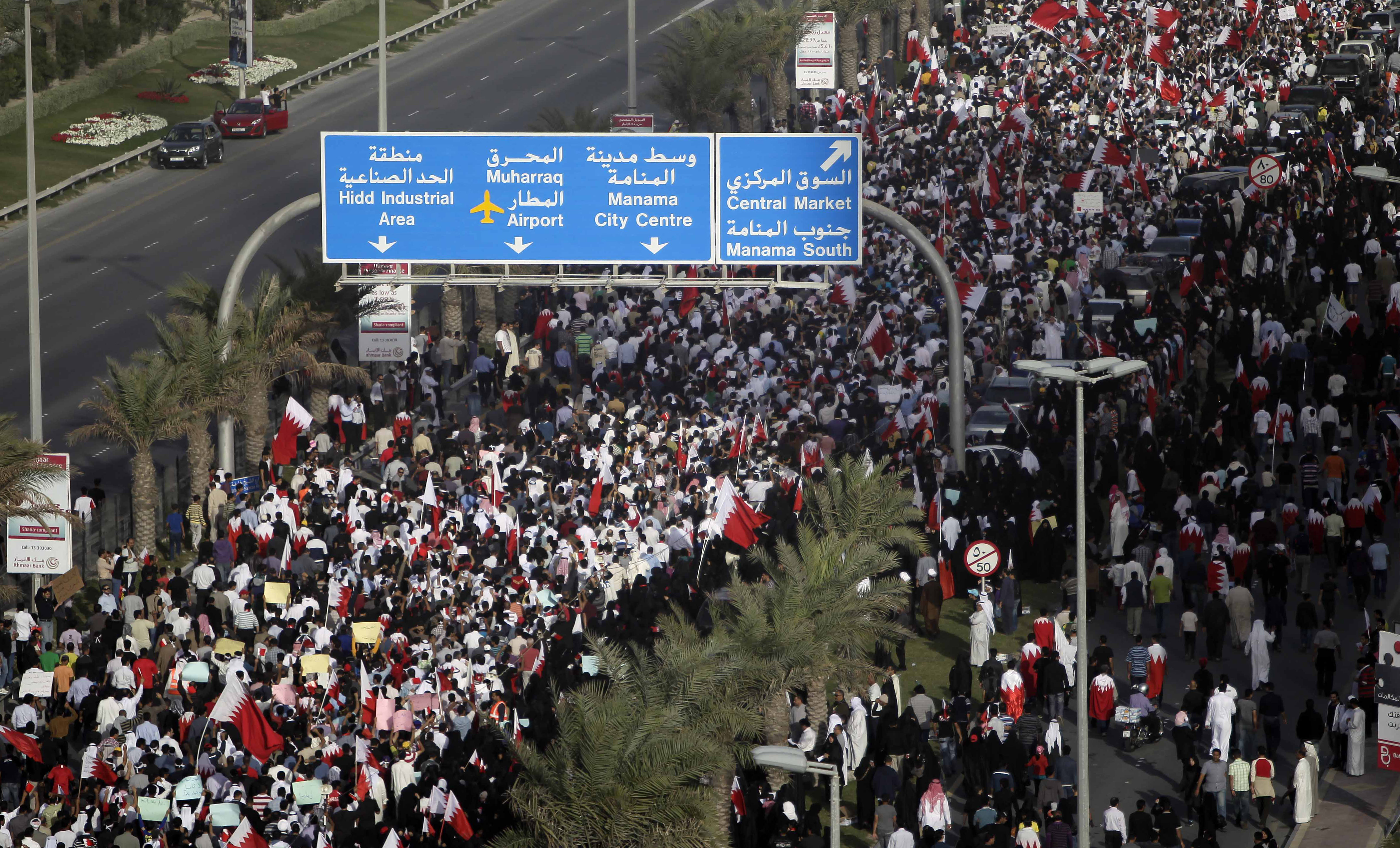 Anti-government protesters march towards Pearl Square in Manama on Febraury 22, 2011. (AFP)
Four years ago, Saudi Arabia sent its troops into Bahrain to put down a peaceful, largely Shi'ite protest movement. The tiny island kingdom is majority Shi'ite but is run by Sunnis. Although Bahraini authorities and Riyadh tried to tie demonstrators to Iran, most reports show an organic protest movement with a genuine interest in reforming the country's authoritarian rule.
Still, a relatively new antigovernment group, Saraya al-Mukhtar, uses imagery native to Iran's feared IRGC, and Hizballah leader Hassan Nasrallah has said the only reason that his militant organization has not sent Shi'ite protesters weapons is because he has chosen not to.
"Bahrain is like any other country in the world and it is possible to send weapons and fighters even to the most tightly controlled countries in the world," he said in a veiled threat, according to Al Monitor.
Afghanistan: Investments Met With Suspicion
On the surface, Iran's influence in Afghanistan was limited by the U.S.'s arrival on the scene after 9/11. But as Washington began to draw down its military operations in the country in 2011, there were clear signs that Iran was prepared to gain a stronger foothold.
Tehran has invested heavily in western Afghanistan, which borders Iran, and has historic cultural ties to the region.
Trade between Afghanistan and Iran increased 10 times between 2009 and 2014, reaching $5 billion in 2014.
But the investments are not always welcomed with open arms. A plan in the largely Shi'ite province of Bamiyan to build a hospital named after Ayatollah Ruhollah Khomeini, Iran's founder, was met by "stiff opposition" by some who were suspicious of Tehran's motives.