U.S. President Barack Obama's European tour has offered something for everyone: the folksiness of a walk through an Irish village, the pomp and circumstance of a meeting with Queen Elizabeth, the gravitas of a G8 summit. His trip was ending in Poland, where the president met with 20 leaders from the countries of Central and Eastern Europe after
his arrival
and
met with the Polish president
the next day.
That scheduling leaves itself open to competing interpretations. Some of those attending the summit undoubtedly wonder whether this is a case of the president saving the most important item on his itinerary for last -- or of treating their part of the world as an afterthought.

Eastern Europeans worry that their region is sliding down the list of Washington's priorities at a moment when political upheavals are transforming the Middle East. Others fret that the Obama administration's much-discussed "reset" of its relationship with Moscow has come at their cost.
Michal Baranowski, a senior fellow with the German Marshall Fund of the United States based in Warsaw, says that Eastern Europe is looking for confirmation that the United States is still maintaining its presence in Europe and is not disengaging from the continent as a whole.
A Relationship With Commitment Issues
"Well, it's clear -- and this is the worry here in Central and Eastern Europe, and in Europe in general -- that the United States it turning to strategic engagement towards Middle East, towards Asia," he says.
"There is no hot conflict that needs to be addressed by the United States [in Europe], but there is a broader strategic commitment with U.S. troops, with U.S. political capital, that the region in particular is worried about."
Obama's 2009 decision to postpone plans for a missile-defense system exasperated many Central and Eastern European leaders, who had hoped that it would bolster their security against Russia, which has tended to dominate the region for long parts of its history.
While the Bush government had slated Poland and the Czech Republic to host bases for a U.S. antiballistic-missile shield, the current White House administration scrapped these plans.
Obama opted instead for the deployment of mobile SM-3 interceptors in Romania and Poland (scheduled for 2015 and 2018 respectively).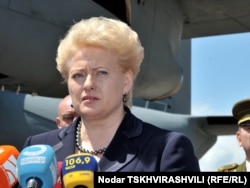 Lithuanian President Dalia Grybauskaite
On the eve of the Warsaw summit, Lithuanian President Dalia Grybauskaite issued a statement urging that "trans-Atlantic cooperation" receive prime billing at the meeting.
"I will raise issues of urgent importance to Lithuania and other NATO border states," she said in her statement. "We're seeking that NATO's missile defense system, agreed upon last year in Lisbon, should cover all members of the alliance."
Active Partners
The new NATO Strategic Concept adopted at the alliance's 2010 summit in Lisbon incorporates missile defense as an integral part of the alliance's overall defense posture. This revamped strategy, Baranowski says, has assuaged many of the Eastern and Central European concerns that resulted from the U.S.-Russia reset.
"NATO has quite recently agreed to a new text of its Strategic Concept that underlines territorial defense; contingency plans have been prepared for eastern NATO countries, including the Baltics, which was not done before," he says.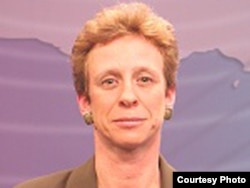 Frances Burwell, vice president of the Atlantic Council in Washington
"Some initial maneuvers have been done with the participation of the Americans also in the Baltics, which is a clear sign of force and making sure that no one misunderstands that [these] are NATO countries of first and second category."
Frances Burwell, vice president of the Atlantic Council in Washington, says that the relationship between the United States and the countries of Central and Eastern Europe is complicated by the fact that the latter had long looked to the United States to set the agenda.
But within the past two years, she says, Washington has made it a priority to get the countries in the region to think of themselves as active partners of the Americans rather than as mere objects of U.S. policy:
"After the Cold War, Central Europe, of course, began moving toward the West, and our focus was on helping them do that," she says.
"[The focus] was on them and their economic and political development. And now we're saying, 'You're fine. You are, if not mature, you are close to mature. We don't worry about your democracies being seriously undermined anymore. We want you to help us -- with all sorts of projects around the world that we believe are also in your interest.'"
Using The Lessons Of Postcommunist Transformation
Poland's success at making the shift from communism to a democracy, and from central planning to a vibrant market economy, is one of the primary assets that it can deploy within that partnership.
One theme that the Poles wanted to explore at the May 27 summit was how the experience of Eastern Europe could be brought to bear on the challenges that faced would-be reformers in the Middle East and North Africa.
The Eastern Europeans could, for example, figure out ways to share their own experience in privatizing state-owned companies, or illuminate the pitfalls involved in publishing the contents of once-confidential secret police archives.
According to Burwell, while it is clear that not all the lessons from Europe's postcommunist transition are transferable to the Arab world, the fact that Eastern Europeans want to share their know-how with aspiring new democracies demonstrates that Washington's relationship with the region is becoming a true partnership.
"That's the kind of partnership I think that we are looking for, initiative, where they can bring their experiences, their expertise," Burwell says. "After all, Central Europe has a lot more real-life experience with economic and political reform than do we in the United States in living memory. So that's what it means to be a partner as opposed to everyone worrying about whether Polish democracy will survive. Now let's worry about Egyptian democracy."
It is a process that will require a considerable degree of psychological sophistication on both sides.
The Americans want to prod the Eastern Europeans forward to real partnership without giving them the feeling that they no longer enjoy a privileged place in Washington's affections.
The leaders and peoples of postcommunist Europe will have to adjust to the reality that the Americans increasingly see them as equals, even as they continue to long for the security offered by the vast military resources of the United States.
These are not the sorts of issues that can be solved with a single dinner. But a bit of personal reassurance in both directions certainly can't hurt.