Side Lines: Aziza Abdyrasulova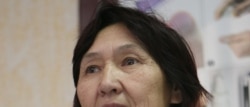 Favorite books?
Leo Tolstoy's "Anna Karenina"; "The Broken Sword," by Tologon Kasymbekov (I've read it more than 100 times); and "An American Tragedy," by Theodore Dreiser.

Which living person do you most admire? It's difficult to choose just one person. I want to take a valuable characteristic of each person and be like him or her. I have deep respect for [opposition leader and former parliament speaker] Omurbek Tekebaev, who has been helping to deepen the democratic development of Kyrgyzstan for many years. I also very much respect [former Foreign Minister and opposition leader] Roza Otunbaeva and Toleikan Ismailova, the head of the Kyrgyz NGO Civil Society Against Corruption.


What is your biggest fear? I am afraid of the possible betrayal by my own relatives.

What was the best day of your life? There have been many happy days in my life. Each time I think, "Oh, this is my happiest day." Such was the day when I received my university diploma. My marriage and the birth of my children were also happy moments. But one day in 1998 I remember especially well. My daughter gave birth to our first grandchild.

What is your idea of perfect happiness? I don't think that happiness is something specific. I understand happiness as the result of work. Today, I am happy because after five months, I was able to get an innocent young man freed from prison. He will stay at our house, eat, and sleep as much as he wants. This is happiness to me.

What profession other than your own would you like to attempt? To be an architect. There have been many architects in my family. When I go to Bazar-Korgon or Maily-Suu, sometimes people say, "This house was built by Bapan, your father." My older brother and younger sister are architects, too.

What profession would you like not to do? Each profession is needed, so I don't differentiate jobs between good and bad. I have worked in all sorts of jobs. I've been a seller in the bazaar. I've cooked and sold meals in the bazaar. I was a dressmaker, a waiter, and a cleaner in a student dormitory. I understand now that somebody needed me to do these things.

What is your greatest regret? Life is different for everyone. Some have no idea where to spend their money, while others cannot find a piece of bread to feed themselves. I regret that there is no equality in life. In my personal life, I regret I was not able to take better care of my parents. I did not have the possibility. Now I have the possibility, but they are not alive anymore.

What do you wish you were better at? Sometimes when I am very angry, I cannot control myself. I give myself away to my emotions. And sometimes I am not able to defend my point of view until the end. I know I am right, but I step back. I have pain in my heart, but I still step back.

What has been your greatest achievement or accomplishment?
When I was 12 years old, my poem about my puppy, Kabylan, was published. My teacher brought the newspaper into the classroom and read it out loud. I was very happy. I think it was the beginning of my achievements. Also, in 2005, I was in the Batken region on a business trip when I suddenly heard on the radio that I had been nominated [by Kyrgyz human rights activists] for the Nobel Peace Prize alongside with [five other Kyrgzy women]. But I believe that raising my five children has been my main achievement