As Aleksei Navalny traveled across Russia in an extraordinary campaign despite a looming ban on his candidacy, photographer Evgeny Feldman was alongside through attacks, arrests, and impromptu street speeches.
Navalny reading during a flight to Yekaterinburg as his wife, Yulia, dozes. A few weeks before this February 24 picture was taken, after a conviction that he calls politically motivated, the anti-corruption campaigner had announced his intention to run for president.
Following the announcement, Navalny set off on a series of outdoor speeches in town centers across Russia.
Navalny addressing a crowd in Yekaterinburg, east of the Urals, in September. Unable to gain access to Russia's state-run TV networks, Navalny attempted to take his anti-corruption and "democratic nationalism" message directly to people across Russia.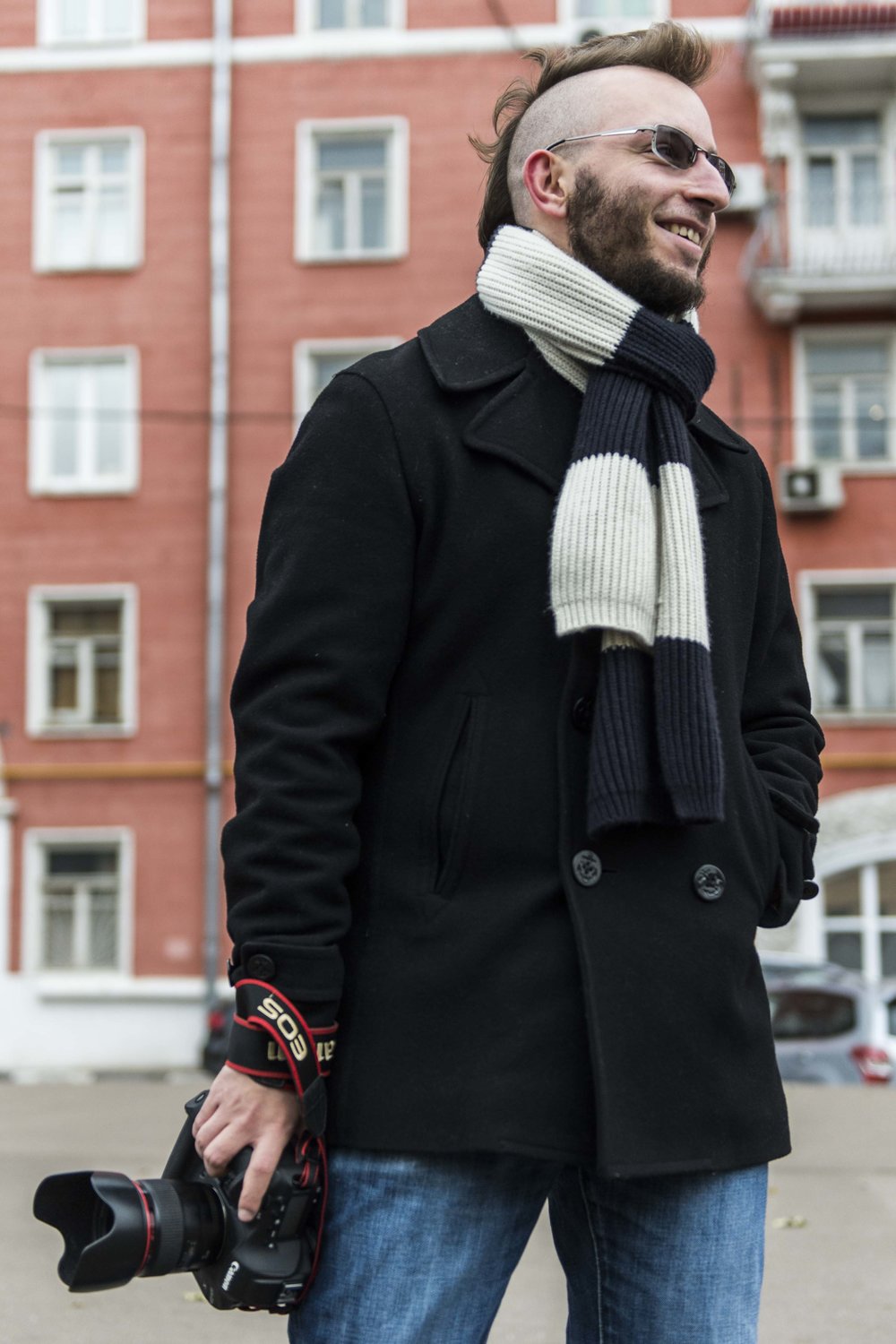 Navalny's team paid photojournalist Evgeny Feldman's travel expenses in return for photographing the campaign. These photos are a result of that collaboration.
Feldman described the arrangement as an opportunity to photograph "an extremely interesting person at the most crucial moment of his career."
Navalny (center) and campaign staff head to McDonald's for dinner.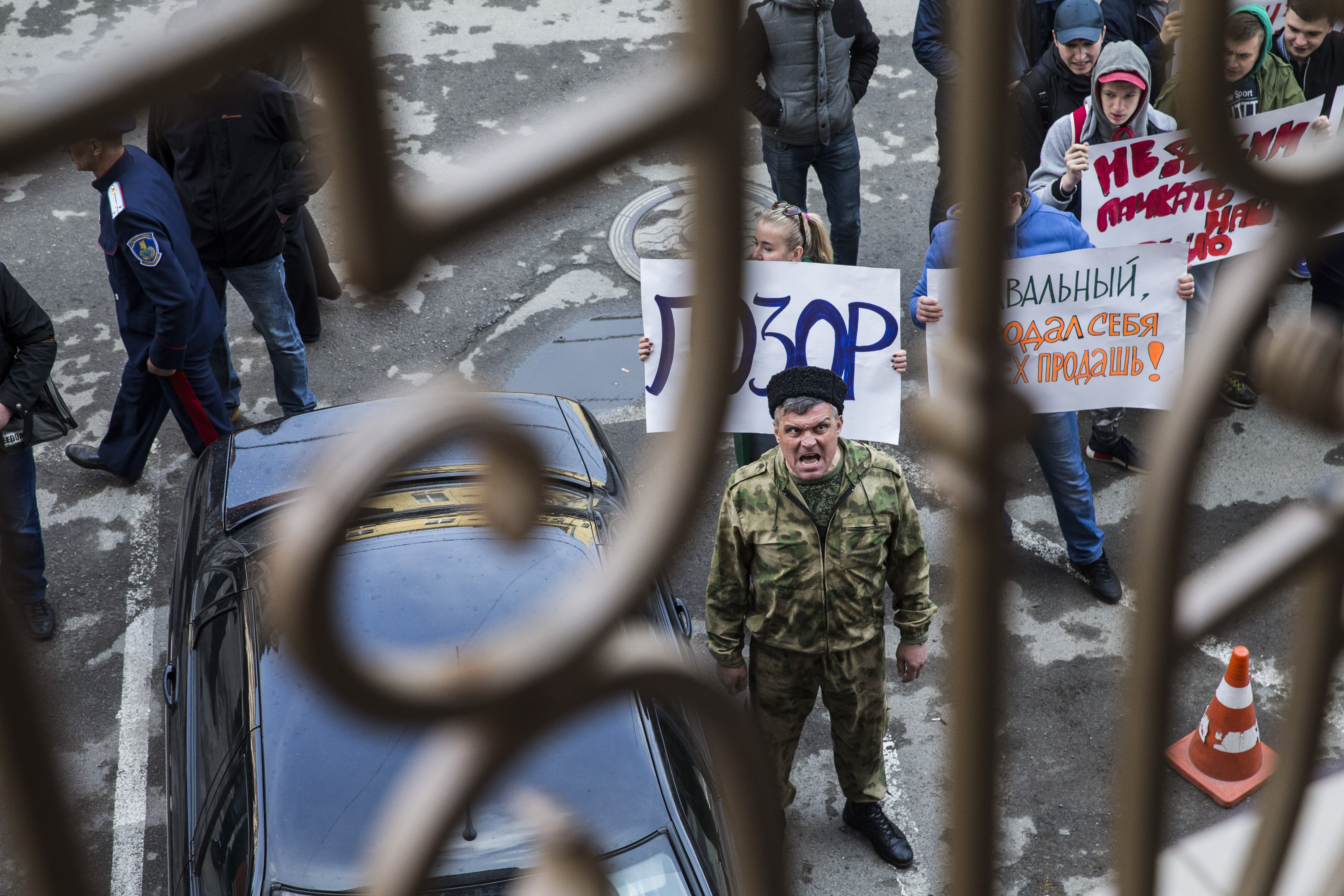 A Cossack bawling insults in Rostov-on-Don in April. Feldman told RFE/RL that hostility to Navalny's team reached such a pitch in the early days of the presidential campaign that "for two months...every trip the campaign made across Russia, we had some attacks."
A man fleeing after hurling eggs at Navalny in Nizhny Novgorod. Human Rights Watch said Navalny campaign supporters were being "systematically" harassed and attacked.
A man planting a sign that reads "American agent" next to Navalny's departing taxi in Ufa on March 4. Moments earlier, Navalny and his supporters had been attacked with eggs.
Navalny after being sprayed in the face with green antiseptic known as "zelyonka" in Barnaul on March 20. Feldman says Navalny was "angry at first, then switched to a 'f*** you, I'm still smiling' mode to show such attacks were pointless. But the liquid was burning his eye, so he was actually quite scared."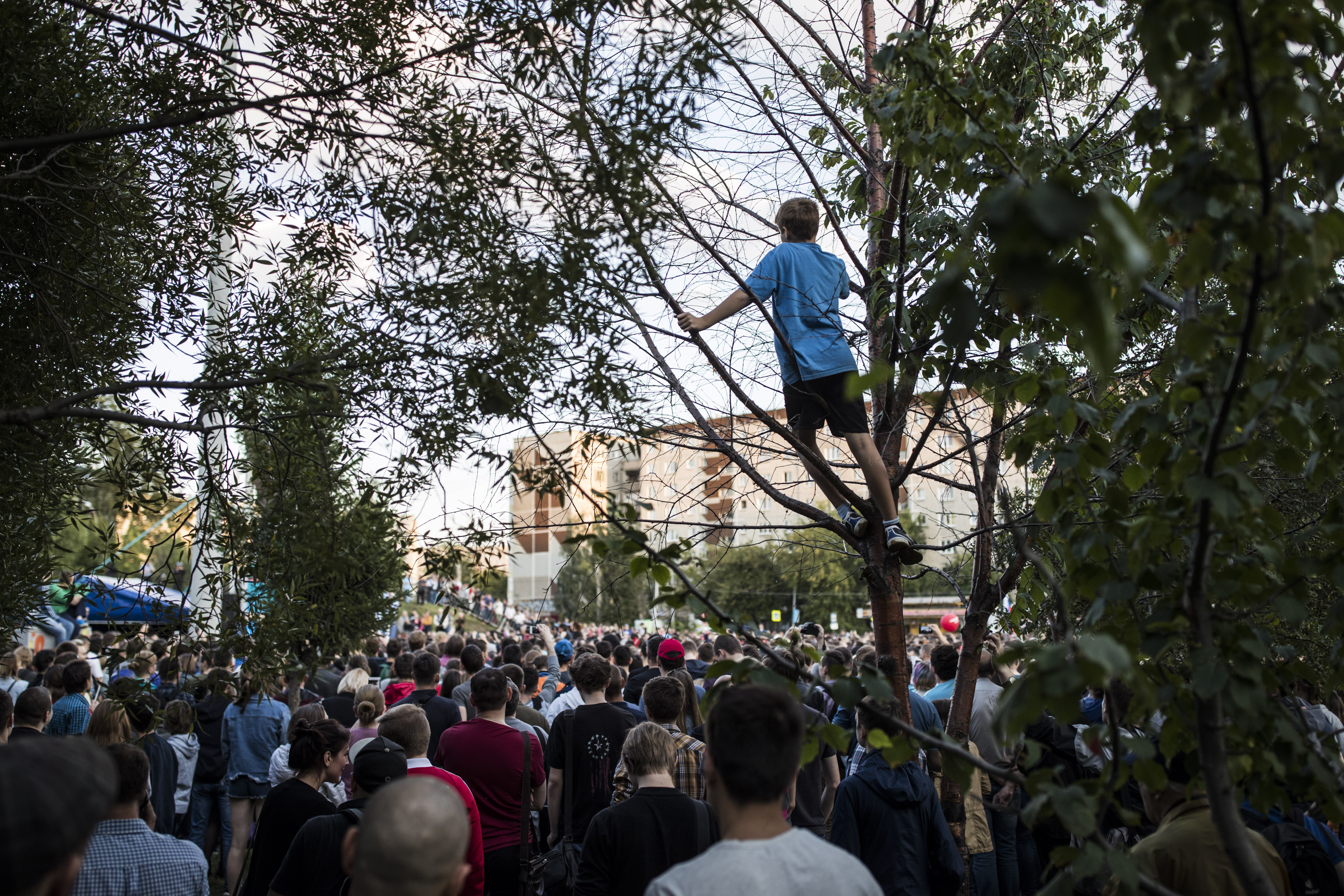 Locals listening to a Navalny speech in Yekaterinburg.
Navalny greeting a supporter at the Yekaterinburg rally in September.
Young protesters shouting anti-corruption slogans during protests on March 26. The Moscow protests followed a video released by Navalny that alleged massive corruption by Prime Minister Dmitry Medvedev.
Navalny handcuffed to a policeman after being arrested at one of the March 26 protests.
Navalny splashing his face with the autumn waters of Lake Baikal before a rally in Irkutsk.
Navalny and a local campaign supporter picking through a meal of fine-boned fish next to Lake Baikal.
Navalny catching the attention of some military cadets on his way to a viewpoint over Saratov in December.
In Saratov, Navalny's team was told a war veterans' event was taking place at the same time as Navalny's planned rally. Navalny then clambered onto nearby playground equipment and addressed supporters through a bullhorn.
On December 3, Navalny's team arrived in Samara only to be told a bellydancing contest inside the municipal building would preclude any rallies outside. Police then cordoned off the area.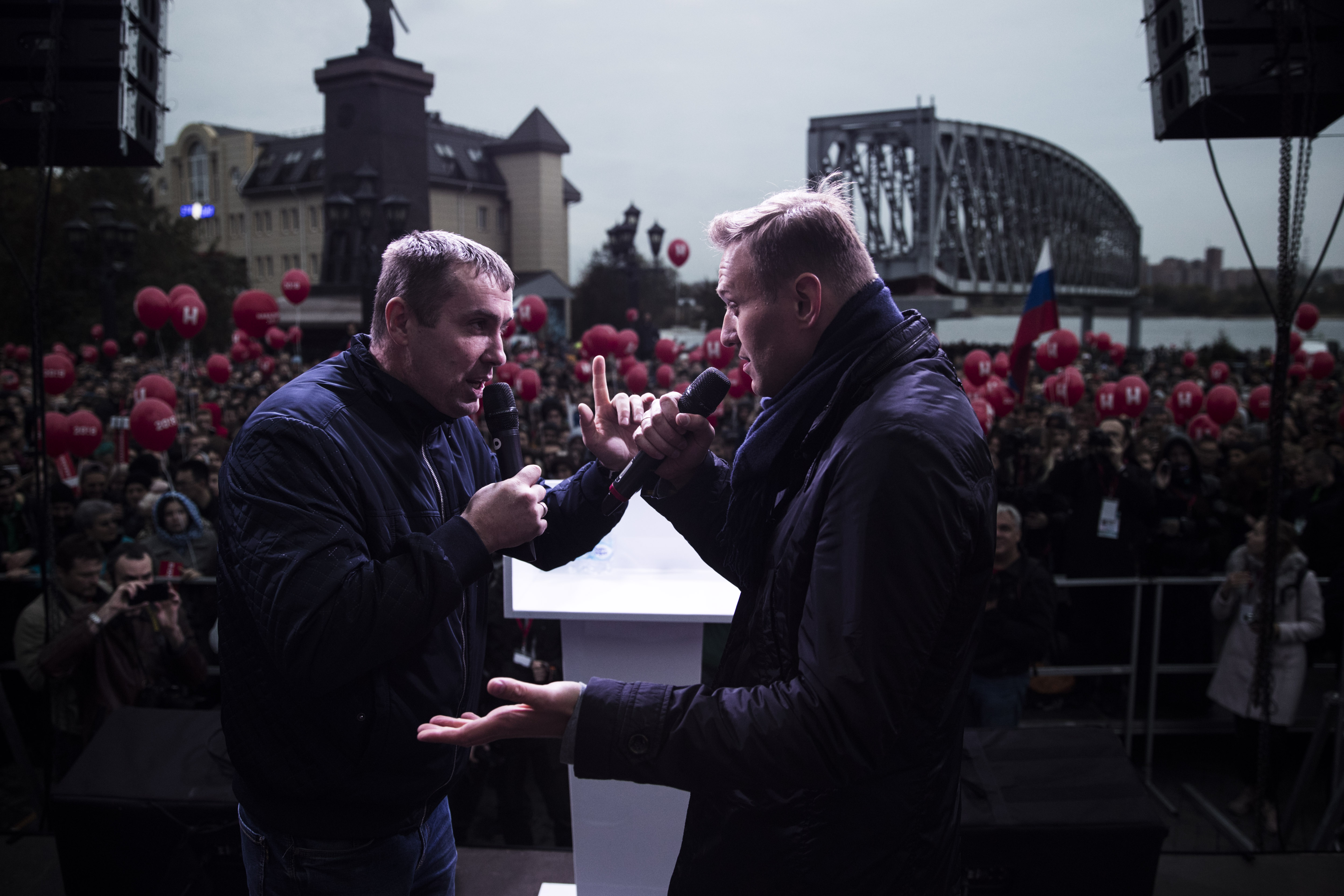 At a rally in Novosibirsk, Navalny debating a man who had been heckling him from the crowd.
Navalny in a rundown district of Arkhangelsk.
The Crabhouse Café during Navalny's visit to Vladivostok, in Russia's Far East.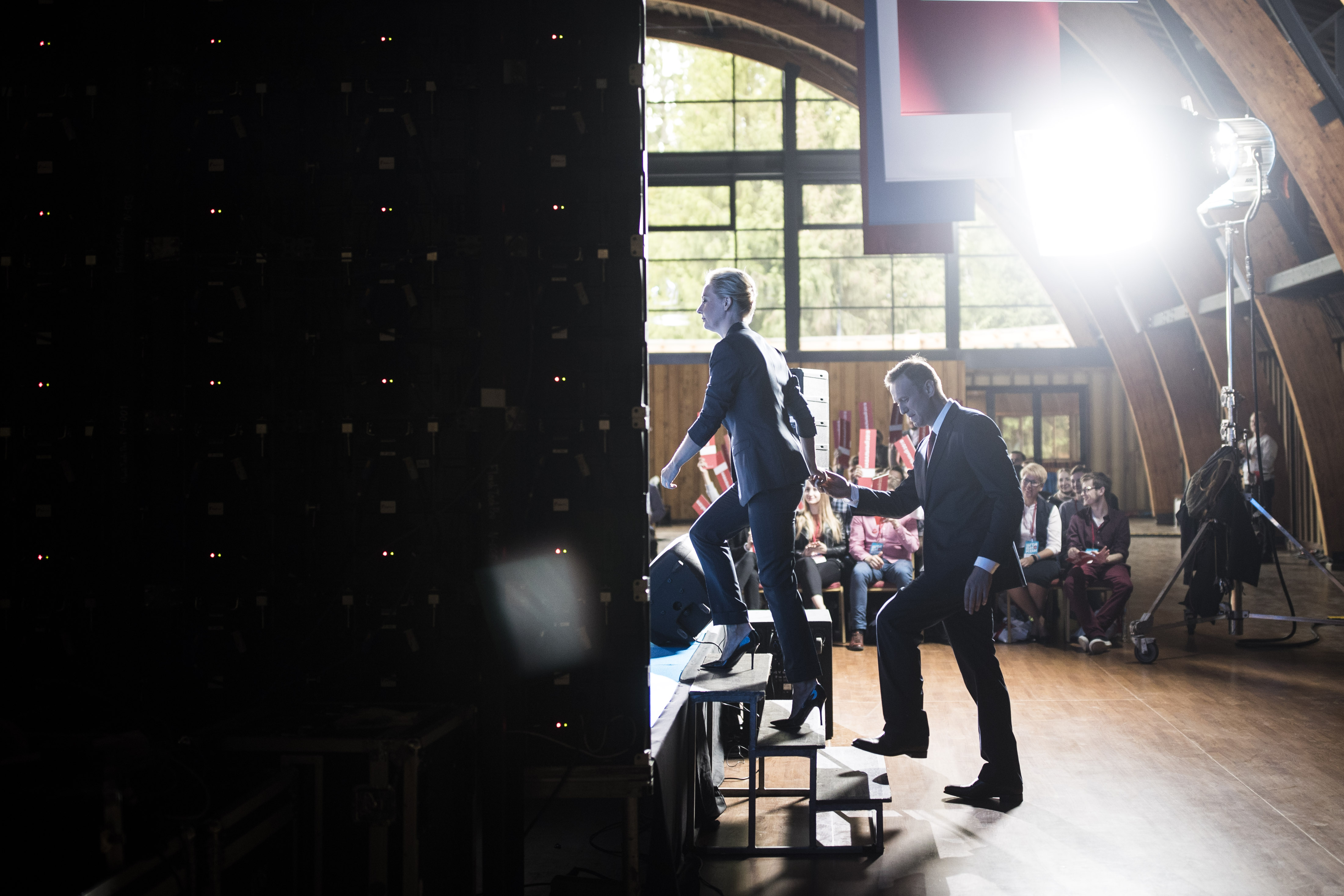 Navalny being led onstage by his wife in Moscow.
Navalny's children waiting backstage at a meeting of supporters in Moscow. Navalny's daughter is reading George Orwell's 1984.
Navalny and his team taking the Moscow Metro on December 25 to hear whether his attempt to register as a presidential candidate was successful.
The team on the way to the Central Election Commission after emerging from the Metro. The commission told Navalny he was ineligible to run for president due to a suspended sentence for embezzlement, a charge Navalny calls politically motivated. Navalny then called on his supporters to boycott the March 2018 election.
On December 31, Navalny giving a New Year's address that makes no mention of giving up. Feldman told RFE/RL he thinks Navalny's campaign will try to "systemize their power, to force the government to recognize their party, to hold on to at least some of the infrastructure [the campaign has] built."
All photographs by Evgeny Feldman
Text by Amos Chapple