MOSCOW -- Moscow has reportedly compiled a blacklist of several dozen U.S. officials who will be barred from entering Russia for allegedly violating the rights of two Russian citizens -- a suspected international arms trafficker and a convicted drug smuggler.
Citing unidentified Foreign Ministry sources, the daily "Kommersant" reported on August 10 that the officials will be barred over the arrests of Viktor Bout, who was extradited from Thailand in November 2010 on suspicion of weapons trafficking and Konstantin Yaroshenko, who was detained by U.S. Special forces in the Liberian capital of Monrovia in May 2010.
Yaroshenko was convicted of conspiracy to smuggle drugs to the United States in April while Bout is awaiting trial on charges of conspiracy to kill U.S. citizens and assisting terrorist groups.
The tit-for-tat move is being interpreted as a direct response to the U.S. State Department's decision in July to place visa restrictions on Russian officials accused of involvement in the death of Sergei Magnitsky, a Russian attorney who died in prison in 2009 while awaiting trial on charges of tax evasion and fraud, which rights groups say were unfounded.
The Russian Foreign Ministry has not commented on the report and there has been no immediate response from the United States.
Relations Not "Resetting" But Curdling
The ongoing imbroglio threatens to sour relations between Moscow and Washington, which have improved markedly since U.S. President Barack Obama launched his "reset" policy with Russia shortly after coming to office in 2009.
Analysts say the Magnitsky case will continue to be an irritant in Russian-American relations. Influential members of the United States Senate as well as William Browder, CEO of Hermitage Capital, which retained Magnitsky as its attorney at the time of his incarceration and death, are determined to keep the issue on the bilateral agenda, they say.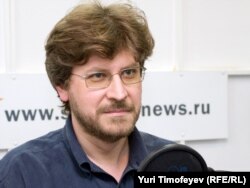 Feodor Lukyanov, editor-in-chief of "Russia in Global Politics"
"The case won't make relations easier since there is a group of people in the United States who are interested that the issue carries on," says Fyodor Lukyanov, editor in chief of the journal "Russia in Global Affairs." "They possess a fair amount of influence, which is why the hope from the Russian side that the issue will gradually fade away has not come to anything. The issue is alive."
A bill is pending in the United States Congress that would go even further than the State Department blacklist: freezing the U.S. assets of Russian officials involved in Magnitsky's death.
Magnitsky, a 37-year old lawyer, died of untreated pancreatitis in pretrial detention. He was detained and charged with tax evasion and fraud after he accused Russian police of bilking the government of more than $200 million.
His former colleagues from the Hermitage Capital hedge fund as well as rights advocates claim he was deliberately denied proper medical help. They also believe he was badly beaten by prison guards.
'A Fairly Funny Symmetrical Response'
The United States blacklist was announced on July 28 and, although it has not been published, likely includes FSB agents, middle and high-ranking police officers, tax officials, prison guards and doctors according to press reports, although their identities were not published.
A Russian official who spoke to "Kommersant" said that Russia's list will also not be made public. "The Americans did not publish theirs and we will not show ours," the official said. Other officials told the daily that the list includes employees of the United States Drug Enforcement Agency.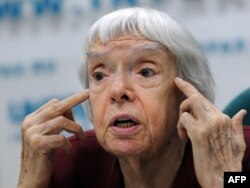 Russian human-rights activist Lyudmila Alekseyeva
Lukyanov, for his part, questioned whether the Russian list would ever be published.
The Magnitsky case is widely seen as a test of President Dmitry Medvedev's commitment to overhaul Russia's justice system. There have been investigations into the case, but Magnitsky's supporters see them as merely cosmetic.
Last week, the Interior Ministry reopened a posthumous investigation into tax fraud charges.
Lyudmila Alekseyeva, head of the Moscow Helsinki Group human rights organization, ridiculed Russia's response to the American blacklist.
"They call this a symmetrical response, but it's actually quite funny…," she said. "Will the American bureaucrats be uncomfortable because they cannot send their children to Kazan University? It's a fairly funny symmetrical response."