November 6, 2018
Moscow
On a cold November night in 2010, the Russian journalist Oleg Kashin was returning to his apartment in central Moscow after buying cigarettes at a supermarket across the road. As he approached his building, he gave little thought to the two men loitering near the gate to his courtyard, one of them carrying a bouquet of flowers.
"Could be anyone. Moreover, they had flowers -- probably visiting someone," Kashin, whose acerbic reporting and commentary on a range of issues has triggered both ire and admiration across Russia's political spectrum, told RFE/RL in a recent interview.
The man bearing the bouquet walked ahead of Kashin, as if to open the gate for him. As the journalist recalls, the stranger dropped the flowers first, and then came the sucker punch. Grainy security camera footage shows Kashin's memory to be faulty: The blow to the jaw came first. Then he -- and the flowers -- hit the ground.
As Kashin's assailant held him down on the grimy asphalt, the second stranger ran up from behind and began pounding away at Kashin's torso, legs, and arms with an iron rod. The attack lasted almost exactly a minute, punctuated with a kick to the head from the man who delivered the initial punch. After more than 50 blows, Kashin was left with a broken leg and jaw, a severed pinky, and a badly bruised body.
Kashin may have murky recollections of the attack eight years ago on November 6, which triggered international condemnation and a pledge from Russia's then-president, Dmitry Medvedev, that those responsible would be found and punished.
But there is one man who clearly remembers the brutal beating -- a former mixed-martial-arts (MMA) fighter named Danila Veselov, who says it was he who felled Kashin and pinned him down as his accomplice pummeled the journalist with the iron rod.
"He had gone into a rage," Veselov said of his accomplice, according to a transcript of his testimony to investigators. "It seemed like he was overdoing it. I stopped him, and we left."
Veselov's testimony emerged in 2015 in the wake of a bizarre and Byzantine series of events that Kashin and others have likened to something out of noir fiction, including the kidnapping of the alleged organizer of the attack, Aleksandr Gorbunov, who says his captors injected him with an unknown substance, water-boarded him, and forced him to admit responsibility for Kashin's beating.
But in the more than three years since Veselov's confession, the investigation into one of the highest-profile attacks on a Russian journalist over the past decade doesn't appear to have budged.
To Kashin, the reason for the delay is clear: Veselov testified that the beating was ordered by Andrei Turchak, a rising star in President Vladimir Putin's government and a current leader of the ruling United Russia party -- all, allegedly, over an insulting blog comment.
A trial, Kashin said, would "inevitably lead to the question of Turchak, and that's politics."
"That's why it looks like they'll drag this out as long as possible, for years," he told RFE/RL.
Kashin says he is convinced that Veselov, currently in custody in a sprawling St. Petersburg jail facility, was telling the truth when he fingered Turchak in the attack.
Whether the fighter is standing by his own testimony is another question.
'S****y Turchak'
Kashin, a native of the Russian exclave of Kaliningrad who studied marine navigation, has irritated both Kremlin loyalists and the opposition. Prior to his attack, he published biting coverage of pro-Kremlin youth groups, while his commentary for pro-Kremlin publications on liberal causes celebres -- including the case of a Russian Army conscript who had his legs and genitals amputated after brutal hazing by fellow soldiers -- widely drew fire from liberal critics.
Kashin says that at first both he and investigators suspected he had been targeted over his critical reporting either about a government plan to clear forest land outside Moscow for a highway or a Kremlin-backed youth group known as Nashi (Ours).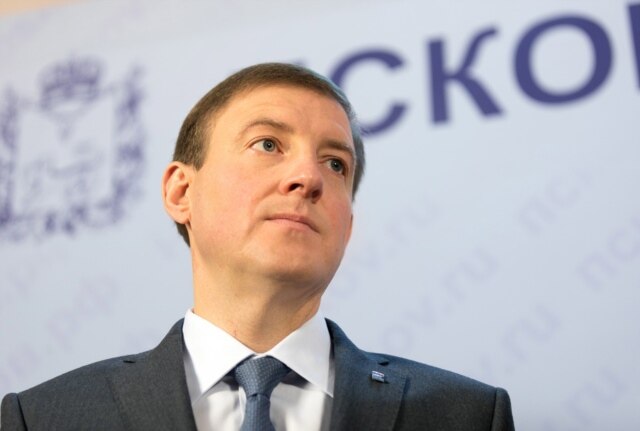 But another theory surfaced as well: Less than three months prior to the attack, Kashin had engaged in a public spat with Turchak, at the time the 34-year-old governor of Russia's northwestern Pskov region. In an August 16, 2010, comment on his own LiveJournal post, Kashin called the regional head "shitty Turchak." The governor, whose father worked closely with Putin in the 1990s, responded with his own comment on Kashin's blog, writing: "Young man, you have 24 hours to apologize. You can do it either in this thread or in a separate post. The clock is ticking."
"Pardon me, is that a threat?" Kashin replied, adding: "What will happen if I don't apologize?"
Kashin says intermediaries advised him to apologize over the comment, suggesting the matter was "serious." But the journalist considered it unlikely that Turchak -- who denies any involvement in the attack on the journalist -- would resort to violence over the insult.

"I made a mistake from a political-science perspective, not understanding the power structure in Russia," Kashin told RFE/RL. Turchak, after all, said he was questioned following the attack, and nothing came of the matter.
Whoever was behind the assault, Medvedev -- who had assumed the presidency as Putin's handpicked successor two years earlier -- publicly voiced support for the journalist. Writing on Twitter the same day as the attack, Medvedev said he had ordered the Prosecutor-General's Office and the Interior Ministry to take control of the investigation.
"The criminals must be found and punished," Medvedev wrote.
Anatomy Of A Paralyzed Investigation
Drag, swipe, or use your mousewheel to scroll through the timeline.

At the time of the attack, Kashin was serving a brief stint in the Kremlin pool for the respected Russian newspaper Kommersant, which immediately contacted Medvedev's spokeswoman -- former journalist Natalya Timakova -- after Kashin's beating.
Two months after the attack, Medvedev personally met with Kashin while the journalist was undergoing rehabilitation in Israel. The Russian president vowed to "tear the heads" off the perpetrators, Kashin says.
Medvedev had previously made public overtures to Russia's embattled independent media, giving his first interview with the print media as president to the respected Moscow newspaper Novaya Gazeta, whose renowned journalist Anna Politkovskaya was gunned down in central Moscow in 2006.
The iPhone- and Twitter-loving president's four years in power were also largely absent of the heightened anti-Western rhetoric from Russian officials and media since Putin's return to the Kremlin in 2012 amid mounting tensions with the United States and Europe over Russian expansionism in Ukraine and other geopolitical flashpoints.
But despite Medvedev's public support, there was little obvious progress in the investigation in the four years following the attack on Kashin. Roughly a year after the attack, Kashin says, he was called in to discuss the case with Russia's powerful Federal Security Service (FSB), which had also become involved in the investigation. At the time, plans for Putin's return to the Kremlin in 2012 had already been made public.
FSB officials, Kashin says, directly told the journalist that if the perpetrators weren't found by the end of Medvedev's term in May 2012, the case would be buried. They advised him to make as much noise as possible, Kashin told RFE/RL. The FSB did not respond to a request for comment on this and other claims by the journalist about its role in the investigation.
Kashin tried to make noise, though his accusations at the time focused on Vasily Yakemenko, the former head of Russia's federal agency on youth affairs and the Kremlin-backed youth group Nashi.
Kashin would later publicly apologize to Yakemenko after Veselov implicated Turchak.
'Something Out Of Robert Ludlum'
Shortly before midnight on April 1, 2014, Aleksandr Gorbunov left his office at Leninets, a defense-related factory in St. Petersburg that was part of the Turchak family's holding company. The bald, bespectacled businessman took a seat in a company Toyota Land Cruiser manned by his driver and headed home. At the first intersection, he would later tell investigators, the vehicle was stopped by a car bearing the insignia of Russian traffic police. The man who emerged from the car was wearing an ill-fitting police uniform and sporting unusually long hair for a cop, according to Gorbunov.
While the driver spoke to the man in uniform, men wearing masks and camouflage approached the car and knocked on Gorbunov's window, yelling, "FSB! Open up!" Gorbunov later said that the men were brandishing guns, and that when he exited the car, they punched him several times and jabbed a syringe containing an unidentified substance into his thigh, before tossing him onto the floor of a waiting minivan. They demanded that he call a man named Aleksandr Meshkov, a deputy director at the factory, and read a statement they had prepared, Gorbunov said: "I'm with friends. Don't panic. I'll call."
Gorbunov said the men then covered his face with a mask and drove him around for 45 minutes, transferring him to a different car at one point, before pulling him out and tossing him onto the concrete floor of a "large container on wheels."
There, according to a copy of Gorbunov's statement to investigators, his captors stripped him naked, fastened him to a chair with tape, and intermittently beat, water-boarded, and tortured him with an electric shock device.
Gorbunov said he was unable to identify his kidnappers during his captivity. But they clearly knew him. Over the course of his captivity, he said, his kidnappers asked him about his business relationship with Turchak. Then they asked about Kashin.
Gorbunov claimed in his statement that he was only vaguely aware from press reports about an attack on a journalist named Kashin. But he said that after he was subjected to torture, he had the following exchange with his captors: "Answering a question about whether I killed Kashin, I said it was me."
After around 30 hours of captivity, Gorbunov's kidnappers let him dress and drove him to the outskirts of St. Petersburg and dropped him off near an apartment building. Gorbunov made his way back to Russia's tsarist-era capital and met with his security team at the factory, after which he reported his kidnapping to police. The following day, he gave a detailed statement about the incident, a copy of which was obtained by RFE/RL.
The bizarre kidnapping of Gorbunov, who had been active with Turchak in pro-Kremlin youth politics, was first publicly reported nearly four months later by the dogged St. Petersburg news site Fontanka.ru under the headline: A Mysterious Injection Into The Case Of The Journalist Kashin. The July 2014 report marked the first public suggestion that Gorbunov had organized the attack on Kashin over the journalist's comments about the Pskov governor.
Gorbunov would later describe his kidnapping and the accusations of his complicity in Kashin's attack -- which he denies -- as "something out of Robert Ludlum," a reference to the late thriller writer and creator of the Jason Bourne series.
White Sun Of The Desert
Investigators arrested Danila Veselov, the former MMA fighter, in May 2015. Whether they knew at the time about his alleged role in Kashin's beating remains unclear. Formally, they arrested him for the kidnapping of Gorbunov carried out 13 months earlier. Several other suspects in the abduction were arrested as well, including Aleksandr Meshkov, the deputy factory director whom Gorbunov was ordered to call after he was taken captive.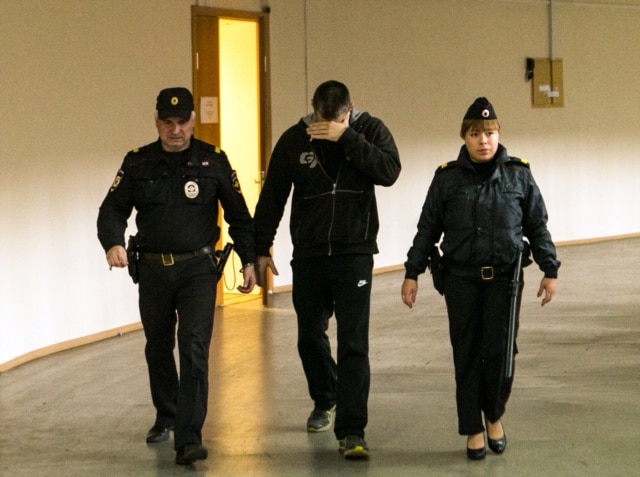 Veselov told investigators that he had participated in the kidnapping over fears for his safety and that of his family. Gorbunov had arranged for his conspirators in the attack on Kashin to lay low in his Belarusian hometown of Mohilev for two years following the crime, Veselov claimed. Upon their return to Russia, he and Meshkov -- who says he feared he would take the fall for the attack because he had helped track down private information about Kashin using a police source – became concerned for their safety.
Both men, Veselov said, had discovered tracking devices on their cars that they believed Gorbunov had arranged. The dramatic kidnapping was an attempt to gain compromising information on Gorbunov that would help ensure their safety, Veselov told investigators. Meshkov, who has since fled Russia, has said the same in interviews with the Russian media. He declined to be interviewed for this report.
Veselov, a martial-arts enthusiast since childhood, fought in MMA events long before the sport's global popularity surged. He managed to win four bouts and lose seven in a career that began in 2001, according to publicly available information. He was beaten in his final professional bout in 2005 by the U.S. fighter Eddie Alvarez, a future UFC champion who would eventually lose his title to arguably the sport's most famous athlete, Ireland's Conor McGregor.
After ending his professional career, Veselov, now 46, worked as a fight coach in St. Petersburg. "I know him as a good athlete and a martial-arts veteran, and at the time I knew him, I saw only the positive side of him as a responsible and disciplined person, as well as a good coach," Andrei Shmelev, a coach who worked with Veselov at a St. Petersburg club, told RFE/RL.
Meshkov met Veselov sometime around 2007 and offered him a job training security guards at Leninets and another entity that was part of the Turchak family's holding company, Veselov alleged in his statement to investigators.
Money, however, was still tight for Veselov, who has children with his wife, Yelena, the ex-fighter told investigators. So, following Kashin's online spat with Turchak in August 2010, Veselov said he agreed to Gorbunov's offer of cash to punish the journalist. The alleged initial plan was simply to douse Kashin with paint or try to lure him into a compromising tryst with a prostitute. But eventually Turchak himself got involved and suggested they up the stakes, Veselov alleged in his statement to investigators in June 2015.
Under questioning, Veselov claimed that around a week prior to the attack on Kashin, he met with Gorbunov and Turchak at an Uzbek restaurant in central Moscow called White Sun Of The Desert.
Veselov said in his June 24, 2015, statement that Turchak told him that he had to "injure" Kashin -- "preferably his hands, so he won't write all kinds of libel."
"Gorbunov offered to hurt his legs as well, to fracture them," Veselov added in his statement.
Veselov alleged that he had secretly recorded the conversation at the restaurant -- a claim his wife also made months later in an interview with Kommersant.
"If not for that recording, I don't know what I would do," Yelena Veselova told the newspaper in September 2015. "My husband gave it to me, and there are several copies elsewhere."
If such a recording does exist, it has never been made public. Both Turchak and Gorbunov deny that any such meeting ever took place.
"With all due respect to the owners of White Sun Of The Desert and fans of Eastern cuisine, I have never in my life been in this restaurant and don't plan to be," Turchak said in a friendly interview with a Pskov regional newspaper in November 2015.
Turchak was in Moscow two weeks prior to the attack on Kashin, meeting with Putin, who was then prime minister, at the Russian government's headquarters, though Veselov claimed the meeting took place around a week prior to the beating. But Kashin told RFE/RL that the investigator overseeing the case at the time of Veselov's testimony, Aleksei Serdyukov of the federal Investigative Committee, had informed him directly that mobile-phone data had placed Gorbunov, Turchak, and Veselov together on Neglinnaya Ulitsa in central Moscow -- the street where White Sun Of The Desert is located.
On June 24, 2015 -- nine days after Veselov first gave a statement alleging the involvement of Turchak and Gorbunov in the attack on Kashin -- Serdyukov signed a statement formally accusing Veselov of attempted murder in the case.
The document, a copy of which was obtained by RFE/RL, alleges in black and white that Veselov and two other accomplices – Vyacheslav Borisov and Mikhail Kavtaskin -- carried out the attack on Kashin, and received 3,300,000 rubles ($50,000) for their efforts. It alleges that Gorbunov organized the attack and began planning the crime the same day that Kashin published the "shitty Turchak" comment.
Three months later, it emerged that Serdyukov had been pulled from the case.
'My Case Is Solved'
Less than three months after Serdyukov signed the formal accusations, it was Kashin himself who revealed for the first time that the investigation had named the alleged perpetrators and organizer -- Gorbunov -- of his beating.
"My case is solved," Kashin wrote on his personal website in September 2015. "The names of the perpetrators are known, two of the three are arrested. Now the politics start."
Kashin told RFE/RL that he been aware of the development well before he ultimately went public, but that he sat on the information until he was able to secure the document formally accusing Veselov.
"I wrote that after receiving a scan of the documents from the criminal case containing the most important stuff," he said.
In addition to Veselov and Gorbunov, the alleged conspirators named in the document include two others who Veselov said also worked at operations under the Turchak family's holding: Vyacheslav Borisov, the man who allegedly smashed up Kashin with an iron pipe as Veselov held the journalist on the ground, and Mikhail Kavtaskin, who allegedly alerted the attackers that Kashin was approaching. Kavtaskin was arrested around the same time as Veselov and others in connection with Gorbunov's kidnapping. Borisov is believed to have fled the country and, according to Kashin, is likely hiding in Belarus. Efforts by RFE/RL to find Borisov in Belarus to comment on the Kashin case were unsuccessful.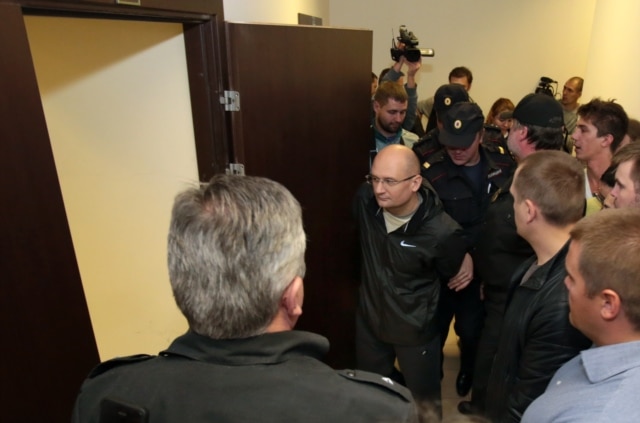 By the time Kashin revealed the suspects' names to the public, Gorbunov was in custody as well. Two days after Veselov was formally accused in Kashin's beating in June, investigators searched Gorbunov's apartment and office, and he was arrested the following day -- not for the attack on Kashin, but rather on charges of illegal storage of weapons. Suspects in Gorbunov's kidnapping had tipped investigators off to the cache that he had allegedly ordered them to bury near his country home south of St. Petersburg.
Serdyukov, the investigator in Kashin's case who signed the accusations against Veselov, was handling the weapons case against Gorbunov as well as the investigation into Kashin's beating and the kidnapping case. But by September 2015, he had all three cases taken from him. The removal of Serdyukov, who now serves in a senior Investigative Committee post in the Urals region of Perm, was followed by favorable legal developments for Gorbunov.
In July 2015, the head of the Russian state technology conglomerate Rostec, longtime Putin associate Sergei Chemezov, submitted a letter to investigators praising Gorbunov as "proactive," "responsible," and possessing "unique skills." Rostec said Gorbunov serves on the board of directors of several of the conglomerate's companies and organizations.
Despite the character reference from Chemezov, a St. Petersburg court on September 9, 2015, ordered Gorbunov to remain in custody, saying he is accused of "serious crimes" and that he has "not admitted his guilt, does not show remorse, and could destroy evidence and personally or indirectly apply pressure on witnesses."
The FSB also opposed Gorbunov's release, alleging that there was evidence that he had passed on government secrets to a U.S. citizen.
"There very well might have been an internal struggle," Kashin told RFE/RL. "The Investigative Committee's position at some point began to radically differ from that of the FSB. At the moment of Gorbunov's arrest there was a clear split: the FSB wanted to jail him, and the Investigative Committee wanted to let him out."
Just two days after the court extended Gorbunov's arrest, the new investigator overseeing the Kashin investigation and the two related cases successfully secured the businessman's release on condition that he not leave town.
Gorbunov has been out of jail ever since.
'My Conscience Is Clean'
If Gorbunov, as he told investigators, had only learned of Kashin's beating from media reports, the question remains: Why was he kidnapped? In the more than three years since Veselov's detailed statement implicating Gorbunov and Turchak, the two men have suggested that the accusations -- and the kidnapping -- were part of an intricate plot by employees at the factory Gorbunov oversaw to break off from the firm and steal its clients. Both have accused the factory manager Meshkov of playing a central role in this alleged conspiracy.
Turchak pointed the finger at Meshkov in a November 2015 interview following Gorbunov's release from jail, saying: "The person who organized Gorbunov's abduction (who gives Skype interviews from some unknown location abroad about the attack on Oleg Kashin) was involved in the disappearance of large sums of money" from the accounts of Gorbunov's company.
Turchak added that in regards to Kashin's case: "My conscience is absolutely clean."
Meshkov responded in an interview with Kommersant that he had indeed launched a new firm with former employees of the factory, but he denied they were trying to steal contracts from their old employer. He also suggested in correspondence with Kashin that there was evidence the Veselov had been paid off and gifted a new apartment in exchange for recanting his statements that implicated Gorbunov and Turchak in Kashin's beating.
It was not possible to verify that claim. RFE/RL contacted Veselov's wife, Yelena, via social media and by telephone. In a brief call, she said she would "consider" giving an interview. But she did not answer subsequent calls to her mobile phone.
Asked via Facebook Messenger about Meshkov's suggestion of a payoff, Yelena Veselova did not respond. A Faceboook notification indicated that the message was read.
Official property records show that Veselov co-owns a modest apartment with his mother in a panel building in St. Petersburg, where his family lived until his arrest. Responding in August 2017 to a friend's social-media post asking to stop by for a visit, Yelena Veselova wrote: "I haven't moved yet."
Gorbunov declined to comment on Meshkov's claim about a possible payoff to Veselov's family.
It is unclear whether Veselov is sticking with his original statements about the alleged roles of Gorbunov and Turchak in the Kashin beating. His current attorney, Kristina Tyulpanova, declined to comment when reached by telephone, citing attorney-client privilege.
Turchak said in November 2017 -- following his appointment as secretary of United Russia's general council -- that "the initial statement from Danila Veselov, the only witness and accused in the Kashin case, proved to be false. He admitted that he slandered Aleksandr Gorbunov." Meshkov claimed to Kashin that Veselov had recanted in August 2016.
The Investigative Committee did not respond to a request for comment on the status of the investigation into Kashin's beating or which individuals might be charged in the case.
In July, a St. Petersburg court convicted Veselov and Kavtaskin, the alleged getaway man in the attack on Kashin, along with several others in the 2014 kidnapping of Gorbunov. They were sentenced to between six and seven years in prison, more than three of which Veselov has already served in pretrial detention.
It's unclear exactly what motive for the kidnapping was identified in court, which granted a request by Gorbunov's lawyer to close the trial to the public. The decision was based on the fact that the accusations were linked to torture and that an open trial would lead to the revelation of "details that would degrade the honor and dignity of the victim," the court said.
Gorbunov declined to comment when contacted by RFE/RL, citing the ongoing appeals of the kidnapping convictions, but suggested that behind-the-scene business battles were involved. "You can't understand this case through the keyhole of the Kashin case, because it's simply a tool," he said.
Asked for Turchak's response to allegations that he was behind the attack on Kashin, United Russia's press office told RFE/RL they did not have any other information.
"We recommend that you reach out to law enforcement authorities," the party said.
Kashin's lawyer, Ramil Akhmetgaliyev, told RFE/RL that the case appears to have ground to a halt. "The only official notifications that I receive say that the attempted murder investigation is periodically extended," Akhmetgaliyev said.
'Terrifying Truth'
Kashin, who now lives in London, says he believes Turchak's handling of the aftermath of the beating eight years ago has only helped his political career.
"It's of great significance to Putin that he didn't buckle under the pressure of the public and the media…. I think his subsequent career rise is to a large degree connected with his conduct in my case. He became the leader of United Russia and deputy speaker of the Federation Council," Kashin said, referring to Russia's upper house of parliament. Without the Kashin case, I think he would still be muddling along in Pskov."
Kashin said his belief that Veselov spoke truthfully in his statements to investigators has not wavered. He added that he has forgiven Veselov following the former MMA fighter's public apology.
Following the 2006 killing of Politkovskaya, Kashin published a column challenging the idea that journalists are killed in Russia for exposing "the terrifying truth."
"There is no truth so terrifying that a journalist can be killed for it. Journalism in contemporary Russia cannot and is incapable of seriously influencing the situation in the country," he wrote. Kashin said he considers "personal insults" more dangerous in Russia.
He suggests that he did not heed this assessment in his dealings with Turchak. "In my case, my intuition for some reason failed me," he said.
With reporting by Carl Schreck and RFE/RL's Belarus Service