Why Join Islamist Radicals?
Latif, the journalist, believes young Tunisians are joining Islamist militants abroad in part because Tunisia's Jasmine Revolution was so serene compared to "the cowboy story" in other countries.
"Thank God we didn't live the same story of what happened in Libya against the Qaddafi regime or what happened in Syria," Latif says. "And I believe that a lot of people, when they saw how young people fought the Qaddafi regime at that time, just after our revolution, they were attracted, [asking]:'Why I didn't get that same possibility?'"
In the first years after the revolution, Latif says, Tunisian fighters easily bypassed lax security. Now, the authorities require notarized parental consent from anyone under age 35 who is traveling to countries like Turkey or Libya, which are often used as conduits for IS fighters.
It's not only adventure driving young Tunisians to battle. It's also, arguably, poor job prospects, coupled with dashed hopes about the changes the 2011 revolution would bring.
In Douar Hicher, a recruiting hotspot located outside Tunis, sheep graze in a cemetery, one of few green spots in an otherwise desolate suburb. A woman there says she misses the days of dictator Zine el-Abidine Ben Ali, ousted as a result of the revolution, because at least he had helped plant a small garden on a street near her dilapidated home.
Double Menace: Poverty, Islamic State
Ben Gardane -- where IS killed 12 members of Tunisian security forces before they were defeated in the March attack, leaving 52 militants dead -- is an impoverished desert city of 80,000 people with little industry aside from smuggling. Now it's becoming a garrison.
Just prior to the incursion, Tunisia's military had finished building a 200-kilometer dirt barrier along the border with Libya and is using U.S. assistance to equip it with surveillance technology. Tunisia also sealed its border crossing with Libya for two weeks after the attack before reopening it under heavy security. Checkpoints dot the highway leading into Ben Gardane; sandbagged military outposts ring the outside roads.
"It's kind of a new reality for the people there," says Tunis-based security analyst David Santiago, although he predicts radicals living underground in Ben Gardane will likely launch another attack even if the border is sealed again.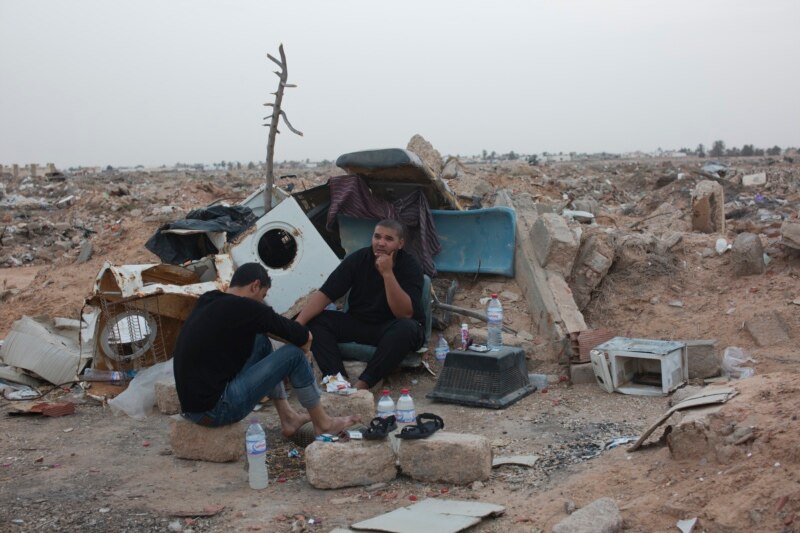 In late May, Belgacem Bouchnak, 43, walks by the bullet-ridden white minaret of the Jalal mosque. On the day of the attack, militants fired from the mosque and security forces fired back. Bouchnak, who lives on the same street, says he hunkered down at home during the battle. Through his window he could see the militants -- and recognized several faces.
"Some were barbers. Some sold olives," he recalls. "Maybe there will be another attack by a sleeper cell."
These days he does not let his children walk to school alone.
Many people in Ben Gardane say poverty, not Islamic State, is their main concern. Frustration with border closings has erupted into protests against local government.
In one Internet cafe, three young couples stare at computer monitors together in cramped quarters, a purple curtain behind them.
One 24-year-old customer describes the situation in Ben Gardane as "zero."
He sits with his fiancee reading Facebook. The top post on his page shows a map of Tunisia and a man trying to crawl out. There are no jobs in town, the man says, and even his part-time gig importing carpets has dried up because of the border control. He does not give his name.