Live Blog: Ukraine Election Run-Up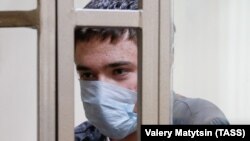 Latest News
-- U.S. President Donald Trump and German Chancellor Angela Merkel have spoken by phone on issues including NATO funding, and Ukraine, officials from the White House and German government say.
-- In a letter on behalf of the G7, France has warned top Ukrainian cop Arsen Avakov that "extreme political movements" are trying "to usurp the role of the National Police."
-- A Russian court has sentenced 20-year-old Ukrainian citizen Pavlo Hryb to six years in prison on a charge of "promoting terrorism," which he denies. Hryb reacted to the verdict by saying he is going on hunger strike.
*Time stamps on the blog refer to local time in Ukraine