Live Blog: Ukraine In Crisis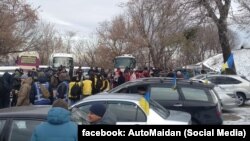 Latest News
-- A lawyer for former Ukrainian President Viktor Yanukovych says that the ex-leader will not be able to make a final statement to a Kyiv court in his treason trial because of an injury he reportedly sustained on November 16.
-- Activists for transgender rights were forced to disband a demonstration in Kyiv on November 18 after counterdemonstrators assaulted several protesters and attacked a Canadian journalist trying to cover the event.
-- Russia has warned Ukraine that it may take measures to protect Russian ships crossing the Sea of Azov should Kyiv stop or seize any.
-- U.S. Secretary of State Mike Pompeo has said Ukraine has "no greater friend than the United States" in its struggle against "Russian aggression."
*Time stamps on the blog refer to local time in Ukraine