Live Blog: Ukraine In Crisis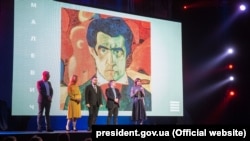 Latest News
-- The European Union is set to remove next week Andriy Klyuyev, the head of former Ukrainian President Viktor Yanukovych's presidential administration, from its sanctions list.
-- Ukrainian President Petro Poroshenko has called on the UN secretary-general to draw up options for a peacekeeping mission to eastern Ukraine, saying such a mission could be a "decisive factor" in ending the conflict there.
-- SPECIAL REPORT: Meet Ukraine's 44 Presidential Candidates: Who's Who In A Crowded Field.​
*Time stamps on the blog refer to local time in Ukraine