News
Q&A: A Former U.S. Defense Official Explains The New Strategy Shift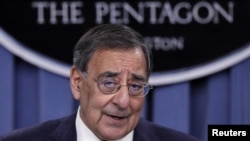 U.S. President Barack Obama has
announced a major policy shift
in the size and strategic goals of the country's defense forces. The announcement comes at the end of America's long involvement in the Iraq war and within sight of the end of fighting in Afghanistan.
RFE/RL Washington correspondent Heather Maher discussed this policy adjustment with former U.S. Deputy Defense Secretary Rudy DeLeon.
Now the senior vice president of national security and international policy at the Washington-based Center for American Progress, DeLeon outlined what the military shift means and why it's happening now.
RFE/RL: One of your former roles in the government was as undersecretary of defense for personnel and readiness, so presumably you know a thing or two about what makes a military force well-prepared. Did the news that the Department of Defense (DoD) plans to cut hundreds of billions of dollars from its budget and shrink the army surprise you?

Rudy DeLeon:
The number that was discussed today, which was a reduction over the next 10 years of $487 billion, has been discussed now for several months in Washington. It's a product of last spring's budget agreement with Congress, so the DoD has been spending most of the summer and fall working on the strategy points [announced today]. So it's been long in coming and was well expected.
RFE/RL: In announcing this strategy shift and force reduction, President Obama said it would allow the United States to "avoid repeating the mistakes of the past when our military was left ill-prepared for the future." What was he referring to, specifically, by that?

DeLeon:
One, I think after two wars and basically a period of unlimited defense spending, there were still critical needs that were required to support the troops in the field, mostly on the technological side. Mostly to counter the IED (Improvised Explosive Device) threat that faced our troops [in Iraq].
So, I think the technology cycle – getting that in sync with what war fighters are actually likely to experience in combat, getting the equipment more quickly out there – I think that's one issue.
I think the other significant [point] that was made in both the president's comments, hinted at by the president, but then specifically by [Defense] Secretary [Leon] Panetta, is that there'll be much more focus on, "What are the military objectives?" And much less focus, and moving away from, the model where you end up occupying the country for 10 years doing stability operations.
RFE/RL: One major element of this military strategy shift is Washington's plan to pay attention to what China has been doing militarily, as well as the threat that Iran poses. That means focusing more naval and air power in the Pacific, as well as the Strait of Hormuz, which Iran has been threatening to block. What is China doing to make the United States feel the need to flex its military muscle in that part of the world?

DeLeon:
Well, I think what we're seeing from the Chinese is the development of unique, anti-access strategies -- strategies that are designed to degrade the capabilities that U.S. forces – our ships and our aircraft – have today. They're not ready, but the Chinese are clearly looking at space, at cyber[space], at systems that would degrade the critical role of long-range combat aircraft or nuclear aircraft carriers. But there's a whole strategy that the Chinese have focused on.
And at the same time, America's always been a Pacific power, and the Pacific has now become the principle avenue of commerce for the globe. The Asian marketplace led the financial recovery after the recession started in 2008; it's a tremendous amount of economic activity. And yet while China rises as the leading trading partner in Asia, the United States has remained as the country that has provided great security and stability for the whole region.
So the Pacific and Asia is not a surprise, but there are some unique things that, when Secretary Panetta talked about needing to pivot and adjust, clearly what's going on in Asia was the basis for that comment.
RFE/RL: Finally, how will this U.S. military strategy shift be seen abroad -- not just by U.S. allies but also by governments who are not so friendly toward Washington? Will they see it as another sign -- along with the country's economic woes -- that America's role on the world stage is shrinking? Or will they see it as smart strategic planning for the future?

DeLeon:
Moving to reestablish the strong economic foundation of our country -- which has always been the strong foundation of our national security and our military capabilities -- that is the essential step. But for the adversaries of the United States, the mission against a [Osama] Bin Laden [and] the mission against other terrorists shows that U.S. military capabilities are formidable and that anyone who wishes to do harm to America, or to America's military men and women, needs to really think twice before they would take such actions.
U.S. Slaps Terrorist Designation On Al-Qaeda-Linked Kurdish Group
WASHINGTON -- The U.S. State Department has officially designated an Al-Qaeda-linked Kurdish group as a terrorist organization, freezing the group's U.S. assets and prohibiting U.S. citizens from engaging in business with them.

According to a press release, the Al-Qaeda Kurdish Battalions (AQKB) formed in 2007 from "the remnants of other Kurdish terrorist groups" and have publicly sworn allegiance to Al-Qaeda and Al-Qaeda in Iraq.

The group operates along the Iraq-Iran border.

The press release said the group has claimed responsibility for a number of attacks against Iraq's Kurdish regional government, including a May 2007 attack in Irbil in which 19 people were killed when an explosives-packed vehicle struck the Kurdish ministries of the interior and security.
Israel, Palestinians To Meet Again, U.S. Says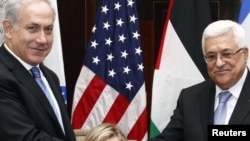 Israeli and Palestinian peace negotiators will hold their second round of face-to-face talks within a week on January 9 in Amman, a U.S. State Department spokeswoman said.

"We are encouraged that they are both coming to the table, they are talking directly," spokeswoman Victoria Nuland told
reporters in her daily briefing.

The two sides held their first high-level talks in more than a year in Amman on January 3, a gathering sponsored by the Quartet
of Middle East peace mediators -- the European Union, Russia,
the United Nations and the United States.

The Quartet on Septemer 23 called for the two sides to resume
talks with the aim of reaching a peace deal by the end of 2012.
The talks did not produce any breakthroughs. They were aimed at agreeing to terms under which the two sides' leaders --
Palestinian President Mahmud Abbas and Israeli Prime Minister
Benjamin Netanyahu -- could resume talks.

The major issues dividing the two sides include the borders of a Palestinian state, the fate of Jewish settlements on the
West Bank, the status of Jerusalem, and the fate of Palestinian
refugees.

Reuters
Iran, West Say They're Ready To Resume Nuclear Talks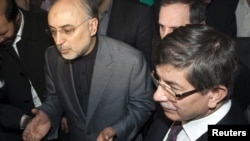 Turkey has delivered a Western offer to Tehran to renew negotiations over its nuclear program, Foreign Minister Ahmet Davutoglu said, expressing hope that talks stalled a year ago could soon be revived.

As new sanctions from the United States and the European Union added pressure on the Iranian economy, Iranian Foreign
Minister Ali Akbar Salehi said Tehran was also interested in
returning to the negotiating table.

Speaking at a joint news conference with Salehi, Davutoglu said Salehi had "responded in kind" to "an expression of willingness by the West to resume negotiations" that he had brought.

"We are waiting for a good result coming out of the willingness of the two parties to go back to the negotiating table," Davutoglu told the news conference, carried live on Iran's Press TV with English translation.

"As far as negotiations over Iran's peaceful nuclear energy
program, we hope that we will gain good results and the
unfavorable conditions that have emerged, we hope that they
will go away. On the international arena we hope that Iran will
be able to have good ties."

Salehi confirmed Iran was ready to return to talks with the permanent members of the UN Security Council and Germany
(P5+1) at a time and place agreed by both sides.

He said the EU's foreign policy chief Catherine Ashton, who heads the P5+1 delegation, had suggested to Turkey that it host
the talks and that Ankara had agreed.

Reuters
Russian Basketball Player Sizonenko Dies
Former Soviet basketball star Aleksandr Sizonenko, who was also Russia's tallest man at 2.45 meters, has died at the age of 52.

Russian media reports say that Sizonenko died in St. Petersburg after a long illness.

After playing for the St. Petersburg-based Spartak club from 1976-79, Sizonenko joined Stroitel in what is now Samara after the fall of the Soviet Union. He finished his career there.

compiled from agency reports
Armenian President Meets Army Chiefs In Karabakh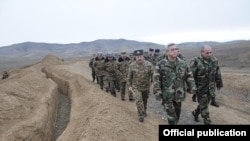 STEPANAKERT -- Armenian President Serzh Sarkisian inspected military facilities in the breakaway Azerbaijani region of Nagorno-Karabakh and met with Karabakh Armenian army commanders during a visit that ended today, RFE/RL's Armenian Service reports.
Sarkisian began the three-day trip with a tour of army units deployed in Karabakh's southeastern Martuni district, near the heavily fortified "line of contact" separating them from Azerbaijani troops.
Accompanied by Bako Sahakian, leader of the unrecognized Nagorno-Karabakh Republic (NKR), Sarkisian watched shooting exercises on January 3 held at a training center of the NKR army involving special army forces and snipers.
Sarkisian, who commanded Karabakh Armenian forces in 1992-1993, met with the army's top brass in Stepanakert later on January 4.
Armenian Defense Minister Seyran Ohanian, another former Karabakh army chief, was also in attendance.
Official Armenian and NKR sources reported no details of the meeting. Sarkisian, who wore a military uniform during the visit, made no public statements.
While in Karabakh, Sarkisian also inaugurated a newly reconstructed military hospital and a new residential complex in Stepanakert that will mainly house families of military personnel and veterans of the 1991-94 war with Azerbaijan.
Azerbaijan, meanwhile, condemned Sarkisian's visit as a "provocation."
"All international organizations and countries of the world support Azerbaijan's territorial integrity," Azerbaijani Foreign Ministry spokesman Elman Abdullayev told Day.az on January 4. "Such actions and provocations show the true face of Serzh Sarkisian."
Abdullayev said Azerbaijan will eventually regain control of Nagorno-Karabakh and the Armenian-controlled territories around it.
Sarkisian warned Baku against seeking a military solution to the Karabakh conflict during his previous trips to the disputed region. He insisted in August that Azerbaijan cannot gain a decisive military advantage over Armenia and will eventually come to terms with Armenian control over Karabakh.
Read more in Armenian here
Kazakh Activists Urge Release Of Jailed Journalist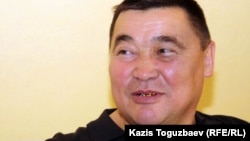 TARAZ, Kazakhstan -- Several Kazakh activists gathered at a prison in southern Kazakhstan today to demand the release of journalist Ramazan Esergepov, RFE/RL's Kazakh Service reports.
Rozlana Taukina, chairwoman of the media nongovernmental organization Journalists in Danger, and freelance journalist Andrey Sviridov were at the prison in Taraz to call for Esergepov's immediate release.
Activists also released balloons imprinted with the names of jailed journalists in Kazakhstan.
Prison authorities and the Prosecutor-General's Office have said Esergepov should be released by 9 a.m. on January 6.
Esergepov, who was chief editor and founder of the independent weekly newspaper "Alma-Ata Info," was jailed for three years in August 2009 over an article about alleged links between a businessman and the National Security Committee (KNB).
Esergepov and rights organizations protested the verdict, saying it was politically motivated. "Alma-Ata Info" was closed down after his arrest.
Esergepov told RFE/RL last year that he plans to become a human rights activist and will fight against corruption after his release. He added that he will also work to prove his innocence and clear his name of the charges against him.
Esergepov is recipient of the 2011 Hellman-Hammett Grant. The award is administered by Human Rights Watch and is awarded to writers and journalists who have been subject to political persecution and are in financial need.
Read more in Kazakh here
Read more in Russian here
Tajik President's Son Named Head Of Football Federation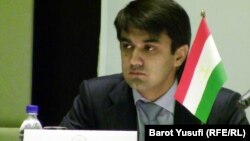 DUSHANBE -- The eldest son of Tajik President Emomali Rahmon was named today as the head of Tajikistan's Football Federation, RFE/RL's Tajik Service reports.
Rustam Emomali was nominated for the position in December. A panel tasked with selecting a president for the country's football federation voted unanimously today for Emomali.
Emomali replaces Suhrob Kosimov, who held the position for 10 years. Kosimov declined to run for the position for another term but was named an "honorary" president of Tajikistan's Football Federation.
Emomali is the founder of the Dushanbe soccer team Istiqlol and has both played for and served as captain of the team. But because of his new post as head of the country's football federation he will no longer play for Istiqlol -- the current champion of Tajikistan -- or have any other connection to the team in a bid to ensure his impartiality.
Emomali said he wants to make football in Tajikistan "professional," meaning the teams should be registered and players should have contracts.
He added that he wants to create a soccer academy to help future players develop the skills needed to compete in international competitions.
Besides being the president of Tajikistan's Football Federation, Emomali is also an official in Tajikistan's Customs Service as head of the department for combating smuggling.
He has also previously been a member of the Dushanbe city council and has taken part, with his father, in international political summits held in Tajikistan.
In June, supporters of the Ravshan soccer club in Kulob rioted after their team lost to Istiqlol. Ravshan fans accused the referee of favoring Istiqlol to the point of allowing a questionable late goal to give the visitors a win over Ravshan, which was in second place at the time.
Ravshan supporters attacked referees and police before turning on the Istiqlol team bus and players' cars.
The Tajik national soccer team is ranked 139th in the world by the world governing body FIFA. Tajikistan was eliminated in November from the qualifying tournament for the 2014 World Cup after losing 4-0 to Japan and 3-0 to Uzbekistan.
Read more in Tajik here
Read more in Russian here
Obama Unveils Downsized, Refocused Defense Strategy
WASHINGTON – U.S. President Barack Obama has unveiled a new strategy for the Defense Department that downsizes the U.S. military, pivots away from costly ground wars in Iraq and Afghanistan, and shifts focus to a rising China.
Speaking at the Pentagon – in an appearance thought to be a first for a U.S. president -- Obama said the plan he helped forge would balance the need to "keep our military the finest the world has ever known" with the need to address the staggering budget shortfall in Washington.
He said the plan would make the military "leaner" but "agile" and establish clear defense priorities.
"I called for this comprehensive defense review to clarify our strategic interests in a fast-changing world, and to guide our defense priorities and spending over the coming decade, because the size and structure of our military and defense budget have to be driven by a strategy, not the other way around," Obama said.
"Moreover, we have to remember the lessons of history," he added. "We cannot afford to repeat the mistakes of the past, after World War II, after Vietnam, when our military was left ill-prepared for the future."
In a break from the U.S. defense posture of the post-9/11 decade, the new strategy will see the military lose its ability to fight two protracted ground wars at once.
Instead, it will be required to fight and win one war, thwart the military advances of an enemy in another part of the world, and maintain its capacity to conduct counterterrorism and humanitarian missions.
'Turning The Page'
With U.S. troops out of Iraq and the military presence receding in Afghanistan, Obama said the Pentagon must reflect that "we're turning the page on a decade of war."
"As we look beyond the wars in Iraq and Afghanistan, and the end of long-term nation-building with large military footprints, we'll be able to ensure our security with smaller conventional ground forces," he said. "We'll continue to get rid of outdated Cold War-era systems so that we can invest in the capabilities we need for the future, including intelligence, surveillance and reconnaissance, counterterrorism, countering weapons of mass destruction, and the ability to operate in environments where adversaries try to deny us access."
Obama also made clear that the Pentagon is no longer exempt from government belt-tightening.
The new strategy does not specify which defense programs will be affected as the department faces potential spending cuts over the next 10 years of $450 billion to $1 trillion -- the largest reductions since the end of the Cold War.
Details are expected to emerge next month, when the White House releases its proposed 2013 budget.
Speaking alongside Obama, Defense Secretary Leon Panetta conceded that not everyone will be happy with the new measures.
"Savings must be achieved in a balanced manner, with everything on the table, including politically sensitive areas that will likely provoke opposition from parts of the Congress, from industry, and from advocacy groups," he said. "That's the nature of making hard choices."
Strengthening In Asia-Pacific
The new Pentagon strategy is also aimed at increasing the U.S. military presence in the Asia-Pacific region, where China's military capabilities are on the rise.
Early evidence of that shift in focus came in November, when Obama
unveiled plans
to station a contingent of U.S. Marines in northern Australia.
At the Pentagon, Obama said the cutbacks would not affect U.S. contributions to NATO or what he called U.S. "vigilance" in the Middle East at a time of political upheaval and increasing tensions with Iran.
"We'll be strengthening our presence in the Asia-Pacific, and budget reductions will not come at the expense of that critical region," Obama said. "We're going to continue investing in our critical partnerships and alliances, including NATO, which has demonstrated time and again, most recently in Libya, that it's a force multiplier. We're going to stay vigilant, especially in the Middle East."
And he sent a clear signal that even with the spending cuts, American forces will remain the strongest in the world. The U.S. defense budget, he noted, will continue "to be larger than roughly the next 10 countries combined."
written by Richard Solash, with agency reports
OSCE Will Not Monitor Turkmen Presidential Election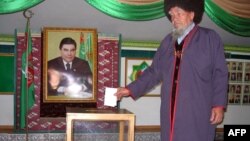 The Organization for Security and Cooperation in Europe's (OSCE) Office for Democratic Institutions and Human Rights (ODIHR) says it will not send observers to Turkmenistan's presidential election in February, RFE/RL's Turkmen Service reports.
Representatives from ODIHR visited Turkmenistan in December to meet with Turkmen officials, review the election preparations in the country, and determine the possibilities monitors would have if they were deployed for the election campaign and vote.
But in a statement ODIHR said it "does not consider that the deployment of an election observation mission, even of a limited nature, would add value at this point in time."
The statement did say the organization, "mindful of the declared interest of the authorities of Turkmenistan to maintain a dialogue," would send an Election Assessment Mission that would "further review the legal and administrative framework for elections and also visit some regions of the country to gain a more substantive understanding of its electoral processes."
That mission is expected to release a report some eight weeks after the election with recommendations for " assisting Turkmenistan in its stated intention of holding elections according to democratic standards, consistent with its OSCE commitments."
ODIHR has never sent observers to any of Turkmenistan's elections, either parliamentary or presidential. The February 12 election is only the second time in the country's 20-year history as an independent state that it is conducting a presidential election with more than one candidate competing.
Incumbent President Gurbanguly Berdymukhammedov won that election in February 2007 with some 89 percent of the vote.
Berdymukhammedov faced five opponents in the 2007. This time he competes against seven other candidates, none of whom are well-known to the Turkmen public, almost ensuring Berdymukhammedov another five-year term in office.
Read more in Turkmen here
U.S. Senators Protest Treatment Of Former Pakistani Ambassador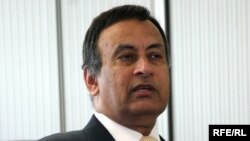 U.S. Senators John McCain (Republican-Arizona), Joseph Lieberman (Independent-Connecticut), and Mark Kirk (Republican-Illinois) have released a statement in response to reports of the ongoing harassment and mistreatment of Pakistan's former ambassador to the United States, Husain Haqqani.

The statement says that the senators are "increasingly troubled by Ambassador Haqqani's treatment since he returned home to Pakistan, including the travel ban imposed on him."

The statement urges Pakistani authorities to resolve the matter "swiftly and consistent with civilian rule of law."

Pakistan's Supreme Court has barred Haqqani from traveling abroad while his alleged role in a dispute over a leaked memo is being investigated.

The controversy centers on a memo in which Pakistani civilian officials allegedly sought U.S. help to prevent a possible military coup in exchange for Pakistani concessions.
Egypt Prosecutor Demands Death Sentence For Mubarak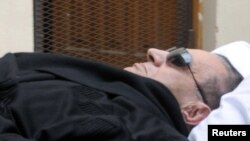 The prosecution in the case against Hosni Mubarak has demanded the death sentence for the former Egyptian president and other defendants, including his two sons and the former interior minister.

The 83-year-old Mubarak is facing charges of ordering the killing of protesters during the demonstrations, which swept him from power in February.

The judge adjourned the trial until January 9.

"The prosecution demands the maximum penalty against Mubarak and the rest of the accused, which is death by hanging," Mustafa Khater, a member of the prosecution team, said during a court session.

In wrapping up the three-day case, chief prosecutor Mustafa Suleiman said that the "the question is not simply one of whether [Mubarak] ordered the killing of protesters, but to know why he did not intervene to stop the violence."

The trial began on August 3 after months of protests to pressure the military rulers to place Mubarak on trial along with ex-regime officials.

compiled from agency reports
Bagram Prison To Be Transferred To Afghan Control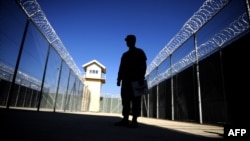 A statement from Afghan President Hamid Karzai's office said today that Bagram prison, currently run by the United States-led international coalition, is to be handed over to Afghan control within a month.

According to the statement, Karzai issued the order after receiving a report detailing "many cases of violations of the Afghan Constitution and other applicable laws of the country, the relevant international conventions, and human rights" at the prison.

Karzai had previously tasked a commission in 2010 to work on the transfer of the prison and prisoners from the international coalition to Afghan authorities within a year, between January 2011 and January 2012.

But the statement said the commission was told to complete the full Afghan takeover of the prison within a month "so that any more breach of Afghan sovereignty can be avoided."

Bagram prison is located inside Bagram air base, the largest U.S. military base in the country.

The detainees at the prison include those suspected of having top roles in the Taliban, Al-Qaeda, or other militant groups.

with agency reports
Former Israeli Leader Indicted On Corruption Charges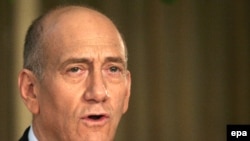 Reports in Israel say former Israeli Prime Minister Ehud Olmert has been indicted on new corruption charges for allegedly seeking bribes in a series of real estate projects.

The alleged crimes took place while Olmert was mayor of Jerusalem, a position he held before becoming prime minister in 2006.

Olmert has denied all charges.

Eli Zohar, a lawyer for Olmert, speaking today to Reuters in Jerusalem said his client was innocent.

"I don't know what there is a dispute about and what their isn't," Zohar said. "Ehud Olmert did not accept bribes, period."

The former Israeli leader, who is already standing trial on a separate corruption charge, has been tainted by suspicions of corruption during his three-decade political career, without once being convicted.

The accusations, however, forced Olmert to resign after a three-year term as prime minister in 2009.

compiled from agency reports
UK's Hague In Country's First Visit To Myanmar In Five Decades
British Foreign Secretary William Hague has begun a landmark visit to Myanmar, the first British foreign secretary to visit the country since 1955.

Hague arrived in the capital, Naypyitaw, for talks with President Thein Sein and was scheduled to meet later with opposition leader and Nobel peace laureate Aung San Suu Kyi in Yangon.

Myanmar was a military dictatorship until last year, but recent changes by the new government have raised hopes of further reforms.

Hague is the latest top international official to visit Myanmar, after U.S. Secretary of State Hillary Clinton visited in December.

Also today, Myanmar's national election commission approved Suu Kyi's National League for Democracy (NLD) to run in upcoming by-elections.

Suu Kyi is expected to run in the April 1 by-election. The NLD boycotted general elections in 2010 because of restrictions that, among other things, would have prevented Suu Kyi from running.

compiled from agency reports
Tajik President Shuffles Officials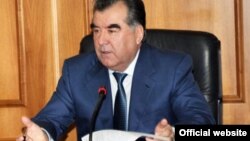 Tajik President Emomali Rahmon has reshuffled posts in the government, most notably naming a new interior minister, justice minister, and heads of the Security Council and of the presidential administration.

Rahmon named Ramazon Rahimov to be the new interior minister and moved his predecessor in the post, Abdurahim Kahharov, over to the position of Security Council secretary.

Rustam Mengliev was appointed justice minister, replacing Bakhtiyor Khudoyorov, who was named head of the presidential administration.

Matlubhon Davlatov was named first deputy prime minister.

A number of mayors and regional officials were also replaced.

with agency reports
U.S. Marine Faces Trial In Iraq War's Biggest Criminal Case
A U.S. Marine accused of leading a squad that killed 24 Iraqis in 2005 will stand trial in San Diego on January 6 in the biggest and lengthiest criminal case against U.S. troops to arise from the Iraq War.

Frank Wuterich, a 31-year-old Marine staff sergeant, is one of eight Marines initially charged. None have been convicted.

The incident under question occurred in November 2005, when Wuterich ordered his men to clear several homes in the town of Haditha after a roadside bomb killed one Marine and wounded two others.

Wuterich's men allegedly tossed grenades in the homes and peppered them with gunfire, leaving 24 Iraqis dead.

The trial comes after the last U.S. troops departed Iraq last month.

compiled from agency reports
ICRC Employee Kidnapped In Pakistan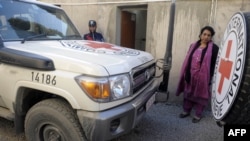 The International Committee of the Red Cross (ICRC) says one of its workers has been kidnapped in the city of Quetta in southwestern Pakistan.

An ICRC spokeswoman, Sitara Jabeen, declined to disclose the man's name or nationality.

But a senior police official in Quetta, Nazir Ahmed Kurd, speaking near the scene of the kidnapping, said the kidnapped man was British.

"He was entering this lane when he was stopped by around seven or eight men in a [Toyota] Land Cruiser parked here," Kurd said. "The rest of the men stayed inside the vehicle, while one man armed with a pistol stopped his car. Cars normally slow down while taking this turn. So they took the British national, Khalil Dale, out of the car. They took his car keys and they moved toward the airport road."

Quetta police chief Faisal Mehmood said that "so far the car has not been traced."

Quetta, in Baluchistan Province, is home to Islamist militants as well as separatist insurgents. Both have kidnapped foreigners and locals in the past.

compiled from agency reports
EU Moves Closer To Iran Oil Embargo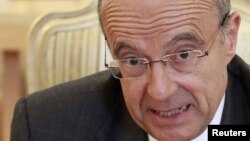 European Union diplomats say they have reached a preliminary agreement to ban imports of Iranian oil, a move that has been welcomed by the United States.

French Foreign Minister Alain Juppe said on January 4 that details could be resolved before the EU foreign ministers meet in late January.

"We have a foreign ministers meeting on January 30 and I hope we will be able to make the decision on the embargo of oil and gasoline from Iran," Juppe said. "We're working on the measures and things are looking good."

Michael Mann, spokesman for EU foreign-policy chief Catherine Ashton, told RFE/RL on January 5 that finding alternative oil sources is the key to finalizing an embargo.

"There have been issues, obviously. It has not been a straightforward thing. There are certain countries that obviously get a lot of supplies from Iran, and therefore, they would have to find alternative supplies," Mann said.

"And we are, of course, in times of austerity. So this thing needs to be carefully thought through."

Nuclear Sanctions

The United States and other Western countries have already imposed economic sanctions against Iran, and there are four sets of United Nations sanctions to punish Tehran for allegedly trying to develop nuclear weapons.

Iran denies the allegations, saying its nuclear program is for peaceful civilian purposes.

With more than 50 percent of Iran's state income coming from oil exports, an EU embargo would increase pressure on Tehran. More than 17 percent of Iran's oil exports now go to EU countries.

In response, Iran accused the West today of waging "an economic war" against the country.

Economy Minister Shamseddin Hosseini told the IRNA news agency that "the enemies of the Islamic republic's regime" have not "been able to chain the nation and now they want to chain the economy."

Iran's national oil company downplayed the impact of an EU embargo, saying it will sell oil to Asian countries like China and India. But oil-sector analysts say Tehran will have to sell oil at lower prices to Asian clients.

In Washington, U.S. State Department spokeswoman Victoria Nuland said the EU agreement was "the result of lots of consultations."

"These are the kinds of steps that we would like to see not just from our close allies and partners in places like Europe, but from countries around the world," Nuland said, "because we do believe that this is consistent with tightening the noose on Iran economically and we think that the place to get Iran's attention is with regard to its oil sector."

Nuland said U.S. Treasury Secretary Timothy Geithner would go to China next week to discuss "coordination" over new U.S. sanctions against Iran's Central Bank.

Meanwhile, Tehran has announced more military exercises in the Strait of Hormuz -- a vital international oil-shipping route. Earlier this week, Tehran threatened action if Washington redeployed an aircraft carrier to the Persian Gulf or if oil sanctions were imposed.

Washington says those threats show Iran is "in a position of weakness" and the United States will not alter deployment plans in the gulf.

Written by Ron Synovitz in Prague, with Rikard Jozwiak in Brussels and news agency reports
Twenty-Five Dead, 100 Missing in Philippine Landslide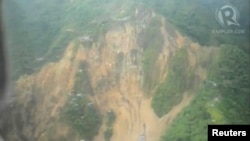 At least 25 people have been killed and another 100 are missing in the southern Philippines after a predawn landslide struck a community of gold prospectors.

Officials said the wall of earth struck the remote mountain community of shanty houses near Pantukan town on Mindanao island.

An army unit was digging out buried homes and bodies using shovels and other hand tools.

Lieutenant Colonel Leopoldo Galon, an army spokesman, said 16 people had been pulled out from under rubble and rushed to a nearby hospital.

The government mining office has listed the copper-gold and gold-mining operations in the area as a priority investment project.

But it banned small-scale mining in the area last year over safety concerns.

In April 2011, about 20 people were killed in the same town of Pantukan in rain-induced mudslides.

compiled from Reuters and other agency reports
Sectarian Violence Worsens In Iraq Amid Political Crisis
At least 72 people have been killed and well over 100 wounded in a wave of bombings targeting Shi'as in Iraq -- apparently the deadliest attacks to hit the country in over a year.

A suicide bomber targeting Shi'ite pilgrims near Nasiriyah in southern Iraq killed at least 38 people, just hours after a wave of bombings in Shi'ite parts of northern Baghdad killed dozens of others.

The coordinated attacks bore the hallmarks of Sunni insurgents linked to Al-Qaeda and contribute to a worsening sectarian crisis in Iraq that erupted as soon as the last U.S. troops left the country in December.

No one immediately claimed responsibility.

Martin Kobler, the top United Nations official in Iraq, condemned the attacks, saying in a statement, "I urge all Iraqis to remain steadfast in the face of those who are using violence in its worst forms to prevent the country and its people from succeeding as a democratic, stable, secure, and prosperous nation."

In Washington, U.S. State Department spokesperson Victoria Nuland said, "We condemn these acts. We consider them acts of terror. They are desperate attempts by the same kind of folk who have been active in Iraq, trying to turn back the clock."

The bombings come amid a political crisis that saw Iraq's Sunni-backed Al-Iraqiyah bloc on January 3 launch a boycott of parliament and cabinet meetings, accusing Shi'ite Prime Minister Nuri al-Maliki of ignoring a power-sharing deal meant to ease sectarian tensions.

Last month, Maliki's government issued an arrest warrant for Iraq's top Sunni politician, Vice President Tariq al-Hashimi, who promptly fled to Iraq's semi-autonomous Kurdish region in the north.

Al-Iraqiyah parliament member Nabil Harbo told RFE/RL's Radio Free Iraq on January 5 that the bloc's ministers have three key demands from Maliki that were all part of their power-sharing deal on forming a unity government more than a year ago.

Those include the creation of a national strategic-policy council, passage of planned cabinet statutes, and the balancing of security forces within the Defense Ministry between Sunnis, Shi'a, and Kurds.

"When the government of national partnership was formed, Iraqiyah agreed with the [the predominantly Shi'ite] National Alliance and the Kurdistan Alliance on a host of provisions," Harbo said. "These provisions have so far not been implemented. Indeed, the Iraqi government has tried to drag its feet on this issue."

Al-Iraqiyah Ministers 'On Leave'

All eight Iraqiyah cabinet ministers, including Finance Minister Rafie al-Esawi, are taking part in the boycott. Ministers who did attend the January 3 cabinet meeting voted to declare them "on leave."

Cabinet Secretary Ali al-Alaq, a member of Maliki's State of Law bloc, told RFE/RL on January 5 that Iraqiyah's boycott had forced Maliki to appoint other members of his cabinet as acting ministers in the interim.

"Maintaining the functions of state institutions should be separated from disagreements between the political blocs on some issues. Otherwise the people, public services and projects will be adversely affected," Alaq said.

"That is why the prime minister has a right to appoint acting ministers to run the respective ministries until the fate of Iraqiyah's ministers is decided. That is, whether they return or not."

Kobler, the UN's Iraq envoy, has urged Iraqi leaders to work together to resolve the political crisis, telling President Jalal Talabani that the UN is ready to support efforts "to promote confidence and trust."

Written by Ron Synovitz, with RFE/RL's Radio Free Iraq correspondents in Baghdad and Abdelilah Nuami in Prague
Pakistani Militants Kill Kidnapped Troops
Militants in Pakistan have killed 15 members of Pakistan's security force who they had kidnapped last month.

A spokesman for the Pakistani Taliban said the men had been killed in revenge for military operations against the militants in tribal areas near the Afghan border.

Local officials confirmed that 15 bodies, with signs of torture and gunshot wounds, had been found in the North Waziristan tribal area.

The insurgents kidnapped the men on December 23 during an attack on a Pakistani security base in North Waziristan.

compiled from agency reports
Prominent Russian Activists Freed After Serving Jail Time
Two Russian activists who challenged officials last month amid outcry over disputed State Duma elections have been released after serving their jail sentences.
Both arrests came amid demonstrations against the December 4 parliamentary elections that sparked some of the biggest street protests in Russia since the collapse of communism.
One of the detainees, 34-year-old Left Front leader Sergei Udaltsov, was jailed shortly after the voting and initially sentenced to five days of detention. A series of police and court actions
extended his imprisonment to a full month
, much of which he spent
in hospital
after a hunger strike threatened his health. He has called his arrest "unlawful."
The other released activist is Yaroslav Nikitenko, the deputy head of a group fighting a Moscow-to-St. Petersburg highway project that runs through the Moscow district's Khimki Forest.
Nikitenko was detained at a late-December rally in support of Udaltsov and also released on January 4, after serving a 10-day sentence.
The Left Front's Udaltsov said after his release that he was "weakened" physically but that his condition was improving, according to RFE/RL's Russian Service.
He told supporters to keep up the fight against Prime Minister Vladimir Putin's hold on power and to work for a democratic Russia. Udaltsov urged people to turn up for a peaceful pro-democracy march on February 4.
WATCH: Sergei Udaltsov is greeted by scores of supporters after his release from detention in Moscow late on January 4:
"I feel drunk with freedom, and I feel that people support me -- not only me, but the whole idea that we are fighting for," Udaltsov told about 100 supporters who were on hand for his release, according to wire reports. "The support of a huge amount of people inspires me and gives me strength."
Putin, who is the front-runner for a return to the Kremlin after a scheduled presidential election in March, and President Dmitry Medvedev have defended the December vote and resisted opposition demands that it be repeated because of
allegedly widespread fraud
.
International monitors also registered voting irregularities, including so-called
carousel voting
, in which groups of people are transported to a number of polling places to vote multiple times.
Udaltsov called the current atmosphere in Russia "one of the most emotional times of my life."
"But I hope that the most emotional moment will be when we achieve our results that are being discussed right now by hundreds of thousands, millions of people in this country," Udaltsov was quoted as saying, "when we finally liberate Russia and make a fair, prosperous country."
"Right now, those in power are waiting," Reuters quoted Udaltsov as saying. "They hope that our protest, that wave, will sleep. I, for one, am sure that it's not like that. It's not the fashion of the moment. This is really that society woke up and no longer tolerated unlawful humiliation. For that reason, I think that we finish our business and force those in power to grant our absolutely legal demands or leave the political stage."
Nikitenko was detained on December 25 at a rally in support of Udaltsov.
But official harassment and even
brutal attacks
have targeted activists and journalists involved in the defense of the Khimki woodlands. A number of Nikitenko's colleagues from the Defenders of Khimki Forest have been arrested, and they have accused authorities of abusing agencies like Russia's Child Protective Service to
target their children
.
Fellow environmental activist Yelena Nadezhkina told RFE/RL's Russian Service that Nikitenko was detained by police while "just standing there and tweeting" on events at the pro-Udaltsov rally. She said he was convicted without any witness testimony and without a lawyer present despite his objections.
with additional agency reporting
U.S. Hails EU Step On Iran Oil Ban As 'Good News'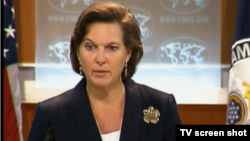 The United States has welcomed an agreement in principle by European governments to ban the import of Iranian crude oil as "very good news."

U.S. State Department spokeswoman Victoria Nuland told a news briefing that Washington would like to see other countries take similar steps.

"These are the kinds of steps that we would like to see not just from our close allies and partners in places like Europe, but from countries around the world," Nuland says, "because we do believe that this is consistent with tightening the noose on Iran economically and we think that the place to get Iran's attention is with regard to its oil sector."

The sanctions against Iran are intended to punish Tehran for its controversial nuclear activities.

French Foreign Minister Alain Juppe said that a decision on a European embargo on Iranian oil could be taken at an EU foreign ministers meeting on January 30 in Brussels.

The French AFP news agency reports that oil from Iran in 2010 amounted to 5.8 percent of total EU imports, making Tehran the bloc's fifth-largest supplier of oil after Russia, Norway, Libya, and Saudi Arabia.

compiled from agency reports
Turkmenistan's 'Protector' Registers For Presidential Election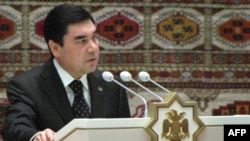 ASHGABAT -- Turkmen President Gurbanguly Berdymukhammedov has been registered as a candidate for a second term in Turkmenistan's February 12 presidential election, RFE/RL's Turkmen Service reports.
Berdymukhammedov -- who has been given the title "arkadag" (protector) -- was officially registered on January 3 after being nominated as a candidate by the Democratic Party, the only legal political party in Turkmenistan and headed by Berdymukhammedov.
He was also reportedly suggested as president by several state-run labor unions, a state youth organization named after Turkmen poet Makhtumguli, a war veterans organization, the Women's Union of Turkmenistan, and other groups.
The February vote will be only the second time in Turkmenistan's history as an independent country that a presidential election will be held with more than one candidate officially in the running.
Berdymukhammedov won the first such election in 2007 with some 89 percent of the vote against some unknown opponents who did not campaign in the election.
Berdymukhammedov's predecessor, Saparmurat Niyazov, won the only other presidential election in Turkmenistan when he ran unopposed in June 1992.
The seven candidates competing against Berdymukhammedov in February's election are the head of the Lebaprurlushyk production association, Esenguli Gaiypov; director of the Geotepe textile mill, Saparmyrat Batyrov; Deputy Energy and Industry Minister Yarmukhammet Orazgulyev; the deputy head of the Dashoguz region, Recep Bazarov; Turkmengaz department head Kakageldy Abdullayev; Turkmennebit manager Gurbanmamed Mallanyyzov; and Water Economy Minister Annageldy Yazmyradov.
Western election-monitoring organizations have never sent observers to an election in Turkmenistan because they do not approach international standards in being free and fair.
The Organization for Security and Cooperation in Europe's Office for Democratic Institutions and Human Rights has been in talks with Turkmen authorities about monitoring the February election but it has not yet decided whether or not to send observers.
Read more in Turkmen here