News
Georgian PM Says Tbilisi Will Not Restore Russia Ties Soon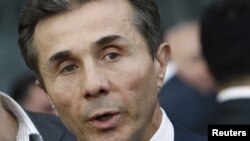 Georgia's new Prime Minister Bidzina Ivanishvili says he will not restore diplomatic ties with Russia until Moscow reverses its decision to recognize the independence of two Georgian breakaway regions.

Moscow has deployed thousands of troops in Georgia's breakaway regions of Abkhazia and South Ossetia since recognizing them as independent after the Georgia-Russia war in 2008.

Ivanishvili told a news conference in Tbilisi that, "as far diplomatic [relations] are concerned, it can't happen quickly."

Ivanishvili said, however, that restoring trade and cultural links with Russia was a "more realistic" goal.

His Georgian Dream coalition defeated President Mikheil Saakashvili's party in a parliamentary election a month ago.

Ivanishvili has repeatedly blamed Saakashvili for provoking the conflict.


Based on reporting by AFP and ITAR-TASS
Clinton Urges Albania To Unite Behind EU Target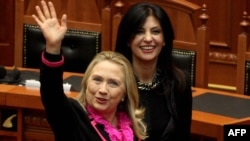 U.S. Secretary of State Hillary Clinton has called upon Albanian lawmakers to speed up progress toward European Union membership and step up efforts to enforce laws and fight corruption.

Clinton told the Albanian parliament, "You've come a long way, don't stop now," pointing out that two decades earlier the country was a bastion of hard-line communism.

She also urged Albanian lawmakers to improve the electoral system. The last two parliamentary polls ignited tensions between political factions.

In 2009, Albania joined NATO and applied for EU membership. However, its application has not moved forward, amid political infighting and lack of reforms.

Clinton was in Tirana on the last leg of a tour of the western Balkans. She has visited Bosnia, Serbia, Kosovo, and Croatia.


Based on reporting by dpa and Reuters
In Pakistan, Couple Kill Daughter Who Talked To A Boy
Police and doctors say a Pakistani couple have killed their teenage daughter by pouring acid on her after they caught her talking to a boy.

The parents of the 16-year-old confessed to police in Kotli, a town in Pakistan-administered Kashmir, that they attacked their daughter after she had spoken to the boy outside their house.

Mohammad Jahangir, a local doctor at the hospital where the girl was brought, said there were third-degree burns on her scalp, face, eyes, nostrils, arms, chest, and legs.

Police have arrested the parents.

Almost 1,000 women lost their lives last year in so-called "honor killings" in the conservative South Asian nation, according to the Human Rights Commission of Pakistan.


Based on reporting by Reuters and AFP
Tymoshenko Refuses To End Hunger Strike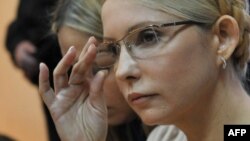 Imprisoned former Ukrainian Prime Minister Yulia Tymoshenko has vowed to continue her hunger strike despite recommendations from doctors that she needed to start eating again.

Leaders from Tymoshenko's Batkivshchina (Fatherland) political party paid a short visit to Tymoshenko at the hospital where she has been treated for severe back pain since June.

One of those leaders, Oleksandr Turchynov, said when leaving the hospital that neither they nor the doctors could convince Tymoshenko to end the hunger strike.

"Of course, we asked Yulia Volodymyrivna [Tymoshenko] to stop the hunger strike because her health is important for the [Batkyvshchina] party and I think for the whole Ukraine," Turchynov said, "but the situation in many constituencies and information about how openly and cynically the results of the people's vote are being falsified enrage her, of course.

"The only thing she can do against it in this situation is to declare a hunger strike. That's why we couldn't convince Yulia Volodymyrivna to stop it and she will continue until Ukrainian society gives a clear assessment of what is happening now in many constituencies and regions."

Tymoshenko announced the hunger strike on October 29 to protest what she said was vote-rigging during the October 28 parliamentary elections.

With nearly all the votes counted from that poll, Tymoshenko's party is running in second place with about 25.5 percent of the votes behind the Party of Regions, led by Tymoshenko's political rival, President Viktor Yanukovych, which has just over 30 percent.

OSCE observers and the United States have criticized the October 28 vote as a step "backward," citing Tymoshenko's imprisonment and the misuse of government resources to support ruling party candidates.

Tymoshenko was convicted in October 2011 of abuse of office during her time as prime minister and sentenced to seven years in prison.

She and her supporters say the charges were politically motivated and calls her imprisonment revenge on the part of Yanukovych.


With reporting by ITAR-TASS and Interfax
Two Detained In Fraud Case Involving Russia Defense Contractor
Russian legal authorities have detained two people in connection with fraud at the country's Oboronservis company, which oversees manufacturing contracts for the Defense Ministry.

Moscow's Khamovnicehsky Court ordered the arrest of Yekaterina Smetanova, the head of the Ekspert legal support center, who is suspected of aiding the former director of the Defense Ministry's property department in the fraud.

Also ordered to be arrested was Maksim Zakutailo, Smetanova's husband.

Investigators believe the suspects illegally sold real estate, land, and company shares that belonged to Oboronservis.

Investigators say the sale of eight Oboronservis real estate facilities netted the suspects some $100 million.

Oboronservis is a state-owned military contractor that oversees companies making a wide variety of products for the Russian military ranging from weapons and war machines to housing and uniforms.


Based on reporting by ITAR-TASS and Interfax
New UN Rapporteur Calls For Belarus Dialogue
The new UN special rapporteur on human rights in Belarus has called on the authorities and civil society to engage in an open dialogue aimed at the promotion and protection of human rights in the country.

Speaking as he assumed his position on November 1, Miklos Haraszti said, "I would like to invite the Belarusian authorities, state institutions, and civil society to enter into an open dialogue with me on human rights issues confronting the country."

Haraszti said that human rights experts will meet with the Belarusian government to discuss ways to exchange information.

He added, "I hope to assist the government and people of Belarus in improving the human rights situation in the country in line with international human rights norms."
Amnesty International Seeks Justice For Bosnian Rape Victims
Rights group Amnesty International has urged authorities in Bosnia's Serbian entity, the Republika Srpska, to make reparations for victims of wartime rape.

Amnesty International's Lejla Hadzimesic said on November 1 her organization had asked Bosnian Serb officials to provide financial compensation for the victims as well as medical and psychological care.

The group said in a statement that the Bosnian Serb authorities have not made any meaningful attempts to address the needs of the victims.

Tens of thousands of women were raped during Bosnia's 1992-95 war between the country's Bosniaks (Muslims), Serbs, and Croats.


Based on reporting by AP and Voanews.com
Russian Court Reduces Lebedev's Sentence, Clearing Way For 2013 Release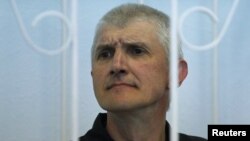 A court in Russia has reduced the prison sentence of the business partner of jailed oil tycoon Mikhail Khodorkovsky.

Platon Lebedev had been serving a 13-year sentence for tax evasion and money laundering.

But a court in Russia's northwestern Arkhangelsk region, where Lebedev is serving his prison sentence, ruled on November 1 that the term should be shortened by three years.

The decision means Lebedev is now set to be released in July 2013.

Lebedev was the closest business associate of Khodorkovsky, the former CEO of the Yukos oil giant.

The two men say their prosecution was orchestrated by President Vladimir Putin as punishment for Khodorkovsky's political ambitions and support for the opposition.

Khodorkovsky remains in prison in the Karelia region northwest of Moscow.

He is scheduled to be released in 2016.


Based on reporting by AP, ITAR-TASS, and Interfax
Several Female Prisoners On Hunger Strike In Iran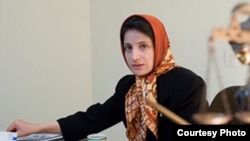 Nine female political prisoners have started a hunger strike to protest their conditions in Tehran's Evin prison.
The Iranian website Kaleme.org reports that the women stopped eating after they were beaten and insulted by guards.
Jailed Iranian human rights lawyer Nasrin Sotoudeh started a hunger strike in the same prison last week after prison authorities banned her relatives from visiting.
Sotoudeh began serving a six-year jail term in 2010.
A European Union delegation canceled its visit to Tehran last week after Iranian authorities rejected its request to meet Sotoudeh and the jailed filmmaker, Jafar Panahi.
The European Parliament awarded
Sotoudeh and Panahi the 2012 Sakharov Prize
for Freedom of Thought last month.
Iraqi Vice President Sentenced To Death On Second Charge
An Iraqi court has convicted fugitive Vice President Tariq al-Hashimi of involvement in a plot to assassinate a senior Interior Ministry official.

He was sentenced to death.

It was the second time the court has sentenced Hashimi to death in absentia.

Hashimi, Iraq's most senior Sunni Muslim politician, fled Iraq for Turkey in December 2011.

The Shi'ite-led government accused him of involvement in numerous attacks and issued a warrant for his arrest.

His first death sentence followed his conviction on the charge of running death squads.

He denies the charge and has accused Prime Minister Nuri al-Maliki, a Shi'a, of conducting a political witch-hunt against his Sunni opponents.

There has been no immediate reaction from Hashimi to the latest verdict.


Based on reporting by Reuters and AP
Georgian Presidential Protection Service To Control VIP Security At Airport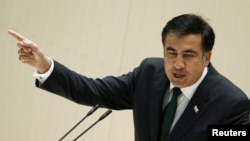 TBILISI – Georgian President Mikheil Saakashvili has signed a decree changing the security arrangements at Tbilisi's international airport.

The State Protection Special Service, which is responsible for Saakashvili's personal security, will now be responsible for the airport's VIP terminal.

That terminal is used by visiting foreign officials, but it is also used by a select list of Georgia's political, judicial, and religious leaders.

The list includes the president, the prime minister, the parliament speaker, the supreme court chairman, the head of the constitutional court, and the patriarch of the Georgian Orthodox Church.

Their family members also use the VIP terminal.

The president's office has not commented on the reasons behind the change.


With reporting by newsgeorgia.ru and apsny.ge
Former Czech Agent Loses Appeal on Insurance Fraud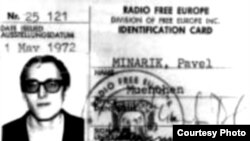 The Czech Supreme Court has rejected an appeal by former Czechoslovak intelligence agent Pavel Minarik, who was jailed in 2009 for insurance fraud.

Minarik is serving a four-year sentence for a fraudulent insurance claim tied to a staged truck accident in Ukraine.

From 1972 to 1976, Minarik worked in the Czechoslovak section of Radio Free Europe/Radio Liberty in Munich, which he had successfully infiltrated.

He spied on journalists for the communist regime and, it later emerged, also planned a terrorist attack on the station.

Upon his return to Prague, Minarik was publicly feted by the communist regime.

He became a self-styled businessman after the fall of communism.


Based on reporting by novinky.cz
In Syria, 28 Soldiers Reported Killed In Attacks On Army Checkpoints
A watchdog group says Syrian rebels have killed 28 government soldiers in attacks on three checkpoints on the main road from Damascus to Aleppo in the north.

The British-based Syrian Observatory for Human Rights said that opposition activists confirmed the November 1 attacks around the town of Saraqeb in northwestern Idlib Province.

It said five rebels were also killed in the attack.

The group said the rebels did not capture the checkpoints because they would be exposed to government forces' air strikes.

The rebels did reportedly seize several armored vehicles.

Idlib Province has become a key battleground in the conflict between rebels fighting against President Bashar al-Assad's regime and government forces.

Fighting intensified after rebels seized the town of Maaret al-Numan on the Damascus-Aleppo road early this month.


Based on reporting by AFP and Reuters
No Case Against Gudkov, Russian Prosecutors Say
Prosecutors in Russia say they will not open a criminal case against an opposition lawmaker who was ousted from the State Duma.

Gennady Gudkov, a member of the center-left party, A Just Russia, was expelled from parliament in September for allegedly managing a business while serving in the State Duma.

That's technically forbidden by Russian law.

But in an official letter published on November 1 in the "Nezavisimaya gazeta" daily, Deputy Prosecutor-General Viktor Grin confirmed that investigators had conducted a preliminary probe and found no basis for opening a criminal case.

Gudkov, a vocal critic of Russian President Vladimir Putin, says he was removed from the Duma as a result of his political stance and has denied any commercial dealings.


Based on reporting by "Nezavisimaya gazeta," Vesti.ru, News.ru, and ITAR-TASS
Ex-Ukrainian PM Reportedly Freed From U.S. Prison
Ukrainian former Prime Minister Pavlo Lazarenko has reportedly been freed from U.S. federal prison in California after serving more than eight years behind bars.
A prison employee was quoted as saying Lazarenko left the the Terminal Island correctional facility in Los Angeles early Thursday.
No comment from Lazarenko was immediately available.
Prime minister from 1996 to 1997 under President Leonid Kuchma, Lazarenko amassed a personal fortune while advising on the privatization of the country's lucrative natural gas sector. After falling out of favor with the president and amid a probe of his business dealings, Lazarenko fled to the United States in 1999.
He was found guilty of money laundering through U.S. banks, wire fraud, and extortion in 2004. In the same year, he was ranked by the watchdog group Transparency International as the eighth most-corrupt official in the world.
Several of the charges were later dropped on appeal.
A central charge that was not dropped, however, was that Lazarenko had extorted Ukrainian businessman Peter Kiritchenko of $30 million before the two laundered the proceeds in several international accounts, including the United States.
According to the indictment, Lazarenko concealed some of the money through a shell company and used the funds to purchase a
mansion in a swanky San Francisco Bay-area neighborhood.
'He Would Have Been Acquitted'
Horowitz claimed that he could have cleared Lazarenko's name had he been able to gather evidence in Ukraine.
"I was on my way to go to Ukraine to meet [witnesses] and get the evidence when we got credible information that there was going to be an attempt on my life. The trip was canceled," Horowitz said. "Had I been able to go there and bring back the evidence, some of which I have in my hand now, he would have been acquitted of those charges."
He said that the former prime minister spent much of his time behind bars working on a plan to help his country.
"He has been working on an economic plan during his time in U.S. custody that, if implemented in Ukraine, would modernize the economy, would normalize the economic relationships between Ukraine and Europe and the United States, and end Ukraine's dependency on primary materials, whether it's gas or mining operations -- things where there's very little profit," he said.
If released, Lazarenko's future remains uncertain. He is wanted in Ukraine on charges including money laundering and embezzlement and for alleged involvement in several high-profile murders, including the 1996 killing of politician Yevhen Shcherban.
Lazarenko was himself the apparent target of a bomb explosion in the same year.
Dangerous To Return
Horowitz said he is arguing that it is not safe for his client, who does not hold any permanent U.S. papers, to return to his home country.
"There were numerous assassination attempts before he left Ukraine, which is why he originally left, and we believe that if he went back, he would likely either be killed or potentially tortured," Horowitz said. "There are a million ways [Lazarenko] could stay here if the United States government feels it's the right thing to do."
Washington and Kyiv do not have an extradition treaty.
Lazarenko is also a former ally of former Ukrainian Prime Minister Yulia Tymoshenko, who is currently jailed in Ukraine on charges that the West has described as politically motivated.
"If you look at Hillary Clinton's statements about Tymoshenko," Horowitz said, "the U.S. is not going to feed anybody from the country to Ukraine without looking very carefully at why they want them."
The Ukrainian Embassy in Washington declined to comment on Lazarenko's possible release.
Suspect In High-Profile Kazakh Murder Released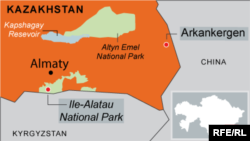 A suspect in a high-profile mass murder in Kazakhstan has been released after all charges against him were dropped.

Forest ranger Aleksei Shkilev was arrested in September in connection with the slayings of 12 people in the Ile-Alatau National Park, near Kazakhstan's largest city, Almaty.

In August, Shkilev's house in the national park was found burned down and the bodies of six men and women were discovered in the ruins.

Six men and women were found stabbed to death in another part of the park the same day.

Shkilev's lawyer told journalists on November 1 that his client was able to prove he had no connection to the crime.

Last month, Kazakh officials said they are looking for two suspected radical Islamists, who might be involved in the mass murder.


Based on reporting by KazTAG and Kazinform
Ex-Border-Guard Chief Becomes Belarus Olympic Committee Vice President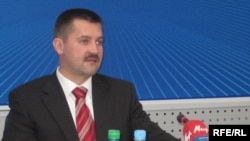 MINSK -- The former chief of the Belarusian border-guard service has become a vice president of the National Olympic Committee.

President Alyaksandr Lukashenka, who officially chairs the Olympic Committee, appointed Ihar Rachkouski at a committee meeting on November 1.

Rachkouski was dismissed from his job with the border-guard service last summer after a Swedish plane flying from Lithuania violated Belarusian airspace.

It dropped teddy bears with messages supporting Belarusian dissidents and the country's opposition.

The incident caused tensions between Belarus and Sweden.

Minsk expelled the Swedish ambassador and demanded investigations into the airdrop.

Last week, Lukashenka dismissed his sports minister, Aleh Kachan, for what he called the "complete failure" at the London Olympics.

The Belarusian national team won 12 medals, including two golds.

Lukashenka said Kachan promised 25 medals.
Spokesman Says Old Sports Injury Not Hampering Russian President's Work
Russian President Vladimir Putin's spokesman has denied media reports suggesting that an old sports injury was aggravated by Putin's recent hang-glider flight with endangered cranes or is hampering the president's work.

In recent weeks, Putin has rarely left his official residence outside Moscow. He has also postponed his annual question-and-answer session with the public.

On November 1, Russia's business daily "Vedomosti" cited unnamed sources close to the Kremlin as saying that Putin's September flight in a motorized hang glider to accompany migrating cranes aggravated an old back injury and that he is undergoing treatment for it.

Reuters news agency also said it was told by government sources that Putin was suffering from back trouble.

Presidential spokesman Dmitry Peskov acknowledged on November 1 that Putin had a strained back, but he said Putin became a semiprofessional athlete a long time ago and the injury was caused by heavy exercise.

"The flight with the cranes did not aggravate anything. But it is true that [Putin] had an old injury, an ordinary sports injury, he had pulled a muscle," Peskov told with Kommersant FM radio.

No Changes Planned

Putin, a judo black belt, has long cultivated a tough-guy image. He has in recent years been filmed riding bare-chested on a horse, scuba diving in the Black Sea, and skiing in the Caucasus.

Peskov said nothing has changed in Putin's activities, and that he "is working out as usual, regularly -- daily, if possible."

The presidential spokesman said Putin was making infrequent trips to the Kremlin because he did not want his motorcade to further disrupt Moscow's already heavy traffic.

"According to his schedule, [Putin] simply doesn't have any ceremonial events that require his presence in the Kremlin," Peskov said.

"Unless it is really necessary [to go to central Moscow] , he prefers to work [at his residence] in Novo-Ogaryovo so he doesn't bother Moscow drivers unnecessarily."

Peskov also denied that trips abroad Putin had been expected to take in November had been postponed. The spokesman said no official dates for the visits to India, Bulgaria, and Turkey had been announced.

The Commonwealth of Independent States said its summit in Turkmenistan -- initially planned for early November -- will take place on December 5.

Peskov said Putin's annual question-and-answer session with the public usually held in December has been put off to a "warmer" season.

Putin has been holding live question-and-answer sessions every year since 2001.

The Kremlin spokesman said Putin is considering holding a "big" press conference before the end of the year.


With reporting by "Kommersant," "Vedomosti," Interfax, AP, and AFP
Russian Internet 'Blacklist' Law Comes Into Effect
A law has come into effect in Russia allowing the authorities to blacklist websites seen as offering content that is harmful to children.
The controversial law gives officials the right to force websites offline and demand that Internet service providers block content it deems offensive.
The Russian government says the law is aimed at protecting children from pornography and web content that encourages drug use or suicide.
But free-speech advocates say the new law may be used to block websites seen as critical of the government or the Russian state.
The Russian search engine Yandex and the networking site Mail.ru have protested the law, saying it will lead to widespread Internet censorship.
A list of websites included on the blacklist can be found at
zapret-info.gov.ru
.
Based on reporting by Interfax and the BBC
Serbian Prosecutors Hand Over British Soccer Case
Reports from Serbia say officials are handing over to British authorities the case of two English Under-21 football players and an assistant coach who have been charged by Serbian prosecutors with committing a violent act at a match against Serbia.

No comment from British officials was immediately available.

Four Serbian Under-21 players, an assistant coach, and three spectators are also facing charges in connection with the brawl that broke out at the end of the match October 16 in Krusevac.

The European football governing body UEFA is investigating allegations that Serbian fans jeered black English players with racist insults.

The Serbian Football Association has suspended two players and two coaches over the incident.

England won the match 1-0 to win a berth in next year's Under-21 European finals.


Based on reporting by Reuters and AP
New Russia-U.S. Adoption Agreement Comes Into Effect
A new agreement between Russia and the United States, regulating the adoption of Russian children by Americans, comes into force on November 1.

The Russian government sought the agreement after a series of cases in which Russian children were abused, and in some cases died, at the hands of their U.S. foster families.

A joint statement published by the U.S. Embassy in Moscow said the agreement is aimed at providing "better safeguards for adoptive children" and defining the "interests and obligations of the adoptive parents."

Under the agreement, U.S.-Russia adoptions must be made only through accredited agencies.

It also provides for the monitoring of "the living conditions and upbringing of the adopted child."

Tens of thousands of Russian children have been adopted by Americans.
Ukraine's Ruling Party Holds 30 Percent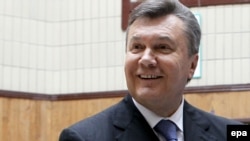 With more than 99 percent of party-list ballots counted from Ukraine's parliamentary elections, figures from the Central Election Commission show the ruling Party of Regions holding the lead with just above 30 percent.

The party of President Viktor Yanukovych looks set to control at least 187 mandates in the 450-seat Verkhova Rada.

Analysts say the party is likely to pursue a partnership with its Communist Party allies in order to control the 226 seats needed for a majority.

The nearly complete results show the Batkivshchyna (Fatherland) party of jailed opposition leader Yulia Tymoshenko winning around 103 parliament seats.

OSCE observers and the United States have criticized the October 28 vote as a step "backward," citing Tymoshenko's imprisonment and the misuse of government resources to support ruling-party candidates.


Based on reporting by ITAR-TASS and Interfax
U.S. Seeks Syria Opposition Revamp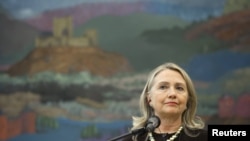 Secretary of State Hillary Clinton says the United States wants to see changes in the leadership of Syria's opposition.

Clinton said the time has come to move beyond the leadership of the exile-led Syrian National Council (SNC) and bring in representatives of Syrians who are "fighting and dying" in the conflict against President Bashar al-Assad's regime.

"We've made it clear that the SNC can no longer be viewed as the visible leader of the opposition," she said. "They can be part of a larger opposition, but that opposition must include people from inside Syria and others who have a legitimate voice that needs to be heard."

Clinton noted that some members of the exiled opposition have not been inside Syria for more than 20 years.

Reports say U.S. officials have grown frustrated with the failure of the SNC to muster a robust program to unify the disparate opposition groups that have been waging the battle against the regime for the past 19 months.

With fighting continuing to rage, Clinton's words suggest that the United States is intensifying its efforts to organize the opposition to oust the Assad regime.

Clinton's comments come after the collapse of the latest cease-fire proposal, brokered by international envoy Lakhdar Brahimi, aimed at halting violence that pro-opposition activists say has claimed upward of 35,000 lives.

Upcoming Arab League Meet

The United States, which says it has provided support to the rebels but no weapons, is allied with Turkey, Saudi Arabia, and Qatar in calling for the removal of Syria's Alawite-minority regime.

Russia, China, and Iran have resisted moves for increased international intervention to bring about the regime's downfall.

In her remarks on October 31 during a visit to Croatia, Clinton said the opposition leadership needed to represent all Syrians in order to ease fears about possible sectarian domination in a post-Assad Syria.

"We also need an opposition that will be on record strongly resisting the efforts by extremists to hijack the Syrian revolution," Clinton said. "There are disturbing reports of extremists going into Syria and attempting to take over what has been a legitimate revolution against an oppressive regime for their own purposes."

Clinton said an upcoming Arab League-sponsored meeting in Qatar would be an opportunity to secure agreement on broadening the anti-Assad coalition.

"The Arab League-sponsored meetings starting in Doha next week will be an important next step," Clinton said. "I have been constantly involved with my counterparts, both in the EU and in the Arab League, in particular with the host of the meetings next week in Qatar. We have recommended names and organizations that we believe should be included in any leadership structure."

Turkey's Prime Minister Recep Tayyip Erdogan on October 31 said it was up to the UN Security Council to decide whether international forces should impose a no-fly zone over Syria in order to weaken the government's ability to strike at rebel forces.

Veto-holding UN powers China and Russia have blocked three Western- and Arab League-backed draft Security Council resolutions aimed at pressuring the Syrian regime.


With reporting by AP, Reuters, and AFP
Police Fired In Russia Over Drugs
St. Petersburg's police chief says about 100 police officers in Russia's second city have been fired for failing tests for drugs.

Chief Sergei Umnov made the announcement to the regional legislature on October 31.

Amid what's described as a narcotics abuse crisis in Russia, drug tests of police officers have been made mandatory.

Russia's Federal Narcotics Control Service (FNCS) reported earlier this year that more than 5 million drug addicts live in Russia, and approximately 100,000 people die of narcotics-related causes every year.

The AFP news agency quotes a police spokesman as saying nearly 30,000 police are employed in St. Petersburg and the surrounding northwestern region of Russia.


Based on reporting from Interfax, ITAR-TASS, dpa and AFP
U.S. Decries Bahrain Ban On Public Demonstrations
The Obama administration has denounced in unusually harsh terms a ban on public demonstrations imposed by Bahrain, a key U.S. ally in the Persian Gulf that is home to the U.S. Navy's 5th Fleet.

State Department spokesman Mark Toner said on October 31 that the United States was "deeply concerned" by the ban, which he said violated freedoms of assembly, association, and expression.

Toner said the move ran "contrary" to Bahrain's promises to reform and urged the authorities to respect commitments to uphold fundamental human rights.

Bahrain's interior minister stressed on October 31 that the ban is only temporary.

The Shi'ite majority in the Sunni-ruled kingdom launched a wave of protests in February 2011 aimed at winning a greater political voice.

Dozens have been killed and thousands jailed since then.

Shi'a make up 70 percent of Bahrain's population.


Based on reporting by AP and AFP