News
Child Measles Deaths Surge In Pakistan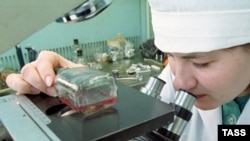 The World Health Organization (WHO) says that measles cases surged in Pakistan in 2012, with 306 children dying of the disease last year.
A spokeswoman for the WHO, Maryam Yunus, said in Karachi on January 1 that the hundreds died in 2012 compared to a death toll of just 64 in 2011.
WHO officials did not give a reason for the increase in deaths, but a health official in Sindh province said that the disease hit areas where poor families did not vaccinate their children.
Some Pakistanis, especially in rural areas, view vaccination campaigns with suspicion as a Western plot to sterilize Muslims or impose un-Islamic practices on them.
In December, nine health officials working to immunize Pakistanis against polio were killed by militants opposed to that campaign,
sparking public anger
.
More recently, six female aid workers and a male doctor were
shot dead
in an attack in western Pakistan this week.
Based on reporting by AP and ABC News
Afghan Peace Council Welcomes Pakistan's Taliban Releases
Afghan peace negotiators are welcoming the release of eight Taliban prisoners who were being held in Pakistan.

Ismail Qasimyar, head of international relations for the Afghan High Peace Council, said on January 1 that the release is "a practical step in the right direction."

Former Taliban justice minister Nooruddin Turabi is among the eight freed one day earlier by Islamabad after appeals from Kabul.

Afghan officials believe Taliban leaders released from Pakistani jails could help bring militants to the negotiating table.


Based on reporting by AFP and AP
Attackers Kill Seven Aid Workers, Doctor In Pakistan's Swabi District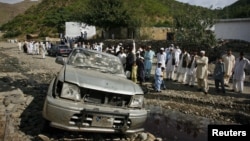 PESHAWAR, Pakistan -- Gunmen have ambushed and shot dead six female aid workers and a male doctor in the Swabi district of Pakistan's Khyber Pakhtunkhwa province.
District police officer Rashid Khan told Radio Mashaal that the victims all worked for the Pakistani charity Ujala (Light) in the village of Sher Afzal Banda.
They were killed at a junction in Swabi district when their vehicle was raked with gunfire as they were returning home from work at a children's community center.
Their driver was seriously wounded in the attack.
Khan said authorities had begun a search operation in the area in an effort to apprehend the perpetrators.
The motive for the shooting in Swabi district, about 75 kilometers northwest of the national capital, Islamabad, was not clear.
Last month, gunmen
killed nine health workers
taking part in a national polio vaccination drive in attacks that prompted widespread public outrage.
With additional reporting by AFP
Kim Wants Better Ties With South Korea, More Amusement Parks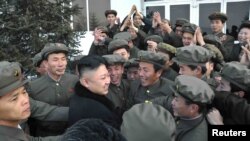 North Korean leader Kim Jong Un has said in a New Year's message that he wants to "remove confrontation between the North and South."

But the message also spoke of developing more advanced weapons.

North Korea's latest rocket launch, in December, that Pyongyang says was for eventually putting satellites into space, was seen by Seoul, Washington, and others as a test for a ballistic missile.

The launch increased tensions on the Korean Peninsula.

Kim said improving living standards for the people was this year's most important task.

The North Korean leader also called for a "revolution" in science and technology and for more amusement parks to be built.

It was the first time in 19 years a North Korean leader has given a New Year's address to the people.


Based on reporting by AP, and AFP
People Around The Globe Mark The New Year
Cities across the world have rung in the New Year with fireworks and street celebrations.

In New York, tourists and locals cheered amid confetti and fireworks in Times Square as they counted down the remaining seconds of the old year.

Earlier, in London, spectacular firework displays lit up the skyline, as Big Ben struck midnight to usher in the New Year.

Among the thousands who gathered along the length of the Thames River that runs through London, it seemed everyone had a wish for a better year to come.

"My New Year's wish," one London reveler confided, "if I can win the Euromillions [lottery] tomorrow -- that would be my wish."

But if he was wishing to win the lottery and start 2013 with millions of euros in his pocket, others had more down-to-earth dreams.

"A really good job, a really good husband, and a house, so there!" another Londoner said.

Still earlier, in Moscow, crowds toasted the New Year on Red Square.

In India, residents and tourists joined in the festivities in Mumbai and dozens of other major cities.

One tourist who gave her name as Maria sent her greeting from Mumbai to the rest of the world: "We just wish everybody all around the world a happy new year, a safe new year, and everybody to be happy together."

Not all celebrations around the globe ended happily.

Celebratory gunfire killed a 4-year-old boy, and more than 400 others were injured by powerful firecrackers in typically rowdy New Year's celebrations in the Philippines.

With the dawn of New Year's Day behind much of the world, clean-up crews were hard at work to sweep away the spent fireworks and make room for the rest of 2013 to return to normal.


Based on reporting by Reuters, AFP, and AP
U.S. Senate Votes To Delay 'Fiscal Cliff' Deadline
The U.S. Senate has passed legislation to block the impact of across-the-board tax increases and spending cuts that have been dubbed a "fiscal cliff."

The 89-8 vote came after midnight on January 1, the deadline for the fiscal measures to kick in.

The bill still needs the approval of the House of Representatives. A vote in that lower house is expected by January 2.

President Barack Obama urged the House to approve the last-minute measure, adding that "while neither Democrats nor Republicans got everything they wanted, this agreement is the right thing to do for our country."

There had been no official deal to avoid the cuts and hikes by late on New Year's Eve, although reports suggested a deal was close.

Under the bargain approved during the fiercely partisan debt-ceiling crisis in 2011, 2013 in the United States would bring increased taxes for Americans and a 10-percent spending cuts in the absence of a legislative alternative.

After months of seemingly intractable discussion, news emerged late on December 31 that the White House and congressional Republicans had reached a deal to extend George W. Bush-era tax cuts for family incomes below $450,000 and defer planned spending cuts to military and domestic programs totaling $24 billion over two months.

The deal is intended to allow the White House and lawmakers time to regroup before plunging into a new round of discussions over how to decrease government spending and increase revenues to curb the budget defict.

International partners fear the effects of a downturn in U.S. economic fortunes resulting from a fiscal crisis could pack grave consequences for their own economies.


Based on reporting by Reuters, AP, and dpa
Doctors Says Hillary Clinton To Make Full Recovery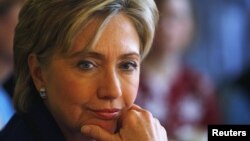 Doctors treating U.S. Secretary of State Hillary Clinton at a hospital in New York say they expect her to make a full recovery.

Clinton was admitted to the hospital on December 30 with a blood clot that was the result of a fall Clinton had at the start of December when she was sick with a stomach ailment.

Doctors said in a statement on December 31 that the blood clot is in a vein between her brain and skull behind the right ear.

"It did not result in a stroke, or neurological damage," the doctor's statement said.

The doctors said the secretary of state is "making excellent progress."

The statement said Clinton is in "good spirits" and will be released from the hospital once the dose of blood thinners to dissolve the clot is determined.


Based on reporting by Reuters, AFP, and AP
Secular Pashtun Leaders Call For Decisive Pakistani Action Against Terror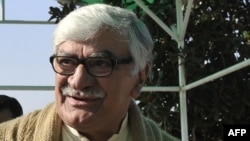 PESHAWAR, Pakistan -- Two prominent secular ethnic Pashtun politicians in Pakistan have called on Islamabad to take decisive action to end extremist sanctuaries in the country's northwestern tribal areas.
Asfandyar Wali Khan, leader of the secular Awami National Party (ANP), said on December 31 that Pakistan has to look for ways to end the "scourge of terrorism" in Pakistan's Khyber Pakhtunkhwa Province and adjoining tribal areas.
"The central government has to decide on how to move forward in the FATA [Federally Administered Tribal Areas]," Khan said. "We forcefully demand from the federal government to end the scourge of terrorism by whatever means it can. I will raise this issue [with the President Asif Ali Zardari] when I meet him. This is something a state can end. Political parties cannot end it."
The ANP has aggressively opposed the Taliban and its extremist allies during its five-year rule in Khyber Pakhtunkhwa. In retribution, the Taliban have killed hundreds party members since 2007.
Bilour Ahmad Bilour, a senior provincial minister, was the Taliban's latest victim. He was
killed along with eight others
on December 22 when a suicide bomber detonated his explosive vest during a political gathering in the northwestern city of Peshawar.
Mahmood Khan Achakzai, the leader of Pashtunkhwa Milli Awami Party (PMAP), said Pashtuns have become the main victims of terrorism in their own land.
He said some international extremists were provided sanctuary and given training in FATA after the September 11 attacks against the United States in 2001. And it is those same terrorists, he said, who are now responsible for the bloodshed in the region.
Addressing a gathering in Peshawar, Achakzai called on the Pakistani government to push out the "foreign" terrorists from their sanctuaries to restore peace and security across Pakistan.
"These so-called foreign guests should be forced to leave FATA," Achakzai said. "The Pakistani military should then leave FATA. The people of FATA need to be masters of FATA.
Much like the ANP, the PMAP has also strongly opposed the Taliban, who are active in the Pashtun populated regions of northwestern and southwestern Pakistan.
Islamabad says terrorist attacks in the country have killed more than 30,000 civilians and soldiers since 2001.
With additional reporting by Dawn and Geo.tv
Iran Test-Fires Missile System Near Strait Of Hormuz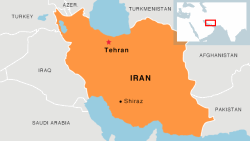 Iranian state media say the country has successfully test-fired a newly upgraded missile system near the Strait of Hormuz, a strategic passageway in the Persian Gulf.

Iranian officials say the Iranian-made air-defense system known as Raad, or Thunder, has the capability to fire missiles with a range of 50 kilometers, hitting targets at 22,000 meters.

Admiral Amir Rastgari, a navy spokesman, said underwater and surface-to-surface rockets were also successfully tested.

The five-day drill, held annually in Iran, will end on January 2.

Iranian officials have threatened to block the Strait of Hormuz, a crucial waterway for global oil exports, in case of an attack on Iran.

Tehran has recently increased military exercises as international tensions grow over its disputed nuclear program.


Based on reporting by dpa and AP
Activists Detained At Russian Protests For Free Assembly
Russian police have detained a prominent opposition figure and two dozen other activists for staging unauthorized demonstrations in Moscow and St. Petersburg.

Police detained Eduard Limonov, a leader of the Other Russia opposition movement, as he addressed journalists in Moscow's Triumph Square.

Demonstrators across Russia's two biggest cities on December 31 were rallying to defend the right to assembly, which is enshrined in the Russian Constitution but frequently denied through officials' refusal to issue the necessary permits.

Opposition activists say riot police arrested at least 28 people.

For several years, the Strategy 31 movement has called for protests on the last day of every month that has 31 days to highlight what opponents of President Vladimir Putin say is government suppression of the right to free assembly.


Based on reporting by Interfax and Reuters
Nine Taliban Fighters Found Dead In Pakistan's Northwest
The bullet-ridden corpses of nine Taliban fighters have been discovered in a northwestern Pakistani tribal region.

Officials said the bodies were found on a roadside near Miranshah, the administrative headquarters of the restive North Waziristan tribal district.

Officials have not identified the dead, but a Taliban spokesman said they were Taliban fighters.

Ehsanullah Ehsan, a spokesman for the Tehrik-e Taliban Pakistan, accused security forces of killing them.

The bodies were discovered a day after authorities found the corpses of 21 tribal policemen.

Officials said the Taliban had claimed responsibility for kidnapping the soldiers.

North Waziristan is one of the seven northwestern tribal districts.

The region is considered a key sanctuary for Pakistani Taliban and allied Arab, Central Asian, and Afghan militants.


Based on reporting by AFP and the BBC
Pakistan Releases Four Afghan Taliban From Prison
Pakistani government officials and Taliban sources say Islamabad has released four Taliban members from prison.

Those freed include three officials from the former Taliban regime in Afghanistan that was recognized by just three countries before it was ousted in late 2011: former Justice Minister Mullah Nooruddin Turabi, former Helmand Province Governor Mullah Abdul Bari, former Deputy Communication Minister Mullah Allah Dad, and Muhammad Azim, a former guard of Taliban leader Mullah Mohammad Omar.

It was not immediately clear when the men were released.

Pakistan's most high-profile Taliban detainee, former deputy leader Mullah Abdul Ghani Baradar, was not among those freed.

Kabul has long urged Islamabad to grant freedom to Baradar, who was captured by Pakistani authorities in 2010.

The prisoner releases come after Pakistan freed eight Taliban detainees last month.

During talks between Afghanistan and Pakistan in November, Islamabad promised it would release more Taliban prisoners to facilitate peace talks between Kabul and the Taliban.


Based on reporting by Afghanistan Islamic Press and AFP
Afghanistan Announces Next Security Transition
The Afghan government says the next phase of transferring security from NATO to Afghan control will begin in two months.

The latest transition will see Afghan forces assuming control of 87 percent of the country.

With most NATO-led troops set to leave by 2014, the 330,000-strong Afghan National Army is assuming more responsibility, including leading combat operations.

The upcoming transition will see Afghan forces take over control of 12 provinces, mostly in central and northern Afghanistan, as well as a district in Helmand Province, in the country's restive south.

NATO Secretary-General Anders Fogh Rasmussen said in a statement that the impending transition was a "significant step toward our shared goal of seeing Afghans fully in charge of their own security by the end of 2014."


With reporting by AP
Activists Defy Chinese Guards, Visit Jailed Nobel Laureate's Wife
Several Chinese rights activists broke through a security cordon to visit the wife of jailed Nobel laureate Liu Xiaobo, who is herself under house arrest.
The visit to Liu Xia on December 28 was captured on video by Beijing activist Hu Jia.
He
posted it on YouTube
on December 31.
Hu said the activists wanted to see Liu Xia on that day to mark her husband's birthday.
Liu Xia has been confined to her Beijing flat since her husband was awarded the Nobel Peace Prize two years ago.
The visit was the first time in more than two years that friends were able to see her.
Liu Xiaobo is currently serving an 11-year prison sentence on charges of subversion for authoring and disseminating a call for democracy titled "Charter '08."
Based on reporting by AP and AFP
Putin Signs Controversial Education Law
Russian President Vladimir Putin has signed a controversial new law on education.
It guarantees education in the state language, which is Russian.
Under the law, which was signed December 31, the right to an education in the languages of Russia's ethnic minorities is officially recognized, but not completely guaranteed.
The law states that classes in non-Russian languages cannot be conducted to the detriment teaching in the Russian language.
It goes into effect on September 1, 2013.
When the draft of the law was under consideration in the Duma, it sparked protest rallies in several regions, including Tatarstan, Bashkortostan, and Chuvashia.
Critics said it would accelerate the decline of indigenous languages.
The issue gained nationwide attention when some ethnic Russian residents in Tatarstan protested against the mandatory teaching of Tatar in the republic's Russian schools.

*CORRECTION: This article has been corrected to reflect the law's effect on indigenous languages in Russia.
Based on reporting by Interfax and ITAR-TASS
German Chancellor Warns Economic Turmoil Not Over Yet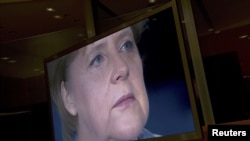 German Chancellor Angela Merkel is using her New Year's broadcast to warn Germany's citizens that Europe's economic turmoil "is not overcome by a long stretch."

In a taped interview to be aired on December 31, Merkel notes there has been progress in resolving the eurozone's sovereign debt crisis but urged "we need further patience."

She cautioned against engaging in the sort of "irresponsibility" that sparked the 2008 financial crisis.

But Merkel sounded a positive note for Germany, saying unemployment is at its lowest level since reunification in 1990.

"That means that many hundreds of thousands of families have a secure future," Merkel said, adding, "And that means that a lot of young people have the security of training and jobs [to] get off to a good start in their careers."


Based on reporting by Reuters and AP
Obama Signs Foreign Surveillance Law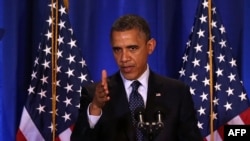 U.S. President Barack Obama has signed into law a five-year extension of the United States government's authority to monitor the overseas activities of suspected foreign spies and terrorists.

The law, known as the Foreign Intelligence Surveillance Act, allows the U.S. government to monitor overseas phone calls and e-mails without obtaining court orders.

The Senate approved the renewal bill on December 28.

The law does not apply to U.S. citizens.

In order to monitor the activities of Americans, the government must obtain a warrant from a special court comprised of 11 U.S. judges appointed by the Supreme Court.


Based on reporting by AP and ITAR-TASS
Japan's New PM To Permit New Nuclear Plants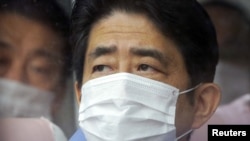 Two days after visiting the site of the Fukushima nuclear power plant disaster, new Japanese Prime Minister Shinzo Abe said he will allow new nuclear power plants to be constructed in the country.

Abe said he intends to reverse a decision by the previous government to reduce Japan's dependence on nuclear power that included shutting down some 50 reactors.

That decision was made after a powerful earthquake triggered a tsunami that flooded Fukushima and caused an explosion at the plant.

Dangerous amounts of radiation were released into the surrounding area, which was evacuated and is now uninhabitable.

Abe promised "new reactors will be totally different" from those used at Fukushima and that "we will be building them with consent obtained from the Japanese people."


Based on reporting by AFP and dpa
Attacks Kill, Injure Dozens Across Iraq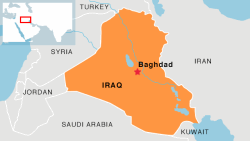 Explosions across Iraq have killed at least 22 people and wounded dozens more.

Seven people from the same family, including two children, were killed in the town of Mussayab, south of Baghdad, when bombs planted around their houses exploded.

Officials say the victims were apparently targeted because they were Shi'ite Muslims.

One of the two houses belongs to a police officer.

In the northern city of Kirkuk, at least three policemen were killed while trying to defuse a bomb in the center of the city.

At least another two people died in a bombing attack in Hillah, south of Baghdad.

A parked car bomb exploded in a busy street where local government offices are located.

No group has yet claimed responsibility for the attacks.


Based on reporting by Reuters, AP, and AFP
Venezuelan Leader Suffers 'New Complications'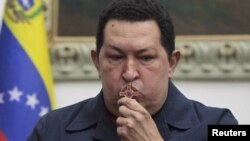 Venezuelan Vice President Nicolas Maduro spoke on state television on December 30 to announce President Hugo Chavez has suffered "new complications" after cancer surgery in Cuba.

"Yesterday [December 29] we were aware of his situation and how he is responding to his medication. We met numerous times with his medical team and with his family. Just a few minutes ago we were with President Chavez. He greeted us and he himself talked about these complications," Maduro said.
Maduro was speaking from Cuba where he arrived on a sudden and unannounced visit on December 29 to visit Chavez.

"After 19 days after undergoing surgery, President Chavez's state of health continues to be delicate, with complications that are being attended to in a process that is not without risks," Maduro said.

"Thanks to his great physical and spiritual strength, Commander Chavez is confronting this difficult situation. Equally, we are informing you that we have decided to stay in Havana for the next few hours accompanying the commander and his family and very attentive to how his actual situation is developing."
Maduro said he would remain in Cuba "for the coming hours" without specifying how long.
Chavez underwent a fourth surgery for cancer on December 11 and has not been publicly seen or heard from since then.
Officials have never specified what type of cancer Chavez has.
Government officials have mentioned Chavez might not be back in Venezuela for the scheduled January 10 inauguration for his third six-year presidential term.
Before leaving for surgery in Cuba, Chavez designated Maduro as his successor and told supporters to vote for Maduro if a new presidential election was needed.
According to Venezuela's constitution, a presidential election must be held within 30 days of the president is incapacitated or dies before his inauguration.
Venezuela's opposition has dismissed Maduro as being unqualified to lead the South American country.
With both Chavez and Maduro out of the country, Electricity Minister Hector Navarro is currently in charge of running Venezuela.

Based on reporting by AP and Reuters
Last Day For U.S. To Avoid 'Fiscal Cliff'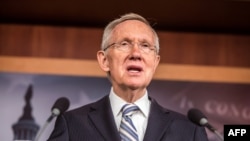 The last day of 2012 has arrived in Washington, where lawmakers now have just a few hours to reach a deal that would prevent the United States from going over the so-called "fiscal cliff."

The "fiscal cliff" is a previously agreed $600-billion package of automatic tax increases and spending cuts that could cause the economy to fall into recession.

Economists say the higher taxes would leave Americans with less money to spend, damaging the economy's growth prospects.

Senate and congressional leaders spent hours on December 29 trying to bridge their differences and are due to start meetings again later on December 31.

The leader of the Republican Party minority in the U.S. Senate, Senator Mitch McConnell, suggested on December 30 that the negotiations are not going well.

"I'm concerned about the lack of urgency here. I think we all know we're running out of time," he said. "This is far too much at stake for political gamesmanship. We need to protect the American families and businesses from this looming tax hike."

Senator Harry Reid, the leader of the Democratic Party majority in the Senate, said it is up to the Republicans to make the next move.

"At this stage we're not able to make a counteroffer," he said. "The Republican leader has told me and he's just said here that he's working with the vice president. And he and the vice president -- I wish them well. In the meantime, I will continue to try and come up with something. But at this stage, I don't have a counteroffer to make."

The expiration of tax cuts put in place in 2001 and 2003 will add an average $2,000 a year to Americans' income tax.

In an interview on the U.S. news program "Meet the Press," President Barack Obama warned that the failure to reach a deal will have a real impact on the economy.

"If people start seeing that on January 1 this problem still hasn't been solved, that we haven't seen the kind of deficit reduction that we could have had, had the Republicans been willing to take the deal that I gave them; if they [see] that people's taxes have gone up, which means consumer spending is going to be depressed, then obviously that is going to have an adverse reaction in the markets," he said.

If no deal is reached, federal government spending cuts would come into effect automatically under the Budget Control Act, which averted the U.S. debt-ceiling crisis in the summer of 2011.

Those automatic spending cuts would be applied equally across defense programs and nondefense programs and would take even more money out of the economy.

That earlier budget agreement was a compromise between Republicans and Democrats that prevented a default on U.S. government debt.


Based on reporting by Reuters, AFP, and AP
U.S. Plane Leaves Iran After Emergency Landing
Iranian officials say a small American commercial plane made an emergency landing earlier this month in southwestern Iran after facing technical problems.

Mahmud Rasoulinejad, head of the state-owned Iran Airports Company, was quoted by Iran's Press TV as saying the plane was forced to land 16 days ago at the airport in the city of Ahvaz but left on December 30 after repairs were completed.

Rasoulinejad said three passengers left Iran for their destinations in the Gulf.

Iran is a member of the International Civil Aviation Organization, requiring it to come to the aid of civilian aircraft when requested.

The incident comes amid rising tensions between Tehran and Washington over Iran's disputed nuclear program.

Based on reporting by Press TV and AP
Secretary Of State Clinton Hospitalized With Blood Clot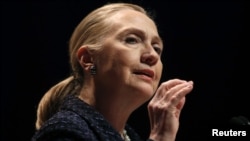 U.S. Secretary of State Hillary Clinton has been admitted to a hospital with a blood clot following a concussion she sustained earlier this month.

Clinton became ill at the start of December with a stomach problem.

She fainted and struck her head, receiving a concussion for which she was treated.

Clinton spokesman Phillipe Reines said doctors detected the blood clot during an examination on December 30 to see how Clinton was recovering from her concussion.

Reines said Clinton would stay in the hospital for the next 48 hours and doctors would decide whether Clinton needs any further treatment.

There was no word on where the blood clot was located.


Based on reporting by Reuters, AP, and AFP
UN Envoy Calls On International Community To Save Syria From 'Hell'
The international peace envoy for Syria has urged the global community to accept a proposal for ending the brutal 21-month conflict.

Lakhdar Brahimi, the UN and Arab League envoy, says the plan is based on a failed peace initiative agreed in Geneva in June.

The proposal, which calls for a cease-fire and the formation of a new government, does not clarify the fate of the country's president, Bashar al-Assad, an omission that has raised objections among the Syrian opposition.

Brahimi, speaking on December 30 at a joint news conference with Arab League Secretary-General Nabil Elaraby in Cairo, said the situation in Syria was deteriorating.

"The situation in Syria is very bad, very, very bad, and the differences are increasing," Brahimi said.

He said only a political solution would prevent the country from turning into "hell."

"In that there needs to be a political solution to please the Syrian people and to give the Syrian people their rights, their legal rights or Syria will turn into hell," he added.

Brahimi met with Assad in Damascus earlier in the week, but did not offer any details.

The peace envoy also met with Russian Foreign Minister Sergei Lavrov in Moscow on December 29.

Russia, a major ally of Syria, insisted that there was "no possibility" Assad will step down but said there was still a chance of finding a political solution to end the conflict.

The conflict in Syria, which began in March last year, has left an estimated 44,000 people dead.

Lavrov said both he and Brahimi agreed there was hope for a solution as long as world powers put pressure on both sides.

The international action group on Syria is made up of the five permanent members of the UN Security Council -- Britain, China, France, Russia, and the United States -- and representatives of the Arab League, the UN, the EU, and Turkey.


With reporting by AFP, Reuters, and AP
Two Injured After Protesters Attack Iraqi Official's Convoy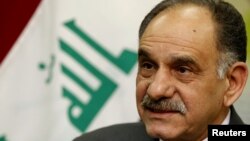 Iraqi officials say two people were injured when bodyguards for Iraq's deputy prime minister fired warning shots at protesters who attacked his convoy.

Salih al-Mutlaq had travelled to the city of Ramadi, in Iraq's Sunni-dominated Anbar Province, to address locals when antigovernment demonstrators pelted his convoy with bottles and stones.

The two injured were taken to hospital.

Mutlaq, himself a Sunni, had hoped to ease tensions after a week of protests by Sunnis over their perceived second-class treatment by the Shi'ite-led government.

Anbar provincial council member Talib Hamadi al-Dulaimi said a dispute broke out and shots were fired after protesters insisted Mutlaq show support for their demonstration by submitting his resignation from the government.

Mutlaq was driven from the scene by his bodyguards.


Based on reporting by Reuters and AP