Hussein Ordered From Court As Judge Stops Outbursts
http://gdb.rferl.org/D783896E-6A16-4AA8-90F3-39D8A9D6B3A3_w203.jpg --> http://gdb.rferl.org/D783896E-6A16-4AA8-90F3-39D8A9D6B3A3_mw800_mh600.jpg Hussein (right front) in court on 29 January (epa) PRAGUE, 29 January 2006 (RFE/RL) -- Former Iraqi leader Saddam Hussein was ordered from the courtroom today after being told by the presiding judge that he will no longer be allowed to make political speeches there. The development occurred amid chaos that erupted when the trial against Hussein and seven of his associates resumed after a one-month recess.
Hussein and the others are charged with the massacre of 148 Shiites from the town of Al-Dujayl following a failed assassination attempt against Hussien there in 1982.
The trial continued after Hussein was eject, but was later adjourned until 1 February or 2 February, depending on the date of a public holiday marking the new Islamic year.

New Judge Takes Charge
The newly appointed chief judge in Hussein's trial -- Raouf Abdel-Rahman -- sought to stamp his authority on proceedings on 29 January when the case resumed after a one-month recess.
Abdel-Rahman ordered Hussein and other unruly defendants to leave the courtroom after they launched into a series of insults and political slogans aimed at discrediting the court.
Within minutes of the trial resuming, Abdel-Rahman ordered guards to eject co-defendant Ibrahim Barazan al-Tikriti from the courtroom. That order came when Hussein's former intelligence chief called the court "the daughter of a whore."
Lawyers Won't Be Allowed Back
Hussein's top lawyer, Halil al-Dulaimi, then walked out with other defense lawyers in protest. Abdel-Rahman told the departing lawyers that they will not be allowed to return for future sessions.
Hussein then stood and asked to leave the court. He also shouted "Down with the traitors!" and "Down with America!"
But Abdel-Rahman allowed none of it. He told the former Iraqi leader that he could only leave when he is excused by the court.
Two guards then pushed Hussein by his shoulders back into his chair as he continued to argue with the judge.
Abdel-Rahman: "We are implementing the text of the law."
Hussein: "No. No. This is the right of the defendant. Look, your honor, you are trampling on the law."
With Hussein refusing to stop his outbursts, Abdel-Rahman also ordered the guards to remove Hussein from the courtroom.
Similar Outbursts Led To Former Judge's Resignation
Hussein's 29 January remarks were the same kind of political outbursts he had used a month ago to disrupt the trial when it was headed by Judge Rizgar Mohammed Amin.
Amin resigned from the case two weeks ago amid criticism that he had allowed Hussein and the other defendants to engage in lengthy courtroom tirades.
Like Amin, the new judge is an ethnic Kurd. Abdel-Rahman was born in the Iraqi town of Halabjah -- a community where Hussein's forces launched a poison-gas attack in 1988 that killed some 5,000 Kurds.
Biased Judge?
Some critics say Abdel-Rahman's background could compromise the impartiality of the court because some of his relatives were among those killed at Halabjah in 1988.
On 29 January, the trial continued after the outbursts and the removal of some defendants.
The lawyers who walked out were promptly replaced by court-appointed representation. Witnesses then began giving evidence about events in Al-Dujayl during 1982 from behind a curtain.
(compiled from wire reports)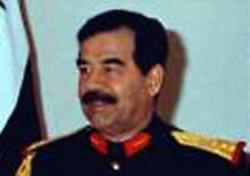 For a timeline of former Iraqi President Saddam Hussein's life from his rise within the ranks of the Ba'ath Party and the Revolution Command Council to his regime's ruthless persecution of perceived enemies at home and abroad, click here.