Belarus: European Parliament Considers Visa Ban On Government Officials
http://gdb.rferl.org/AD066F79-A7C8-4163-8BA1-70F9FACCF1B7_w203.jpg --> http://gdb.rferl.org/AD066F79-A7C8-4163-8BA1-70F9FACCF1B7_mw800_mh600.jpg Alyaksandr Milinkevich at the European Parliament in Strasbourg on April 5 (epa) The European Parliament today approved a nonbinding draft resolution calling on members of the European Union to impose a visa ban on Belarusian officials it considers responsible for human rights violations -- including President Alyaksandr Lukashenka. The measure follows the parliament's reception on April 5 of Alyaksandr Milinkevich, who lost to Lukashenka in Belarus's March 19 presidential election. Addressing European lawmakers during a parliament session, the opposition leader lauded the EU's criticism of the Belarusian authorities following the vote, but called for even harsher action to be taken.
PRAGUE, April 6, 2006 (RFE/RL) -- With the passage of today's nonbinding resolution, the European Parliament stepped up its criticism of the Belarusian regime following the presidential election.
The harshly worded resolution calls on EU states not to recognize Alyaksandr Lukashenka as president, and lists him among some 30 politicians it says should be banned from obtaining visas to enter the bloc.
The resolution also presses EU states to adopt sanctions against members of Lukashenka's regime, which it describes as the "last dictatorship of Europe."
"The European Union can support us but it cannot resolve this problem for us. When Belarusians demonstrate their will, character, and courage, it is extremely important for our contacts." -- Milinkevich

Opposition candidate Alyaksandr Milinkevich learned firsthand of the European Parliament's intention during his visit to a parliamentary session in Strasbourg on April 5.
Austrian Chancellor Wolfgang Schuessel, whose country holds the rotating EU Presidency, described the decision to add Lukashenka to the travel blacklist.
"We put Lukashenka on the visa-ban list at the last European Council [the EU summit on March 23-24]," he said. "We are ready to impose sanctions against those responsible for the suppression of peaceful demonstrations. This will be discussed further, of course."
The official results showed President Lukashenka winning a third term with nearly 83 percent of the vote, while Milinkevich finished second with about 6 percent. Thousands of demonstrators took to the streets after the vote, and the EU characterized the poll as not free.
Today, the Belarusian Supreme Court rejected an opposition appeal for the election to be declared invalid due to electoral fraud.
'
Interest Never So Great'
But while the oppositions efforts are encountering resistance at home, Milinkevich told RFE/RL's Belarus Service on April 5 that he was pleased with his welcome in Strasbourg.
"[I had] very warm meetings," he said. "It is much easier to talk today because the interest in Belarus has never before been so big. And the people who lead the European Union are very well informed [about Belarus]. We don't need to explain what is going on, we can immediately start discussing what to do."
Milinkevich stressed, however, that the future course of Belarus will be decided in Minsk, not Strasbourg. And he said the EU's support is vital for the fledgling opposition.
"It was very important for them [to see] that the Belarusian people showed in Minsk that they are able to struggle," he said. "All of them understand that democracy in Belarus depends on Belarusians, not on the European Union. The European Union can support us but it cannot resolve this problem for us. When Belarusians demonstrate their will, character, and courage, it is extremely important for our contacts."
Milinkevich said he considered the travel ban to be a step in the right direction, but also suggested that the European parliamentarians could take the measure even further.
"Only, we think that not dozens, but as a minimum, hundreds of people should be on that [travel ban] list. Why? It [should include] judges whose rulings are politically motivated, heads of universities who expel students for their political views, militia officers who beat people, and all those propaganda-mongers who are destroying freedom of thought in society. We do not have TV. We have a propaganda organ," Milinkevich said.
However, ahead of today's European Parliament decision adopting the nonbinding resolution, Milinkevich said economic sanctions are not the answer. Such a move, he said, would affect ordinary citizens more than the authorities.
THE AUTHORITIES GET TOUGH: RFE/RL's Belarus Service filed these images from the police action against the March 25 demonstration in Minsk. Photographs by Maks Kapran.
LISTEN
Listen to the sounds of the demonstration:
Real Audio Windows Media
Real Audio Windows Media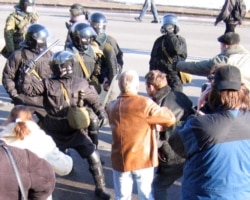 (RFE/RL)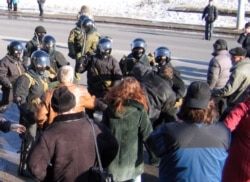 (RFE/RL)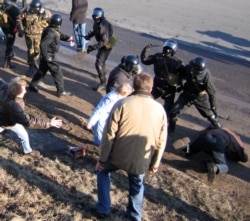 (RFE/RL)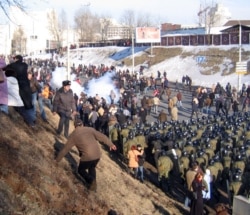 (RFE/RL)

THE COMPLETE PICTURE:
Click on the image to view a dedicated page with news, analysis, and background information about the Belarusian presidential ballot.


COVERAGE IN BELARUSIAN: Click on the image to view RFE/RL's coverage of the election campaign in Belarusian and to listen to RFE/RL's Belarusian Service.