Afghanistan: UN Monitor Cites 'Rapid Deterioration' As Drugs Spread
http://gdb.rferl.org/59e9ca02-83c9-4d81-ab91-3d57a747dba2_w203.jpg --> http://gdb.rferl.org/59e9ca02-83c9-4d81-ab91-3d57a747dba2_mw800_mh600.jpg Child opium addicts in Kabul (file photo) (RFE/RL) March 1, 2007 (RFE/RL) -- The international body that monitors the implementation of UN antidrug efforts has warned that Afghanistan is failing to make progress on drug control; on the contrary, things are getting worse.
The International Narcotics Control Board (INCB) concludes in its annual report that iIlicit opium-poppy cultivation in Afghanistan reached record levels in 2006.
It adds that, apart from exporting narcotic substances, Afghans are themselves falling victim to drug dependency.
The INCB also says a full one-third of the Afghan economy is based on the production of narcotics, and that this is contributing inexorably to the corruption gripping the country.
Message For Kabul
The Vienna-based board says it is "seriously concerned" at the deterioration in drugs control. It also calls on the government of President Hamid Karzai to urgently address this problem with the help of the international community, particularly donor countries.
The report says that the production of opium, the raw ingredient of heroin, has grown by almost half in the past year.
"Illicit opium-poppy cultivation in Afghanistan has reached record levels -- the highest level in history in 2006 -- and this is a main concern of the board," INCB spokeswoman Liqin Zhu tells RFE/RL.
The opium crop is estimated at a massive 6,100 tons, making Afghanistan by far the largest producer of opium in the world.
Afghanistan is more than just the source of much of the heroin flooding into North America and Europe. It is itself falling victim to drug consumption. The board says a nationwide survey of drug abuse in Afghanistan in early 2006 revealed that the country has 1 million drug users -- 60,000 of whom are children under the age of 15.
Meanwhile, the use of other illicit or controlled substances in Afghanistan is growing. The INCB cites in particular the synthetic substance acetic anhydride. It says the absence of proper drug-control regulations means that, for instance, shops are selling such substances over the counter.
Growing Regional Problem
And not only Afghanistan is suffering. The neighbor countries of the Middle East and Central Asia are being drawn into the web of addiction.
"More than half of the world's heroin abusers live in Asia, and the highest level of opiate abuse occurs along the main trafficking routes originating in Afghanistan," spokeswoman Zhu says. "Therefore the situation in Afghanistan definitely has a great impact on the neighboring countries."
Iran, for instance, is estimated to have 1.2 million opiate abusers, while Kyrgyzstan and Kazakhstan are also hard hit. There are around 50,000 drug addicts in Kyrgyzstan -- 12 percent of whom are under 18-years old, according to figures cited in Bishkek today by Timur Isakov, an adviser to the director of Kyrgyzstan's Drug Control Agency.
James Callahan, who is based in Tashkent for the UN Office on Drugs and Crime (UNODC), tells RFE/RL's Turkmen Service that the northern route through Central Asia from Afghanistan to Russia and Europe probably accounts for at least 20 percent of the drugs that are trafficked out of Afghanistan.
"The impact of that in Central Asia is that there has been a significant increase in drug abuse, particularly of heroin," Callahan says. "And along with the drug abuse comes HIV/AIDS because of sharing of needles and other unsterile equipment by injecting drug users."
He says that additionally -- because of the large amounts of money available in drug trafficking -- public officials are tempted to take money from drug traffickers in order not to prosecute them.
Callahan urges all the governments in the region to cooperate with one another to combat the drug-trafficking problem because the drug traffickers themselves don't pay any attention to borders.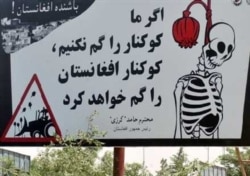 An antidrug billboard in Kabul shows a skeleton hanging from an opium bulb (AFP)
OPIUM FARMING ON THE RISE Despite a nationwide program by the Afghan government to eradicate opium-poppy fields and offer farmers alternative crops, international experts say that the 2006 opium crop will be as much as 40 percent larger than the previous year's. Afghanistan is the largest producer of opium in the world, and the source of as much as 90 percent of Europe's heroin.(more)
RELATED ARTICLES
Narcotics Supply Reduced, But Afghanistan Still Suffering
Saffron Could Help Wean Farmers Off Opium Poppies
Poppy-Eradication Drive Launched In Western Province
Insurgency Gains Ground As Poppy-Eradication Efforts Struggle
UN Drug Agency Promotes 'Alternative Development' For Curbing Poppy Cultivation
SUBSCRIBE
For weekly news and analysis on Afghanistan by e-mail,
subscribe to "RFE/RL Afghanistan Report."