East: 'New Kind Of Press Censorship' In CIS
http://gdb.rferl.org/D1F1CBA3-7451-4A73-9B71-70F06F5FED31_w203.jpg --> http://gdb.rferl.org/D1F1CBA3-7451-4A73-9B71-70F06F5FED31_mw800_mh600.jpg Azerbaijani editor Eynulla Fatullayev was jailed for 2 1/2 years on libel charges in April (Turan) WASHINGTON, June 25, 2007 (RFE/RL) -- A new type of media censorship has taken hold in the countries of the former Soviet Union, and the result has been a suppression of independent media.
That's according to a new report called "Muzzling The Media: The Return Of Censorship In The Commonwealth Of Independent States" by Freedom House, which found that broadcast monopolies, oligarchic power, corrupt judiciaries, and Internet censorship has resulted in less press freedom than existed in the early 1990s.
RFE/RL correspondent Heather Maher asked Freedom House's director of studies, Christoper Walker, to explain the report's findings.
RFE/RL: This report says there are new forms of media control being used in the ex-Soviet region – the phrase you use is "a contemporary model of censorship." How different is that from what was used in the past?
Christopher Walker: Well, the old Soviet model was really one that could be described as a "statefied model." That is to say all dimensions of producing news were controlled by the state, and it made it a rather monolithic system.
The difference today, certainly in a country like Russia, is that you have a much more diverse range of tools that are being applied to control the media and I think that this is the principal difference that one sees, as a point of comparison between the Soviet period and today.
RFE/RL: The report identifies four trends in how governments are controlling what the public can read, watch, and hear -- what are those methods?
Walker: The first in the recent period is an intensification of mass media control and I think it's fair to say that in many respects, you have insecure regimes seeking to ensure regime security by using television or to advance very, very narrow regime interests.
The second trend that we saw from our findings was that legislative measures were being used to tighten already very repressive media systems. And this was the case in a number of countries, including Belarus, Kazakhstan, and Russia.
The third part of the crackdown that emerged was an increasing focus on international media, including international broadcasting, so the efforts by the Russian authorities to hamper in one form or another the local partners of institutions like RFE/RL [for example] has made it more difficult for information to reach large audiences in Russia.
And the fourth part of the crackdown is one that focuses most on newspapers, which really had been a secondary interest in terms of controlling the flow of information, chiefly because newspapers, as a general matter, reach far smaller audiences.
RFE/RL: In many countries that you looked at, the Internet has become a special target of authorities' ire. Do they fear people are exchanging and reading ideas online that are contrary to government policy?
Walker: The emergence of the Internet is certainly one of the chief points of difference between the Soviet era and today. The diffuse and mobile nature of Internet technology and the ability of individuals to post information about local communities -- or issues that aren't finding their way into mainstream media in many of these countries -- is really a difference.
The challenge in the near- to mid-term is developing the sorts of information that can actually add value to the public debate, the political debate.
And also, of course, the concern is that at some level, there will be increasing pressures applied by the authorities who clearly aren't so interested in having a wider discussion on this issue. I think the steps they've been taking in the other media are an indication of this. So there is a concern that the focus will increase in terms of regulation and perhaps intervention, to the extent it's possible by authoritarian governments in the region.
RFE/RL: One of the most startling things about the report is that in 1994, six of the 12 ex-Soviet states you studied were considered "partly free" – and now, 13 years later, only two are. What has happened since then?
Walker: Well, one of the principal explanations for this is the consolidation of authoritarian systems by the elites that are dominating politically in most of the countries in the region, in fact. So this is probably the principal cause. There's been a larger crackdown on independent institutions. The crackdown on the media sector is particularly disturbing. Without an open media it's very difficult to develop larger democratic institutions and institutional goals.
The data we saw from more than a decade ago really was suggestive of media systems in a number of countries that were opening but were nascent, and not fully mature by any means. But there was sort of promise that this imperfect, pluralistic media environment could take forward steps and I think what we've seen in the years thereafter is that very powerful interests have managed to reorganize themselves, consolidate power, and deny the development of open and pluralistic media.
The last several years have been particularly difficult for independent media and this is something that's borne out in the data. Most of the countries in the non-Baltic former Soviet Union have had a sharp downward trajectory; Russia has had the most precipitous decline over the last several years.
RFE/RL: Georgia and Ukraine have retained their distinction as being "partly free."
Walker: That's right, and in Ukraine's case, the partly-free status emerged after the events of fall 2004, so in advance of that time, there was a quite sharp crackdown and pressure on the media in Ukraine, one of the real successes and one of the more important dimensions of the political change that occurred in late 2004 was that it really opened the door for more pluralistic media in the country and it was the year after that where they entered the category of partly free which is where they remain today.
RFE/RL: Did you find any evidence anywhere that citizens are fighting back against the state taking control of the media?
Walker: Well what we're really talking about here is the demand side of the press freedom equation, which is critical, and how people can respond to the pressure that's being applied by their governments. And it's fair to say that authoritarian governments stay true to form by reducing from this equation independent news and information. So if we look at Russia for example, over time, public space for discussing political issues -- and for the competition of ideas -- has really shrunk dramatically.
So given the hammerlock that these governments have on national television, for example, where most people still get their news, the Internet really appears to offer the most promises for citizens to contest what is essentially the re-imposition of censorship.
RFE/RL: Did Freedom House find any good news about media freedom in the region? Anywhere it's expanding or being allowed to flourish unencumbered by government interference?
Walker: Well. I think at some level the story would be relating to the Internet. And that is, in some countries you have what could be described as benign neglect, which could be as good as it gets for the time being in a number of states.
So I think the Internet is probably the story in the short term because this is something that really enables the sort of participation -- for those who have access to it -- that isn't enabled by a media that is more easily controllable by the authorities.
The comparison that's used today between the media landscape in many of these countries and the Soviet period probably should no longer be the standard.
I think the tendency for many of the governments is to say, 'Well, our countries have their problems in the media, but it's certainly not [like] the Soviet period.' And I think one of chief distinctions between the contemporary environment and that of pre-1991 is that you have any number of countries – certainly key countries in the region – that are keen to participate in the global economy. They are either eager to join Western, rule-based organizations, or they're already in them, which -- in a very basic way -- suggests that they should be meeting a far higher standard than the landscape that existed more than a decade and a half ago, which was bereft of any sorts of alternative voices.
The Erosion Of CIS Press Freedom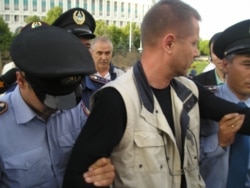 Prominent Kazakh journalist Sergei Duvanov being arrested in Almaty last month (RFE/RL)
FROM BAD TO WORSE. RFE/RL and Freedom House experts held a panel discussion at which they analyzed the erosion of press freedom in many CIS countries. According to Freedom House rankings, in 1994, six of the 12 CIS countries were rated "partly free"; by 2004, 11 of the 12 were rated "not free."
LISTEN
Listen to the entire briefing (about 70 minutes):

Real Audio
Windows Media
SUBSCRIBE
For regular news and analysis on media issues throughout RFE/RL's broadcast area by e-mail,
subscribe to "RFE/RL Media Matters."