Kosovo: EU Drifting Toward Solution Outside UN
http://gdb.rferl.org/45C534D6-289F-41CF-A678-886FC3432DC1_w203.jpg --> http://gdb.rferl.org/45C534D6-289F-41CF-A678-886FC3432DC1_mw800_mh600.jpg Javier Solana said negotiations would move to the Contact Group (file photo) (epa) BRUSSELS, July 18, 2007 (RFE/RL) -- Until now, the European Union has been a firm supporter of resolving the dispute over Kosovo's future status in the UN Security Council.
But the EU seems to be acknowledging that this may prove impossible.
While the United States and the EU support Kosovo's independence, Russia's ambassador to the EU, Vladimir Chizhov, said this week that the chances of a Security Council resolution not backed by Serbia being approved are "close to zero." Serbia insists it will not accept Kosovo's independence.
After talks on July 17 with UN envoy Martti Ahtisaari, who authored the proposal to give Kosovo internationally supervised independence, the EU's foreign-policy chief, Javier Solana, indicated the bloc is now contemplating turning to other venues for settling the issue.

Move To Contact Group
Speaking to journalists in Brussels, Solana said the Contact Group for Kosovo, which comprises the United States, Britain, Germany, France, Italy, and Russia, could take a lead role in the absence of an agreement at the United Nations.
"If [there is] no possibility [for an agreement] at the United Nations at this time, I'm sure that there will be an agreement of the members of the Contact Group to open the process of negotiations [between Serbia and Kosovo] more or less [along the lines] of what we introduced in the [draft] resolution," Solana said.
The Contact Group was first convened in the 1990s as an informal venue for the major powers to discuss the bloody disputes in the Balkans. In recent years, it has largely dealt with Kosovo.
Solana did not say how he intends to overcome Kosovo's refusal to enter new talks with Serbia over its future, reiterated most recently in Brussels last week by Prime Minister Agim Ceku.
Avoiding Russia's Veto
However, the move to turn to the Contact Group may be inspired less by the hope of reviving talks between Serbia and Kosovo, than an attempt to outmaneuver Russia. Unlike in the UN Security Council, Russia has no veto power in the Contact Group.
Alain Deletroz, a vice president of the International Crisis Group, an influential think tank, says that resorting to the Contact Group may also help the EU to circumvent its own internal divisions on Kosovo.
Several EU member states are thought to harbor doubts on Kosovo's independence, although a tenuous consensus exists at the EU level to support it.
Deletroz said in a briefing in Brussels on July 17 that the "key EU member states" in the group -- Britain, Germany, France, and Italy -- could assume the responsibility for an EU decision, allowing skeptics to lie low.
"What these key member states should come up with is a clear statement [directed at] Moscow, more than anything else, that if they carry on blocking like this, there will be a recognition by this group of European countries of a unilateral declaration of independence by Kosovo," Deletroz said.
The United States has already said it backs independence for Kosovo.
Thawing 'Frozen Conflicts'
Deletroz says a recognition of Kosovo's independence by the EU countries in the Contact Group would enable the bloc to agree to a deployment of a crucial 1,600-man EU police mission in Kosovo without the need to revisit the divisive status issue.
Deletroz admits that settling Kosovo's status outside the confines of the United Nations would increase the likelihood that it will be viewed as a precedent by other irredentist regions in the world, especially those involved in the so-called frozen conflicts on the territory of the former Soviet Union.
Russia has already warned it would be under "great pressure" to recognize the separatist regimes in South Ossetia and Abkhazia in Georgia and Transdniester in Moldova if Kosovo is given independence.
However, Deletroz said, recognizing "small autonomies fighting for their independence" could would be a double-edged sword for Russia, which is itself facing a separatist insurgency in Chechnya.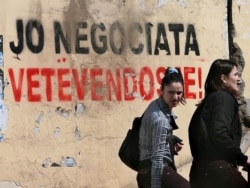 Pro-independence graffiti in Prishtina (epa)

FINALLY STATUS? Sabine Freizer, director of the Crisis Group's Europe Program, told an RFE/RL briefing that deep divisions in the UN Security Council make it uncertain what form Kosovo's future status might take.
LISTEN
Listen to the entire briefing (about 70 minutes):

Real Audio
Windows Media
ARCHIVE
RFE/RL's coverage of
Kosovo
. The website of
RFE/RL's South Slavic and Albanian Language Service
.