Accident At Armenian Campaign Rally Injures 140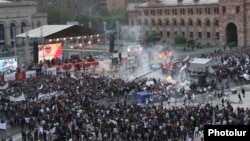 More than 140 people were injured when gas-filled balloons exploded at a campaign rally in the Armenian capital ahead of parliamentary polls on May 6.
Officials said the injured received burns after scores of small balloons suddenly exploded at a rally staged by President Serzh Sarkisian's Republican Party in Yerevan's central Republic Square.
About two dozen ambulances were rushed to the scene shortly after the blasts. An ambulance doctor told RFE/RL that some 50 mostly young people required hospitalization.
Authorities believe the explosions were caused by a smoker who lit a cigarette near the balloons.
Police told RFE/RL they were ruling out a deliberate attack.
Tens of thousands of people had gathered for the rally.
Despite the incident, Sarkisian addressed the rally. He later visited one of the hospitals where burn victims were being treated.
WATCH: Aftermath of the balloon explosions (RFE/RL Armenian Service)
With reporting by AP and AFP