Bosnian Protesters Torch Government Buildings In Sarajevo, Tuzla
SARAJEVO -- Authorities in Bosnia-Herzegovina are bracing themselves for further violence on February 8 after three days of unrest that has rocked the capital Sarajevo and the northern city of Tuzla.
On February 7, protesters in Bosnia-Herzegovina set fire to government buildings in both Sarajevo and Tuzla as unrest rocked the Balkan state for a third straight day.
Police clashed in both cities with protesters angry over chronic high unemployment and alleged government corruption.
In Sarajevo, police fired tear gas and rubber bullets to disperse protesters who set fire to the presidency building and the headquarters of the capital's cantonal government.
Demonstrators were heard chanting "Thieves out!" during the protests.
Cries of ""Thieves! thieves! thieves!" were also heard in the northern city of Tuzla as protesters broke into a local government building and set it alight.
Other protests were reported on February 7 in Bihac, Zenica, and Banja Luka.
Reports spoke of dozens of injuries.
WATCH: Protests Turn Violent In Sarajevo (RFE/RL's Balkan Service)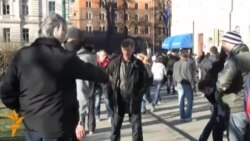 The violence on February 7 comes after more than 130 people were reported injured in clashes in Tuzla on the previous day.
Bosnia is facing intensifying economic and social problems nearly 20 years after the end of the 1992-1995 civil war.
The country of some 3.8 million people is one of the poorest in Europe, with many residents living below official poverty lines. It is estimated that more than 40 percent of Bosnians are unemployed or underemployed.
Analysts say development in the country has been hobbled by continued splits between the country's formerly warring ethnic communities.
Bosnia is made up of two entities -- the Federation of Bosnia-Herzegovina, which consists of the Croat and Muslim regions -- and the Bosnian Serbs' Republika Srpska.
The three communities are held together in an awkward ethnic power-sharing system under the terms of the U.S.-brokered Dayton peace accord of 1995.
Analysts say the protests, which some are calling "Empty Stomach" demonstrations, are the outcome of years of political stagnation, ethnic grievances, and deeply rooted corruption carrying over from the war.
A female resident of Tuzla, in the Federation of Bosnia-Herzegovina, told RFE/RL that connections to influential groups are often needed to secure employment.
"For 12 years I have been looking for a job and nothing," she said. "It's all about nepotism. I don't belong anywhere if I don't have connections."
"My father fought for this country, but he is unemployed," said a male student in Zenica. "He is disabled."
Svetlana Ceinic, an economist, suggested to RFE/RL that the ordinary people of Bosnia's ethnic factions could end up uniting against the elites who have profited at the expense of others.
"The biggest fear of this government is that one day this nation will unite," she said. "I think that that is a political nightmare for the political elites in Bosnia and Herzegovina. Every social uprising can lead to this because a hungry stomach belongs to all of us. The fact is, before they give you a name and determine your nationality, you become a tax payer who provides salaries for politicians. When people become aware of that, their unity will be the politicians' nightmare."


With reporting by AFP and Reuters