Bosnia Celebrates Historic World Cup Campaign
Bosnia-Herzegovina has been celebrating the country's first-ever qualification for the soccer World Cup finals since declaring independence in 1992.
Vedad Ibisevic's second-half winner in a tense game against Lithuania sealed the top spot for the country in Group G on October 15, sparking jubilant scenes in Sarajevo and other cities as rejoicing fans took to the streets with flares and fireworks.
"This is the best I've experienced in the past five years," one young fan told RFE/RL's Balkan Service in the Bosnian capital. "The game was difficult, but we won and that's what's most important."
The Bosnian players and staff were in tears at the final whistle in Kaunas after victory in Lithuania secured a berth at the World Cup in Brazil next year based on better goal difference ahead of Greece.
PHOTO GALLERY: Bosnia Qualifies For The World Cup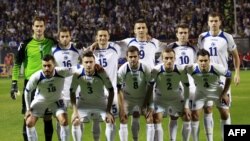 Emotional coach Safet Susic paid homage to the achievement of his players, whom he described as "wonderful guys."
He also acknowledged the thousands of supporters who had traveled to Lithuania to get behind his team, which comprises players from Croatian, Serbian, and Bosniak backgrounds.
"It really would not have been fair if we did not qualify for the World Cup," he said. "I'd like to thank our great fans, who have always been our 12th player, and I'd like to thank everyone who believed in us."
Often jokingly described as the only functioning multiethnic organization in Bosnia, the soccer squad is a rare source of unity in the divided country.
Valentin Inzko, the high representative for Bosnia-Herzegovina who was at the game, suggested the country's players could be held up as an example of what the country could achieve.
"I think it's very important to say that Bosnia has talent and potential," he told RFE/RL. "These guys are unique and they are going to Brazil because they had a common goal and that's a lesson for the whole state on how it can work and what it can achieve with persistence. Bosnia has shown what it can do."
-- RFE/RL's Balkan Service
About This Blog
Written by RFE/RL editors and correspondents, Transmission serves up news, comment, and the odd silly dictator story. While our primary concern is with foreign policy, Transmission is also a place for the ideas -- some serious, some irreverent -- that bubble up from our bureaus. The name recognizes RFE/RL's role as a surrogate broadcaster to places without free media. You can write us at transmission+rferl.org