Turkmenistan Opens New Grand Bazaar In The Desert
There is a new oriental bazaar outside the city of Ashgabat, built in the shape of Turkmenistan's traditional "Akhal" carpet pattern.
Actually, you need to be on a plane or helicopter to see the pattern. And you have to be quite familiar with the Turkmen tradition of carpet-weaving to recognize the pattern.
The new bazaar, Altyn Asyr, opened earlier this month, is a source of pride for Turkmenistan's government. The government has invested over $150 million to build it on the sands of the Kara-Kum Desert.
The marble-clad market, believed to be the biggest in Central Asia, boasts over 2,000 stores and some 5,000 stands. You can find a wide range of goods there -- from food, vegetables, and clothing to spare car parts, artifacts, and livestock, including camels and horses.
There was a grand presentation ceremony to officially open the bazaar with President Gurbanguly Berdymukhammedov and other dignitaries in attendance.
Berdymukhammedov called on provincial governors to build similar bazaars in every province. The president suggested every bazaar be built in the shape of the traditional carpet patterns of each province.
Carpet-weaving is an important custom in Turkmenistan and different regions each have their own specific carpet patterns.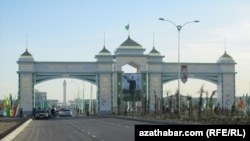 Altyn Asyr was quite busy on the day of its opening, as hundreds of merchants from other bazaars all over the capital and other areas were told to bring their goods to the new market.
A week later, however, the new bazaar is half-empty, "like an abandoned village," says RFE/RL's Turkmen Service correspondent Myrat Gurbanow.
The bazaar's fancy stores are too expensive to rent and besides, they don't offer enough storage space, a local merchant complained to our correspondent.
Many merchants, however, believe the new bazaar in the desert will become popular with locals quite soon.
After all, for Turkmens -- like the rest of Central Asians -- their local bazaars are more than just a place for shopping. The bazaar for a Central Asian is a commercial and social hub, where people socialize, exchange local gossip and news, and eat out or just drink tea with friends.
"We had the grand opening ceremony," the Turkmen merchant said. "Now a soft opening is under way here and it usually takes some time."
-- Farangis Najibullah