Czech Hotel Owner Stages One-Man Protest Against Russia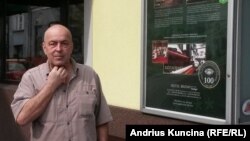 OSTRAVA, Czech Republic -- As far as hotels go, the Brioni Boutique is pretty nondescript.
Except, of course, for the neatly printed note on its door with the following message: "As of March 24, 2014 we refuse accommodation to citizens of the Russian Federation because of the annexation of Crimea. Our apologies to all decent citizens of the Russian Federation. Your Brioni Boutique hotel."
The hotel's owner, Tomas Krcmar, said he decided to bar Russian citizens as an act of protest against Moscow's annexation of Ukraine's Crimean Peninsula and out of frustration at what he considers the EU's and the Czech Republic's weak response to the move.
"As long as Russia stops in Crimea, the EU is ready to sweep the whole thing under the carpet and continue in a business-as-usual manner, so as to get rid of an uncomfortable headache," Krcmar, who has a Ukrainian grandmother, says.
"If one's memory is too short to learn lessons from what happened in 1939, then at least try recalling 1968 or Georgia in 2008 for that matter," he adds, referring to Nazi and Soviet invasions of Czechoslovakia and Russia's invasion of Georgia.
Critical of society's passivity, Krcmar decided to take a one-man-stand.
"As long as we are seen unable to take any pain, Russia translates it as our weakness. It is in their strongman mentality," he says.
But he adds that he is under no illusions that his lonely protest will change anything.
​
And with just under a million Russians visiting the Czech Republic last year, Krcmar guesses it will probably cost him some money in the end as well.
"I am fully conscious of the fact that my boycott of Russian tourists will hurt my pocket more than anyone else's," Krcmar said, adding that about 10 percent of his guests are Russian citizens. "I know my attitude will inflict losses on me but I am prepared to live with it for a year or two."
In theory his boycott might cost Krcmar more than just a 10 percent drop in revenues. It might be illegal.
Czech legislation prohibits discrimination on the basis of gender, age, sexual orientation and a number of other grounds.
The Czech Ombudsman's Office says as long as a hotel offers its services on a public domain -- such as being online and visible outside -- Krcmar's decision may no longer be treated as his private choice and could, in fact, constitute discrimination.
But the law's wording leaves some wiggle room: it only punishes discrimination on the basis of one's ethnicity, not citizenship.
One way or the other, Krcmar seems unfazed by any potential consequences.
"I am not afraid at all. No way anyone can corner me with all sorts of lame tsk-tsking," he says, adding he has already received several angry and even threatening e-mails following his boycott announcement.
Krcmar says, nonetheless, that he is prepared to bear the cost until the EU toughens its stance against Moscow.
"I don't mean a war -- no one needs it -- just something less fearsome than all that polite talk from Brussels. I don't know what that could be -- they are the ones to do the job," he says.
"I think Russia should be isolated as it has no place in Europe. Until politicians make a move, I'm doing it my way."
-- Andrius Kuncina
About This Blog
Written by RFE/RL editors and correspondents, Transmission serves up news, comment, and the odd silly dictator story. While our primary concern is with foreign policy, Transmission is also a place for the ideas -- some serious, some irreverent -- that bubble up from our bureaus. The name recognizes RFE/RL's role as a surrogate broadcaster to places without free media. You can write us at transmission+rferl.org