Georgian Billionaire Philanthropist Ready To Roll
TBILISI -- The Georgian Dream public movement, the engine of billionaire philanthropist Bidzina Ivanishvili's bid to secure a majority in next year's parliamentary elections, is off and running after its founding rally.
Georgian Dream administrator Marika Kariauli told RFE/RL's Georgian Service that the movement's membership figures were already approaching 10,000.
"At yesterday's gathering, we collected more than 7,000 filled-out fliers," she said. "We do not yet know the exact numbers yet, but today already around 1,000 individuals have come [to join us]."
At the lavish inaugural event in front of several thousand supporters in Tbilisi on December 11, Ivanishvili launched the new movement with a pledge to restore national unity and accelerate Georgia's integration with the West.
"From today onward, we aim at building a state in which decency, dignity, and professionalism will form the bases of success for each citizen, as well as for the entire country," Ivanishvili said.
He said other goals included "gaining the trust of our Abkhaz and Ossetian compatriots and restoring Georgia's territorial integrity; providing jobs to our citizens and making sure they are paid decently; establishing justice and strengthening hope and faith in our citizens; and instituting the values of Western democracy and integration into the Euro-Atlantic space -- instead of merely imitating motion toward Europe."
Ivanishvili said work would begin immediately on opening regional branches around the country with the aim of consolidating political and public groups that were opposed to the government of President Mikheil Saakashvili.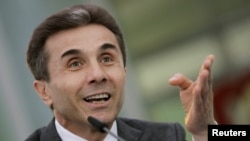 As if to underscore Ivanishvili's status as a political outsider, no political figures spoke at the December 11 rally. Instead, it was dominated by cultural figures such as poet Rati Amaglobeli, human rights activist Manana Kobakhidze, and soccer star Kakha Kaladze. Our Georgia-Free Democrats leader Irakli Alasania and Republican Party leader Davit Usupashvili -- whom Ivanishvili has identified as likely political allies -- were present in the hall.
Can Ivanishvili Challenge Saakashvili?
Setting up a public movement such as Georgian Dream is often a stepping stone to creating a full-fledged political party. However, Ivanishvili is barred from creating such a party because the government stripped him of his Georgian citizenship in October, immediately after he announced plans to run for parliament.
A court in Tbilisi on December 12 began hearing Ivanishvili's appeal of that decision, but it remains unclear when a ruling will be made.
Meanwhile, Saakashvili's ruling United National Movement (EEM) sought to downplay the popular billionaire's entrance into the political fray. EEM parliament deputy Khatuna Ochiauri told RFE/RL that Georgian Dream was nothing new.
Ochiauri called the Tbilisi rally "a voice from the past" and said that Georgian Dream was "not a new political force that aspires to offer something new to Georgian society or bring changes to Georgia's political life. Instead, we are dealing with the old nomenklatura, with individuals who are perhaps frustrated with today's reality. These people have come together -- which, for me, is a sad thing to observe. But the gathering yesterday made this very clear."
The 55-year-old Ivanishvili has led a reclusive life in his native village of Chorvila for the last 10 years, occupying himself largely with his business empire and his sweeping philanthropic projects. His political inexperience, analyst Ghia Nodia says, is the biggest question mark hanging over his effort to gain a majority in parliament.
"They have a real chance of becoming the strongest opponents among the existing groups," Nodia says. "However, Bidzina Ivanishvili has not yet displayed the traits of a political leader capable of forming a genuine alternative to the government and demonstrating the ability to change it and come to power."
written by Robert Coalson on the basis of reporting by RFE/RL's Georgian Service correspondent Nino Tarkhnishvili. RFE/RL Georgian Service correspondent Salome Asatiani contributed to this report