Georgian Dream Declares Victory In Parliamentary Elections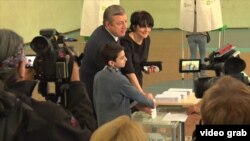 The Georgian Dream party has declared victory in parliamentary elections shortly after polls closed on October 8 in the former Soviet republic.

Deputy Prime Minister Kakha Kaladze, a member of Georgian Dream, told Reuters after the October vote, that data gathered by the ruling coalition suggested Georgian Dream had won at least 58 percent of the vote.

Speaking to a cheering crowd of supporters gathered outside the Georgian dream headquarters late on October 8, Prime Minister Giorgi Kvirikashvili said a "huge victory" had been won.

But opposition leader Giga Bokeria said he still thought his United National Movement (ENM) could win the elections and that the Georgian Dream had "certainly failed to get enough votes to form the cabinet."

Because of Georgia's complicated election rules, the final composition of the 150-seat parliament may not become clear until late November.
Two exit polls suggest the ruling Georgian Dream party won the ballot -- although they suggested widely varying margins of victory for the governing coalition.
An exit poll conducted by the international market research firm Kantar Public suggested Georgian Dream was on track to win an absolute majority with about 53.8 percent of the vote.
The Kantar Public poll showed the opposition United National Movement (ENM) with about 19.5 percent of the vote.
But an exit poll ordered by the Rustavi-2 television channel and conducted by the research firm GfK, suggested that Georgian Dream had won about 39.9 percent of the vote compared to 32.7 percent for the ENM.
GfK was founded by Georgia's former president Mikheil Saakashvili, who is from the ENM.
The center-left Georgian Dream coalition was formed by Saakashvili's rival, the billionaire businessman and former Prime Minister Bidzina Ivanishvili.
Both polls also suggested that the pro-Russian Alliance of Patriots would clear the 5 percent threshold needed to secure seats in the 150-seat parliament.
The party has risen in popularity recently, and its steadfast support for the Georgian Orthodox Church and conservative values are popular among nationalists.
WATCH: Georgians Vote In Parliamentary Elections (natural sound)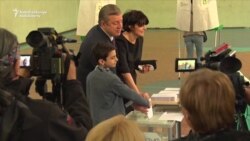 Georgians Vote In Parliamentary Elections
Before the elections, analyst Thomas de Waal, a senior associate at Carnegie Europe and a Caucasus specialist, told RFE/RL that Georgia's pro-Western foreign policy and desire to join NATO and the European Union are unlikely to be significantly affected by the vote.
"I think maybe there's not such great love for the West in Georgia at the moment, but I think it's the only game in town," he said. "Russia really offers nothing [to Georgia]."
De Waal said a move by the EU -- just days before the elections -- on visa liberalization for Georgia was "a positive [thing]" and the country's "pro-European movement vector will continue, maybe in a slightly more pragmatic way [after the elections]."
He added that a "peaceful" vote was of great importance and Georgia needed to deliver a "normal European-style election...in which there are no obvious, flagrant irregularities."
An explosion on October 5 under the car of United National Movement lawmaker Givi Targamadze, an associate of Saakashvili who was unhurt by the blast, had raised security concerns, as did reports of a foiled terror plot on a gas pipeline and authorities' publicly expressed suspicions that a postelection coup might be in the planning.
There were some reports of violence during the October 8 vote.
WATCH: Crowd Tries To Storm Georgian Polling Station (natural sound)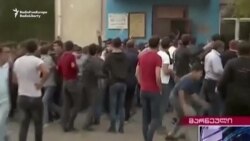 Crowd Attempts To Storm Polling Station In Georgian Village
In the village of Kizilajlo, about 40 kilometers southwest of Tbilisi, about a dozen men who tried to storm into a polling station clashed with police.
Georgia's Interior Ministry said two police were hurt in that incident, but authorities prevented the men from entering the polling station.
With reporting by Reuters, AP, TASS, Rustavi-2 TV, and RFE/RL's Pete Baumgartner