Islamic State's Teenage 'Caliphate Cubs' Appear In New Killing Video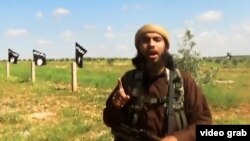 A group of teenage militants appear to have participated in the mass beheading of a group of Alawite captives in a shocking and graphic new video released by the Islamic State (IS) group.
The video, shared on social media on March 29, is entitled "Strike Their Necks" and was apparently shot in Syria's Hama province. Bearing the logo of IS's official media wing, Al-Hayat Media, the video shares stylistic similarities with previous Islamic State productions, though it is not possible to independently verify its authenticity.
In the video's opening scenes, a group of eight captives is shown dressed in the now familiar bright orange jumpsuits that are used by IS to mimic the uniforms worn by some detainees at the U.S.-run Guantanamo Bay facility.
As the black standard flag used by IS flies in the background, an adult militant says that the captives are "impure infidels" and refers to "Nusayris," a term for adherents of the Shi'ite Alawite sect of Islam. "Nusayri" is used by IS and some Syrian rebel groups as a derogatory term for Syrian Alawites, including Syrian President Bashar al-Assad.
The swords of IS "will soon, God willing, reach the Nusayris and their allies like Bashar and his party," the militant says, according to a translation by the AP news agency.
The militant says that IS will "not forget what the [Assad] regime did in the 1980s in Hama and we will not forget any drop of blood on that blessed land," according to the British-based monitoring group the Syrian Observatory for Human Rights.
The militant's comment is a reference to the mass killings of Sunni Muslims in Hama in 1981 and 1982 ordered by the then-president, Hafez al-Assad (Bashar al-Assad's father). The Syrian Arab Army besieged Hama for 27 days in 1982 in order to put down an Islamist uprising by the Sunni Muslim Brotherhood.
Child Executioners
Later in the video, the orange-clad captives are led into a field by black-clad IS militants, who appear to be teenage boys.
A young child hands a knife to each person in a group of adult IS militants. The militants then use the knives to behead the captives.
It is not clear who the beheaded men are, although given the use of the tern "Nusayri" and the reference to the mass killings in Hama perpetrated in the 1980s by Syrian Alawite forces, it is likely they were Alawite Syrian Arab Army soldiers who had been fighting in Hama province.
Iran's state media reported that the eight victims were Syrian soldiers.
AP quoted Lebanon's state-run National News Agency (NNA) as saying that the family of a Lebanese man named Younes Hujairi had seen photographs posted by IS of Hujairi's severed head on March 29. Hujairi was reportedly kidnapped in Arsal in Lebanon in January. It is not likely that Hujairi was one of those beheaded in Hama, however. NNA did not make a link between the Hama beheadings and the reported images of Hujairi, a Sunni.
The Hama beheading video is not the first time that children have appeared to participate in IS execution-style killings.
A video released by the IS group in January appears to show a child militant shooting dead two men identified as "Russian agents."
The child militant looked similar to an ethnic Kazakh boy who appeared in a previous IS video featuring ethnic Kazakh children undergoing military training.
Another child militant who appeared in a March 10 IS killing video was identified as a French citizen, as was a man who appeared alongside him. The child is filmed appearing to shoot dead at close range a Palestinian captive named as 19-year-old Muhammad Musallam.
IS has also released a number of videos showing children apparently undergoing military and ideological training.
The extremist group has dubbed these children "cubs of the caliphate," a nickname that comes from the term used by the militants to describe themselves -- "lions" -- and which is a sign of the pride taken by IS in training and using children as militants.
-- Joanna Paraszczuk