Hundreds Of Kazakh Opposition Supporters Rally In Almaty
Hundreds of Kazakh opposition supporters protested on January 28 in Almaty against President Nursultan Nazarbaev and the results of recent elections.
Just hours later, three officials from the opposition All-National Social Democratic Party (OSDP) were handed jail sentences, while one was fined, for organizing the rally.
The unsanctioned gathering -- estimated by various media at between 300 to 1,000 people strong -- took place peacefully on the fringes of downtown Republic Square.
Police ringed the protest site but did not disrupt the proceedings.
Shortly afterwards, the Almaty district court handed the co-chairman of OSDP, Bolat Abilov, 18 days in jail, while the party's general-secretary, Amirzhan Kosanov, and its Almaty head, Amirbek Togusov, were sentenced to 15 days.
They were sentenced on charges of violating the law on holding protests. OSDP co-chairman Zharmakhan Tuyakbai said he was fined the equivalent of just over $200.
During the rally, opposition leaders called for democratic change and for authorities to conduct a transparent investigation into the riots last month in the oil-producing region of Zhanaozen.
"We want change, peaceful change and democratic change. We want to be reckoned with," Abilov told the crowd through a megaphone.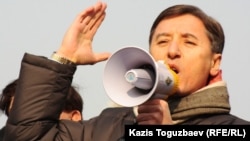 "We are just fed up with corruption. They are stealing our votes and our money," he continued. "These people are fanning national hatred."
The gathering, which lasted about two hours, was the second peaceful protest since the January 15 parliamentary election gave Nazarbaev's Nur Otan party an overwhelming victory.
Nur Otan won almost 81 percent of the vote in the polls, which international observers said failed to meet democratic standards.
The election controversy came just one month after at least 16 people were killed in clashes between striking oil workers and police in the Caspian Sea city of Zhanaozen. It was Kazakhstan's worst bloodshed since the fall of the Soviet Union.
"First, an open investigation into the Zhanaozen events," an unidentified activist told the crowd. "Then, to punish high officials who allowed this bloodshed."
The protesters demanded that opposition figures jailed on charges of inciting the riots be freed.
Opposition leader Vladimir Kozlov and newspaper editor Igor Vinyavsky have been detained for two months pending trial on charges of fomenting social hatred and attempting to overthrow the constitutional order.
The Prosecutor-General's Office said this week that police generally acted within legal bounds when resorting to the use of weapons on December 16. However, four senior officers are being prosecuted for using excessive force.
With agency reports