Kazakh Authorities Try To Extinguish Unrest In Unruly West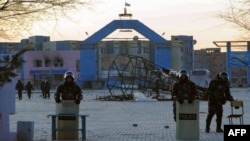 ZHANAOZEN/PRAGUE -- Authorities in western Kazakhstan insist they have restored order following deadly clashes between police and out-of-work laborers that left at least 13 people dead and more than 85 wounded.
But with unrest already spreading and a state of emergency in effect, authorities have imposed restrictions that make it difficult to assess the risk of further bloodshed.
The deadly violence that erupted when sacked oil workers clashed with police on December 16 in Zhanaozen, in the oil-rich western province of Manghystau, followed months of tension.
The sides continue to dispute who was responsible for the escalation. But its severity appeared to take local authorities, who've been dealing with a sit-in by disgruntled oil workers since a strike targeted a state-owned firm in May, by surprise.
Now, President Nursultan Nazarbaev has declared a state of emergency in Zhanaozen.
Heavy Police Presence
Locally, RFE/RL's Kazakh Service correspondent in Manghystau, Kazis Toguzbaev, says that "streets in the town of Zhanaozen are almost empty" aside from the heavy police presence. Police officers "are performing identity checks on passersby, especially on young men," he says.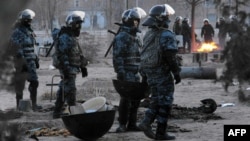 "There are police officers in every street, in every corner. They are armed appropriately. And there were OMON [special Interior Ministry] forces inside a bus near the city's main square."
Officials have also brought local and foreign reporters visiting the area under close supervision, Toguzbaev says.
Zhanaozen has been cut off from the rest of Kazakhstan, with telephone and Internet connections to the city disrupted. The main road to the town has been blocked by security forces.
A local blogger who was trying to talk to protesters was threatened by a police officer who put a gun to the blogger's head, the RFE/RL correspondent reports. He says a group of journalists were allowed to visit the Zhanaozen city morgue and the central hospital, where dozens of protesters were being treated for gunshot wounds sustained during the December 16 unrest.
Interior Minister Kalmukhambet Kasymov has been deployed to Zhanaozen to oversee the security situation in that remote town.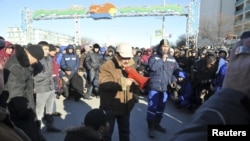 Our correspondent says Kasymov "very reluctantly" allowed journalists the hospital visit, and he told them they could only interview the director of the hospital.
Kazakh Foreign Minister Yerzhan Kazykhanov told a meeting of foreign ministers from the Collective Security Treaty Organization (CSTO) in Moscow on December 19 that officials are not hampering reporters' efforts.
"All mass media were allowed to cover [the events]. There are no restrictions. Journalists had access to everything, and the information about some alleged mass killings is not true," Kakykhanov said, according to Reuters. "From the very beginning, the Kazakh government and law enforcement agencies have provided full transparency in the actions of our authorities."
He added: "All the activities of our law-enforcement agencies were within the framework of law. Weapons were used just for the purposes of self-defense. I would like to inform you that the current situation has been fully stabilized, and no provocations have been registered."
'No Choice But To Shoot'
Officials are clearly eager to prevent the kind of violence that claimed another life in the nearby village of Shetpe on December 17.
Tensions have also spread to the provincial capital of Aqtau, where pro-strike rallies drew hundreds on December 18.
RFE/RL's correspondent estimated that some 2,000 people were gathered again in Aqtau on December 19.
The hydrocarbon-rich region of Manghystau on the Caspian Sea has been the scene of protests by oil workers since May. The workers are demanding better wages and improved working conditions.
Many of the striking oil workers in Zhanaozen were fired by their state-controlled employers -- KazMunaiGaz subsidiaries -- over the summer, but protests have continued.
After the December 16 deaths, Kazakh prosecutors said some 300 people blocked railway traffic in the village of Shetpe for several hours on December 17, until police forced them to disperse.
Authorities blame "hooligans" for starting the riots in Zhanaozen. Interior Ministry officials say a mob started the mayhem in the city, setting ablaze the mayor's office, the headquarters of KazMunaiGaz subsidiary OzenMunaiGaz, and the local branch of the ruling Nur Otan party.
Interior Minister Kasymov says police were left "with no choice but to shoot," and that they fired into the air or the ground. The minister claimed to visiting reporters that the victims died from ricocheting bullets.
Presidential adviser Yermukhamet Yertysbaev suggested that "foreign funding" was behind the riots, an increasingly common refrain among Central Asian officials. He warned that "there will be no Arab-style revolution" in Kazakhstan, where the "entire multinational population supports" President Nazarbaev.
Meanwhile, in Washington, the U.S. State Department issued a statement saying it was "deeply concerned by the recent outbreak of violence in western Kazakhstan."
State Department spokeswoman Victoria Nuland "expressed...condolences for the loss of life and urged restraint by all parties as [Kazakh] authorities work to restore calm."
Nuland added that the United States was "concerned by reports that some forms of communication were disabled in the wake of these protests," and she called on the Kazakh authorities "to quickly and fully restore open lines of communication throughout the country."
She also welcomed the Kazakh government's "stated commitment to a thorough and transparent investigation into the causes of the violence" and aid that those "responsible for any criminal acts perpetrated should be brought to justice in accordance with international standards..
Written by Farangis Najibullah, based on RFE/RL Kazakh Service and other RFE/RL reporting