Fugitive Ethnic Uzbek Leader Calls On New Kyrgyz President To Restore Rule of Law
As a prominent businessman and lawmaker, Kadyrjan Batyrov once enjoyed rare power and influence as an Uzbek community leader in Kyrgyzstan.
Batyrov, who was once rumored to be the second-richest man in Kyrgyzstan, was also the leader of the Rodina political party and founder of the Peoples' Friendship University in the southern city of Jalal-Abad.
It was at the university that Batyrov, in the weeks leading up to last year's deadly clashes in the south, encouraged thousands of ethnic Uzbeks to protest their treatment at the hands of the Kyrgyz majority.
After the clashes left nearly 500 dead, mainly Uzbeks, a number of Kyrgyz officials, and even some Uzbeks, blamed Batyrov and his subordinates for orchestrating the violence.
Batyrov soon fled the country, and was later tried in absentia on charges of separatist propaganda, inciting interethnic hatred, and organizing clashes between Uzbeks and Kyrgyz in Jalal-Abad and Osh. A Jalal-Abad court on October 28 found Batyrov guilty and sentenced him to life in prison.
Protesting Treatment
But Batyrov has resurfaced in Sweden, where he says he has been granted political asylum after sheltering for nearly a year in Ukraine.
Speaking to RFE/RL's Uzbek Service, the 56-year-old businessman said he was prompted to flee Ukraine on November 4 after receiving word that authorities in Kyiv were preparing to extradite him back to Kyrgyzstan.
Batyrov has repeatedly denied the charges against him, saying he tried to alert fellow Uzbeks to the rising threat of instability in the weeks after the ouster of Kyrgyz President Kurmanbek Bakiev in April 2010, but never sought to put them in harm's way.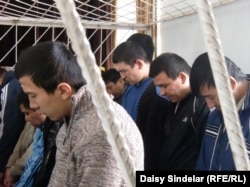 "What I did was try to persuade ethnic Uzbeks that the political situation in the country was very complicated, and that supporters of the ousted president, Bakiev, might organize something in order to destabilize the region. I didn't call anyone onto the streets to create massive unrest, or anything like that," Batyrov says.
"But when everything started, Kyrgyz troops, police, border guards, and security forces turned into a joint criminal group persecuting Uzbeks. That's not my fault," he adds. "Why doesn't anyone pay attention to that fact now?"
'Restore Rule Of Law'
Much disagreement remains in Kyrgyzstan about the perpetrators of the June 2010 violence. The international Kyrgyzstan Inquiry Commission this year issued a report asserting that Uzbeks had suffered the worst of the violence but acknowledging that "systematic" Uzbek attacks against Kyrgyz also occurred.
The report went on to criticize the interim government of Roza Otunbaeva for failing to address the rapidly deteriorating situation in the south and did not directly connect Uzbek community leaders, including Batyrov, to the violence.
The Kyrgyz government -- whose national commission for investigating the causes of the clashes had earlier pinned the blame on "outside forces" and local Uzbek leaders, singling out Batyrov -- rejected the international report. But Batyrov says he hopes the country's president-elect, Almazbek Atambaev, will use his post to help restore stability and a sense of security for ethnic minorities.
Batyrov says this is "a very important thing, and not just for ethnic Uzbeks in Kyrgyzstan. It's also important for Kyrgyzstan as a nation. First of all, the most important thing is to establish rule of law. And anyone who wins the presidential elections -- not just Atambaev, but anyone -- has to begin by revising the Kyrgyz authorities' attitude toward the international commission's conclusions regarding the ethnic clashes in Osh.
"That would bring very positive rewards to all of Kyrgyzstan's multiethnic societies, because that would mean that there's rule of law and that everybody's rights are protected," Batyrov concludes, adding that he believes that Atambaev is capable of doing so.
Kyrgyz Justice Criticized
The Jalal-Abad court, in handing down the sentences for Batyrov and five co-defendants, also ordered the seizure of the defendants' property by the state. Batyrov is coy about his financial holdings in Kyrgyzstan, but says that several of his businesses remain in operation.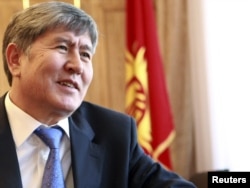 Batyrov has consistently defended his innocence, saying the trial -- and its hasty conclusion just before the presidential election on October 30 -- were politically motivated. A second defendant, Inom Abdurasulov, was also sentenced to life in prison. Several other defendants received lesser but still lengthy sentences.
Aziza Abdarasulova, who heads the Torch of the Century human rights organization, says the trial was marred by numerous procedural violations and that the verdict will be appealed. Human rights group have repeatedly criticized southern courts for their almost exclusive prosecution of Uzbeks in the wake of the June 2010 events.
Numerous Uzbeks have sought political asylum in Europe in the year since the clashes in the south, but few have succeeded. Batyrov, acknowledging Sweden's unexpectedly rapid response to his request for asylum, says he was aided in his efforts by United Nations officials in Ukraine, as well as by Swedish officials who were sympathetic to his case.
"I have to say that I've only just arrived in Sweden, and the reason why I got all the papers so quickly is because we used the fact that the international commission's conclusions regarding the Osh tragedy have never been taken into account by anyone, and that any person affected by the clashes in Osh is therefore in political limbo and needs help," Batyrov says.
"I'll do everything I can to meet in person with international organizations and officials to make sure the conclusions are implemented so that all those who need help could obtain asylum using the same documents and arguments I used to obtain mine."
Merhat Sharipzhan contributed to this report