Iranian Film Wins Oscar Nomination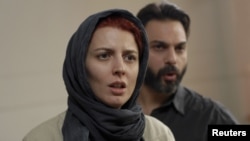 An Iranian film that won a Golden Globe Award earlier this month has been nominated for this year's Academy Award as "Best Foreign Language Film."
The nomination was announced by actress Jennifer Lawrence in Los Angeles on January 24 in Los Angeles.
It will be competing with Belgium's "Bullhead," Israel's "Footnote," Poland's "In Darkness," and Canada's "Monsieur Lazhar."
The director and screenwriter of "A Separation," Iranian filmmaker Asghar Farhadi, also got an Oscar nomination for writing the best original screenplay.
Among those he is competing against in that category are French filmmaker Michel Hazanavicius, whose silent film "The Artist" is up for "Best Picture," and legendary filmmaker Woody Allen, who was nominated for his screenplay for "Midnight In Paris."
Iran's government initially slapped a ban on "A Separation" after Farhadi voiced support for fellow filmmakers labeled by authorities as "antiregime."
Farhadi struggled for two years to get approval from the Iranian authorities for his script -- which tells the emotional story of an Iranian marriage breaking up.
The Iranian government has suggested that the film shows a skewed version of Iran.
But thousands of messages have been posted online by Iranians who have expressed pride in Farhadi's work.
Bridging Cultural Misunderstandings
On January 15, whenaccepted the Golden Globe Award for the film from pop star Madonna, he intimated that he hoped the work would help bridge cultural misunderstandings between people from Iran and fand the United States as well as other Western countries.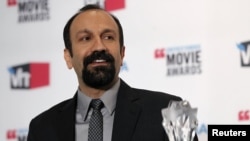 "In my opinion, the people [of the two countries] have no issues with each other. The people of Iran...are very peace-loving. I hope not just for Iran but all over the world that no one experiences war, and war becomes something that we discuss as something from the past."
Martin Scorsese's 3D movie "Hugo" leads the Oscars with 11 nominations, including best picture.
Hazanavicius's "The Artist" has the second-highest number, with nominations in 10 categories.
Other films nominated for the "Best Picture" award include "War Horse," "Money Ball," "The Descendants," "The Tree of Life," "Midnight in Paris," "The Help," "Hugo," and "Extremely Loud & Incredibly Close."
In the best leading actor category, the nominees are Demian Bichir in "A Better Life," George Clooney in "The Descendants," Jean Dujardin in "The Artist," Gary Oldman in "Tinker Tailor Soldier Spy," and Brad Pitt in "Moneyball."
In the best leading actress category, the nominees are Glenn Close in "Albert Nobbs," Viola Davis in "The Help," Rooney Mara in "The Girl with the Dragon Tattoo," Meryl Streep in "The Iron Lady," and Michelle Williams in "My Week with Marilyn."
The Oscars are given out by the Academy of Motion Picture Arts and Sciences, and this year's winners will be named at a ceremony in Hollywood on February 26.
compiled from agency reports